CD Review: Jeff Harnar's "I Know Things Now—My Life in Sondheim's Words"
July 13, 2022
Award-winning nightclub and concert vocalist Jeff Harnar has been beguiling cabaret audiences since the late 1980s with his romantic voice and upbeat, boyish persona.  On June 17, PS Classics released I Know Things Now—My Life in Sondheim's Words, Harnar's first solo album in 17 years—and it's truly extraordinary.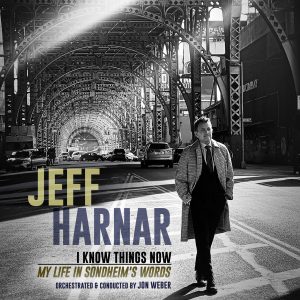 Based on the singer's sung-through stage show, it boldly reimagines more than 25 Stephen Sondheim songs, pairing, mingling, splicing, and re-interpreting them so that they tell Harnar's personal story.  A radical endeavor (and yes, Sondheim did see the show and gave hearty approval), it represents Harnar's inaugural solo performance as an openly gay man. 
Maybe because I listened to the CD over the extended 4th of July weekend—distracted by thoughts of liberty in a national context—I was struck by the titillating sense of freedom that permeates Harnar's daring recording.  Not only does one hear an unleashed expression of gay sexuality, but the musical liberties taken with Sondheim's harmonies, tempi, accents, and phrasing are courageous, brazenly extracting fresh insights from the composer's already deeply meaningful works.  
Inventively juxtaposing and interweaving segments of different Sondheim songs to trace a contemporary, gay New Yorker's journey from innocence to adulthood, the CD's 16 tracks are ingeniously arranged by Harnar and pianist-conductor Jon Weber.  Despite the jazz-style treatments, and Weber's thrilling orchestrations for a 20-piece ensemble, Harnar's voice leads the way, never getting entangled or lost amid instrumental textures.  We're made to listen foremost to the information conveyed by the songs' verbal language, and hear the music as emotional enrichment.  Singing the famous "Send in the Clowns" (from A Little Night Music), Harnar guides us to hear the well-known lyrics anew, even while a gorgeous piano line combines with lush strings underneath.  And the recording's keen sound engineering allows Harnar to make expressive use of a wide dynamic range: even when he sings a few bits of "Losing My Mind" (Follies) very quietly, the full-orchestral accompaniment sounds decidedly supportive.  
Sagely, the album opens with the most important lyrics Sondheim ever wrote: "Careful the things you say, children will listen."  Harnar uses those lines, from "Children Will Listen" (Into the Woods), to launch a stirring medley that—incorporating portions of "I Know Things Now" (Into the Woods) and "More" (Dick Tracy)—tells his tale of sexual awakening.  As he does throughout the album, simply by changing a pronoun, imbuing key words with a naughty tone or emphasis, or taking on a song written for a female character, Harnar lets Sondheim's lyrics illustrate his own experiences of lust, romance, and relationships.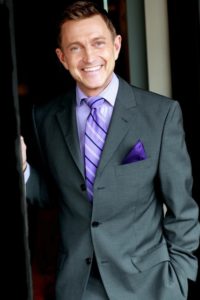 The CD's most impressively arranged track is a complex mosaic of small pieces, mainly from "Opening Doors" (Merrily We Roll Along), "Live Alone and Like It" (Dick Tracy), and "You Could Drive a Person Crazy" (Company).  It kicks off with a three-note motif from West Side Story (for which, remember, Sondheim wrote the lyrics to Leonard Bernstein's music), followed by Harnar speaking some lines from "Opening Doors," asking "who wants to live in New York?" and noting the worry, the noise, the dirt, the heat.  It then segues into swinging singing about living alone and liking it that gets interrupted by the ring of a cell phone.  After stopping to read his incoming text message, an "annoyed" Harnar slowly speaks, word-by-word as if typing, "you could drive a person crazy…" and gradually shifts back into singing, for the rest of the verse.  Yet he takes the music at a slower-than-usual, contemplative tempo (as he does with most of the songs on the album), again, drawing our focus to the words, rather than letting us revel in the number's showy, patter-song qualities.  The slick arrangement then sends the singer jumping back and forth from one song to another.  It also tosses in single lines from two additional Company selections—the title song and "Barcelona"—all to hilarious effect.  
The album's funniest mélange, however, inserts yearning, tenor phrases from the poignant "Sorry-Grateful" (Company) into a delightfully vaudevillian interpretation of "The God-Why-Don't-You-Love-Me Blues" (Follies), with the witty song's comic ambivalence skillfully captured by Harnar doing a Jimmy Durante impersonation for the push-away lyrics while singing the come-hither sentiments in his regular voice.  
But it's "Could I Leave You?" (Follies)— one of the CD's several tracks comprising only a single song—that is sure to emerge as the favorite among musical theatre afficionados.  Tightly integrating language, music, singing, and narrative, the track compellingly conveys the song's seductive mix of snooty sarcasm and genuine emotion.  The rich drama conjured by the orchestrations, plus Harnar's unsurpassed ability to act a song, makes for a riveting listening experience.     
Sixteen days before Sondheim died, he emailed Harnar: "Thank you for doing this show."  As the plucky singer demonstrates, Sondheim can speak for us all.
###
---
About the Author