CD Review: Patrisha Thomson's "Wild is the Wind"
July 26, 2022
Sometimes listening to the repertoire featured on a recording can be like slipping into a favorite old coat; the coat is well-made and provides comfort, warmth, and a dash of elegance, with few surprises other than in the quality of the craftsmanship. Wild is the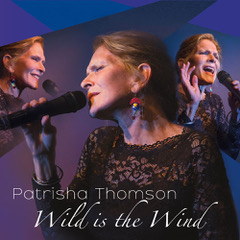 Wind, the new release from singer Patrisha Thomson is just such a treat. She has a delicate, smoky voice and delivery that at times calls to mind Morgana King. Producer/arranger/pianist Steve Rawlins knows just how to surround and cushion that voice with a group of tasteful, sophisticated jazz musicians that responds to every change in tempo, feel and rhythm with ease.
"In a Mellow Tone" (Duke Ellington, Milt Gabler) opens the proceedings with an infectious swing that the singer maneuvers with style and a great sense of fun. The phrase "…feeling fancy free" might well be her declaration for the whole project. Tom Peterson on tenor saxophone and Ira Nepus on trombone, add to the good will of the number. "Dindi" (Aloysio Oliveria, Ray Gilbert, Antônio Carlos Jobim) is a lovely change from the opening energy and Thomson caresses the lyrics knowingly, her delivery dripping with love and romance. Here and throughout, the master guitarist Grant Geissman heightens whatever effect the singer is delivering aided on this track by Gordon Peeke on drums, Brad Dutz on percussion, and Bob Feldman on bass, establishing a lovely symbiosis of American jazz and Brazilian bossa. Pairing with guest vocalist Mon David, Thomson next takes a trip on "Route 66" (Bobby Troupe) that, despite my initial misgivings about its inclusion, flies by on the vocal sparring (with some pleasingly lighthearted scatting) sliding over the insistent rhythms of the band.
The title track by Dimitri Tiomkin and Ned Washington comes next and offers haunting vocals caressed by Rawlins's gorgeous piano and Scott Mayo's flute. One of the lesser-known numbers, "There is No Greater Love" (Isham Jones, Marty Symes), bounces along in a big band groove enlivened by Michael Stever on trumpet and the other horns and woodwinds. One can imagine the smile on the singer's face as she dives into this syncopated sea of music. She wrings every painful, regretful moment out of the classic "You Don't Know What Love Is" (Don Raye, Gene DePaul), proving her acting chops as well. Stevers provides a mournful trumpet underscoring to the storytelling.
The singer has a ball with "Just Squeeze Me" (Duke Ellington, Lee Gaines), and with the help of Ken Wild's bass takes the route of all-out seduction rather than the coquettish teasing with which it is usually done. With a Latin flair, "This Can't Be Love" (Richard Rodgers, Lorenz Hart) bubbles into the air, buoyed by Mayo's irrepressible flute. A simple, yet stunning, "A Nightingale Sang in Berkeley Square" (Eric Maschwitz, Manning Sherwin) is a diaphanous conversation between Thomson and Rawlins. "I Can't Give You Anything But Love" (Jimmy McHugh, Dorothy Fields) is a genuine timepiece with its sparkling vocal and irrepressible musicianship; in the best sense of the phrase, it could have been recorded at any time—a century ago, or yesterday. Ken Wild's bass and Geissman's guitar stand out.
"Autumn Leaves" (Joseph Kosma, Jacques Prévert, Johnny Mercer) is done with an insistent beat that gives it a spine that rescues it from the maudlin journey it can often become, while Thomson's moving vocals, in both English and French, capture the pain and poetry of the lyrics. Ending on a light note, the singer concludes with "Frim Fram Sauce" (Redd Evans, Joe Ricardel) and devours the imaginary smorgasbord of lyrics with gusto. It comes off not so much as a finale for this project but merely a pause until we are lucky enough to get another volume of standards from the singer. And while we await that happy event, we can always go back and start this current delight all over again and marvel at the talent of Patrisha Thomson.
###
---
About the Author
Gerry Geddes has conceived and directed a number of musical revues—including the Bistro- and MAC Award-winning "Monday in the Dark with George" and "Put On Your Saturday Suit-Words & Music by Jimmy Webb"—and directed many cabaret artists, including André De Shields, Helen Baldassare, Darius de Haas, and drag artist Julia Van Cartier. He directs "The David Drumgold Variety Show," currently in residence at Manhattan Movement & Arts Center, and has produced a number of recordings, including two Bistro-winning CDs. He's taught vocal performance at The New School, NYU, and London's Goldsmith's College and continues to conduct private workshops and master classes. As a writer and critic, he has covered New York's performing arts scene for over 40 years in both local and national publications; his lyrics have been sung by several cabaret and recording artists. Gerry is an artist in residence at Pangea, and a regular contributor to the podcast "Troubadours & Raconteurs." He just completed a memoir of his life in NYC called "Didn't I Ever Tell You This?"