Club Review: Dorian Woodruff's "The Lyrics of Alan and Marilyn Bergman"
October 25, 2022
In 1960, lyricists Alan and Marilyn Bergman secured their position in the Great American Songbook with Frank Sinatra's recording of "Nice 'n' Easy" (Lew Spence) and, up until Marilyn's death this year, they provided a lyrical backdrop to the passing decades with songs in film, theatre, television, and recordings while working with some of the iconic composers of our time. They were honored with four Emmys, three Oscars, two Grammys, and were inducted into the Songwriters Hall of Fame.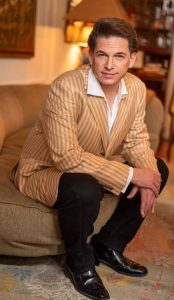 Their body of work provided a perfect match for singer Dorian Woodruff in his new show, The Lyrics of Alan and Marilyn Bergman, which debuted recently at Pangea. His rich, warm, expressive voice is ideally suited to the gentle, romantic poetry of their words and the tales of romantic connection, loss, and longing that they weave. He opened with patter and material revealing his personal connections to the writers but soon allowed their storytelling to illuminate his own life as he took the audience on a journey through three love affairs vividly brought to life in his entertaining chat. The two tracks blended seamlessly.
A problem with putting together a tribute to songwriters like the Bergmans is finding uptempo material to contrast the love songs for which they are famous. For the most part Woodruff, ably assisted by the expert direction of Lina Koutrakos, the exquisite playing of his music director, Jon Weber, and some funny stories, found and maintained a pleasing balance while still giving the ballads their rightful, and central, place in the evening. The show opened with "Cinnamon and Clove" (Johnny Mandel) that might have benefited from a lighter attack on the vocal allowing it to float over the breezy, West Coast Latin feel of the piano, but nonetheless, it set a welcoming tone. Jumping right into the deep end, he then sang "The Way We Were" (Marvin Hamlisch) and remained low-key and thoughtful throughout, and the song was all the better for it. He even included a rarely done additional verse that was one of the surprises of the show. Then came a reminiscence of a summer affair in Rio, complete with, as he coyly put it, "waves pummeling the beach and fireworks exploding in the sky." "Alone in the World" (Jerry Goldsmith, from Russia House) dripping with love and passion, served as the perfect underscore for his memories. "Summer Me, Winter Me" (Michel Legrand, from Picasso Summer) has inventively poetic lyrics that turn nouns into verbs throughout and offer a treasure trove of opportunities to play with that conceit in order to highlight the wordplay and eroticism. However, Woodruff chose to sing them straightforwardly as if they were everyday phrases that anyone would use. He still managed to pull off the broader seductive narrative, but it was a lost opportunity to showcase his intelligent phrasing once again.
The lyrics to "The Trouble with Hello is Goodbye" (Dave Grusin, from Fuzz) cry out for a naturalistic, conversational delivery and an adlib arrangement, but that was not the case. He and Weber chose to follow an arrangement bound in some ways by the notation on the page instead of exploring the beautiful lyric more freely. This occurred several times during the night and had me wishing that they had been a little less reverent in their treatment of the material. Next was a song unknown to me and a real find, "Mozart in the Dark" (Vitor Martins). Woodruff's phrasing was flawless, but his body language, for lack of a better term, was problematic. Woodruff has a habit (and an apparent comfort zone) of sitting on a stool with elbows tight to his body and both hands on the microphone holding it at an odd angle all but pointing away from him. The tight, seemingly rigid, stance closes his body off from the audience and develops a barrier to sharing his feelings and stories. I wanted him to, at least figuratively, shake his arms, relax and be as comfortable physically as he was vocally.
Another rare number, "Leave It All to Me" (Paul Anka), presented the lyricists at their most "Jerry Herman," and served as a bright, upbeat counterpoint to a hysterically funny tale of an Australian talent competition which I will leave for you to discover when the show returns. When a medley works, it's a wonderful thing to experience as the songs blend and deepen their emotions and meanings by their connection to each other—a beautifully imagined and rendered combination of "What Are You Doing the Rest of Your Life?" (Michel Legrand, from The Happy Ending) going into "Where Do You Start?" (Johnny Mandel) and climaxing with the lesser known "Every Now and Then" (Dave Grusin, from Mulholland Falls) was perfection. A terrific take on "How Do You Keep the Music Playing?" (Michel Legrand, from Best Friends) was marred ever so slightly by the singer's habit of both closing his eyes and pulling the microphone away from his mouth at big moments in his vocal. In the reality that he has created, would one really close one's eyes at the biggest, most crucial moment of the conversation? And with the microphone, he should learn to trust the technician to follow his volume at the board and refrain from this distracting, indulgent habit.
At this point, near the end of the show, a slight sense of "sameness" began to settle in with another low-key, thoughtful ballad, "Love Like Ours" (Dave Grusin). The song itself was touching but suffered from its proximity and similarity to the preceding grouping of songs. I found myself wishing something I rarely wish— that the singer and his music director had chosen an all-out, balls to the wall, we've-been-waiting-for-it-all-night, big ballad showing off his vocal power as well as his intelligence and emotional connection to the material. I wanted one moment to be bursting with excitement and overstatement (in the best sense) after an evening of understatement. As the show wound down, Woodruff wisely returned to talking about his personal connections with, and feelings for, the Bergmans which led into his own take on "Nice 'n' Easy." He then left us with a moving, emotional "What Matters Most" (Dave Grusin) as a fitting close to a delightful evening of song from one of cabaret's consistently entertaining vocalists, Dorian Woodruff. When he connected with one of the lyricists' trademark love songs, one could easily see the waves pummeling the beach and the fireworks exploding in the sky.
###
Presented at Pangea, 178 Second Ave., NYC, on October 21, 2022.
---
About the Author
Gerry Geddes has conceived and directed a number of musical revues—including the Bistro- and MAC Award-winning "Monday in the Dark with George" and "Put On Your Saturday Suit-Words & Music by Jimmy Webb"—and directed many cabaret artists, including André De Shields, Helen Baldassare, Darius de Haas, and drag artist Julia Van Cartier. He directs "The David Drumgold Variety Show," currently in residence at Manhattan Movement & Arts Center, and has produced a number of recordings, including two Bistro-winning CDs. He's taught vocal performance at The New School, NYU, and London's Goldsmith's College and continues to conduct private workshops and master classes. As a writer and critic, he has covered New York's performing arts scene for over 40 years in both local and national publications; his lyrics have been sung by several cabaret and recording artists. Gerry is an artist in residence at Pangea, and a regular contributor to the podcast "Troubadours & Raconteurs." He just completed a memoir of his life in NYC called "Didn't I Ever Tell You This?"