Club Review: Miss Maybell and Her Jazz Age Artistes
May 14, 2023
Early twentieth century popular music is a melting pot: with strong roots in Black American music, blues and ragtime grew into hot jazz and Tin Pan Alley, laying the groundwork for swing and big bands, then Bebop, all the way into the birth of rock and roll…this era is the foundation of what many of us listen to today. But it was a different time, with music publishing and distribution just starting to come of age with sheet music featuring hand-drawn illustrations on the covers, piano rolls for player pianos, and very early recordings like Scott Joplin's "Maple Leaf Rag" in 1903. Live gigs for musicians, most famously, Jelly Roll Morton, still included brothels. Popular song lyrics concerned themselves with love and loss, as they still do, but they also loved humor, novelty, and miniature fairy tales.
It's here we meet Miss Maybell and her Jazz Age Artistes more than a hundred years later, bringing a set or two of shiny old tunes to brighten up Zinc Bar—one of NYC's longest continuously-running music venues, formerly known as The Cinderella Club and an old favorite of Billie Holliday's. Leading the band are co-founders Lauren Sansaricq on vocals, washboard percussion, guitar, and banjo; and Charlie Judkins on piano. They were joined that night by frequent collaborators Brian Nalepka on bass and backing vocals, Dan Levinson on sax and clarinet, and Andy Stein on violin. The set featured a few well-known songs: 1925's "Yes Sir! That's My Baby" (Walter Donaldson, Gus Kahn), and from a couple of years later, "Ain't She Sweet" (Milton Ager, Jack Yellen), which went mainstream enough to have been covered by the Beatles and Sinatra.
Sansaricq's vocals are truly distinctive: emulating the saloon singer sound of that time, complete with a cheeky sense of lightness and fun, and a particularly great rhythmic instinct in her vocal style that's also reflected in her very effective contributions on percussion. She manages to go beyond the novelty of the washboard, with its (literal!) bells and whistles, and make it an instrument that can successfully support the band or take a solo. Judkins is virtuosic in a style that's very demanding on the skills of the pianist, shining throughout with styles from a blues-based boogie ""Warm It Up to Me" (Blind Willie McTell), or the more classic ragtime "Black and White Rag" (George Botsford)—that may or may not have been an inspiration for NYC's favorite cookie. Judkins traded off introducing the songs with short but helpful patter about the Tin Pan Alley songwriters who are definitely their own early American Songbook group and do need a little context for contemporary audiences who are newer to this style.
A romanticized idea of the Middle East seems to have been an American pop culture fascination, on and off, for a long time, and "The Sheik of Araby" (Ted Snyder, Harry B. Smith, Francis Wheeler) is an interesting precursor to the "Caravan" (Juan Tizol, Duke Ellington, Irving Mills) and "Night in Tunisia" (Dizzy Gillespie) kind of repertory. This kind of authentic vintage presentation seems like the best way to handle these older cultural artifacts about "the exotic."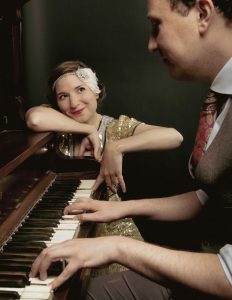 The band went all out: opening with a ballad tempo and then kicking it up with uptempo killer clarinet and violin solos from Levinson and Stein; great backing vocals and bass from Nalepka; and Sansaricq featured on lead vocals and solos on percussion and the trumpetlike Bazooka Kazoo. The 1899 medley "Bye-Bye My Babykins, Bye-Bye" (William H. Penn, Gene Jefferson) and "Hello! Ma Baby" (Joseph E. Howard, Ida Emerson) was also a chance for the whole group to let loose, with Judkins laying down some commanding playing and Sansaricq singing with especially lovely, bright pitch. The comic songs were a hoot: handling age-old issues like your spouse unexpectedly being awake when you arrive home, three sheets to the wind, at 4 AM; or wanting to wear makeup, go dancing, and then sleep in the next morning; or the dream of partying with mermaids that has continued to amuse everyone from Homer to Disney.

You'll definitely be joyfully entertained, tapping your feet, and dreaming of a world with no email when you order a gin cocktail and hear Miss Maybell and Her Jazz Age Artistes.
###
Presented at Zinc Bar, 82 W. 3rd St., NYC, on February 17, 2023.
---
About the Author
From Canada, Penelope Thomas came to NY to study dance with Merce Cunningham; then through a series of fortunate and unfortunate events, she wound up back in singing and acting. Credits include lead vocals with FauveMuseum on two albums and live at Symphony Space, singing back-up for Bistro Awards director Shellen Lubin at the Metropolitan Room, reading poet Ann Carson's work at the Whitney, and touring North America and Europe with Mikel Rouse's The End of Cinematics. In Toronto, she studied piano at the Royal Conservatory of Music and cello with the Claude Watson School for the Arts, and in New York she studied music theory with Mark Wade. She's taught in the New School's Sweat musical theatre intensive and taught dance in public schools and conservatories.