Club Review: Tawanda, Jazz Vocalist in Her NY Debut
November 20, 2022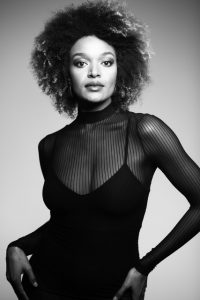 For new young jazz vocalists beginning a performance career, the shadows of the giants that came before them can be intimidating and overwhelming as well as inspirational. But when 26-year-old singer, Tawanda (who tied for first place in the 9th Annual Sarah Vaughan International Vocal Competition in 2021) made her New York debut this month at Birdland Theater, within the first few minutes it was apparent that she has burst onto the scene with her tremendous talent illuminated by her own distinct light that chased those shadows away. She was obviously aware of, but not beholden to, the icons that shaped the art that she now claims as her own. Her rich, yet light and pleasing sound blended with her thoughtful, actorly phrasing and free-wheeling swing to stunning effect, ornamented by infectious, unforced scat that again managed to be unique and shaped from her own musicality and not imposed or derivative like so many newcomers to the jazz scene.
She grabbed the room immediately with a playful, yet smart and driving, "It Don't Mean a Thing" (Duke Ellington, Irving Mills). A medley of Charlie Chaplin's "Smile" with "I'm All Smiles" (Herbert Martin, Michael Leonard from The Yearling) was beautifully smooth and warming and revealed a ballad sound as impressive as her uptempo style. One of the pleasures of hearing younger performers is that they are not as bound by the traditional repertoire for a jazz set; they can surprise and delight with unexpected song choices, as Tawanda did here with Leonard Cohen's "Dance Me to the End of Love." The song was seen here through a jazz prism, buoyed by an alluring Leiber/Stoller-ish syncopation as the singer replaced the usual dark, moody tone with a simmering sensuality. It was at this point, during a particularly fiery "What a Little Moonlight Can Do" (Harry M. Woods), with additional heat provided by blistering bass and drum support as she scatted sensationally, that I began to think that this young woman could sing anything—and that I wanted to hear it!
What followed was an exquisite "Ruby My Dear" (Thelonious Monk) brimming with contained passion and displaying a maturity beyond her young years. Her youthful enthusiasm and openhearted warmth infused "You and the Night and the Music" (Arthur Schwartz, Howard Dietz) with a fresh and sometimes startling immediacy. Eddie Del Barrio's "I'm Okay" was a virtuosic performance, acted and sung brilliantly as her voice cascaded with the unexpected twists and turns of the melody and her luxurious low notes gave it a burnished glow. Her assured and free delivery—with some wittily delivered and smile-inducing scat—made the classic "Them There Eyes" (Maceo Pinkard, Doris Tauber, William Tracey) a showstopper. My one reservation of the set was Tawanda's treatment of the lyrics of "Angel Eyes" (Matt Dennis, Earl Brent) which hold a noirish mystery that remained unexplored in her pleasing, straight forward delivery while being hinted at in the consistently surprising instrumental arrangement and performance.
The song that was her winning choice in the Sarah Vaughan Vocal Competition came next, as she staked a claim to a much-recorded classic with a fearless and fabulous "T'Ain't Nobody's Business" (Porter Grainger, Everett Robbins) with all the sass of the legendary vocalist for whom the award was named. Stating that it is her favorite song, Tawanda then tackled "The Peacocks" (Jimmy Rowles), an astonishing masterpiece that she turned into a tour de force as she brought the poetry of the lyrics to vibrant, hypnotic life, while reveling in the complexity of the melody and elevating the song to the stratosphere, wringing admiring and extended applause from the audience. A sparkling closer, "Honeysuckle Rose" (Fats Waller, Andy Razaf), when coupled with her wonderful "T'Ain't Nobody's Business," revealed a promising connection with Waller's work that might be explored in future shows and recordings. Her happiness at immersing herself in this song floated from the stage and filled the room, lifting the spirits of everyone lucky enough to be there. That audience spontaneously and legitimately demanded an unplanned encore, which turned out to be Irving Berlin's "Blue Skies"—in a beautiful performance that confirmed my initial impression that she can sing anything and make it her own.
The extraordinary trio of music director John DiMartino on piano, Marco Panascia on bass, and Tim Horner on drums, were remarkable throughout and the perfect partners for a singer of Tawanda's style, talent, and ability. The evening was in part a celebration of the release of her new CD, Smile, on Resonance Records and included a few of the songs from that recording. With this show, Tawanda has placed herself firmly at the front of the line of young jazz vocalists and it is a position she is likely to hold for a long time to come.
###
Presented at Birdland Theater, 315 W. 44th St., on November 17, 2022.
---
About the Author
Gerry Geddes has conceived and directed a number of musical revues—including the Bistro- and MAC Award-winning "Monday in the Dark with George" and "Put On Your Saturday Suit-Words & Music by Jimmy Webb"—and directed many cabaret artists, including André De Shields, Helen Baldassare, Darius de Haas, and drag artist Julia Van Cartier. He directs "The David Drumgold Variety Show," currently in residence at Manhattan Movement & Arts Center, and has produced a number of recordings, including two Bistro-winning CDs. He's taught vocal performance at The New School, NYU, and London's Goldsmith's College and continues to conduct private workshops and master classes. As a writer and critic, he has covered New York's performing arts scene for over 40 years in both local and national publications; his lyrics have been sung by several cabaret and recording artists. Gerry is an artist in residence at Pangea, and a regular contributor to the podcast "Troubadours & Raconteurs." He just completed a memoir of his life in NYC called "Didn't I Ever Tell You This?"