Daryl Glenn
November 27, 2018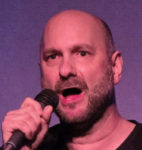 You would think that by now there couldn't possibly be a new way to present an all-Sondheim cabaret show. But, as Daryl Glenn proved in this recent Don't Tell Mama outing (directed by Vince DeGeorge), you'd be wrong about that. From the moment Glenn bounded onstage in a colorful paisley tailcoat and launched into his opening number—"Everybody's Got the Right," from Assassins—the audience realized it was in for something different. True, he omitted any lyrical references to actual presidential killings, but he left the life-is-a-carnival overlay intact, as befits his solidly genial voice. Glenn further softened the Assassins song's blow, so to speak, by coupling it with the mellower "Now You Know" (Merrily We Roll Along). But it was clear from the get-go that there would be no "Send In the Clowns" today, nor anything else from A Little Night Music.
No, Glenn's premise here was to feature a decades-long letter-writing relationship between himself and Stephen Sondheim. It started when, as a kid in Lexington, Kentucky, Glenn fell in love with the original cast album of Into the Woods. Puzzled and annoyed that he couldn't find the sheet music for his favorite song from that show, "Giants in the Sky," he managed through a friend to get a letter to Sondheim, who responded by sending a lead sheet for the song. Subsequent requests to the composer were always answered in kind, with an attachment, and were most often about lesser-known or completely obscure numbers, even some unpublished, hence the theme of this enterprise. "This was not unusual for Sondheim," Glenn noted, "he had lots of pen pals." (After Glenn arrived in New York in 1990, he did meet Sondheim—even, finally, got to call him "Steve" and visit him in his Turtle Bay townhouse to sip white wine and hold his Dick Tracy Oscar. Yet their relationship is still "mostly postal.")
Of course Glenn sang "Giants in the Sky," with childlike conviction, and included other numbers from Into the Woods. His medleys from the big screen's Dick Tracy and the long-ago small screen's Evening Primrose were memorable and touching. He favored such love songs as "Loving You" (Passion) and "Unworthy of Your Love" (Assassins). The latter was sung as a duet with Mardie Millit, a soaring soprano who was filling in for musical director/pianist Karen Dryer, who had laryngitis that day and couldn't sing, but who played beautifully. Near the end of the show, Millit soloed on the first of only two selections in this show that could be called Sondheim's greatest hits, "Losing My Mind" (Follies)—as well as I've ever heard it sung. Glenn indulged himself with the other greatest hit, his encore, "Not While I'm Around" (Sweeney Todd) using the arrangement on Streisand's The Broadway Album. "Everything in life goes back to Barbra Streisand," he asserted. That was about the only thing he said that was debatable.
While Glenn's premise and patter were charming throughout, I could have used a bit more of Sondheim's words and thoughts from the letters. I do realize that, legally, the recipient of a missive owns it physically, but the contents belong to the sender in perpetuity. Yet, perhaps with permission from the composer, next time out we could hear some words from "Steve" with his blessing. That might make the piece even more charming.
Daryl Sings Steve
Don't Tell Mama – October 20, 21, 28, November 11
---
About the Author
Robert Windeler is the author of 18 books, including biographies of Mary Pickford, Julie Andrews, Shirley Temple, and Burt Lancaster. As a West Coast correspondent for The New York Times and Time magazine, he covered movies, television and music, and he was an arts and entertainment critic for National Public Radio. He has contributed to a variety of other publications, including TV Guide, Architectural Digest, The Sondheim Review, and People, for which he wrote 35 cover stories. He is a graduate of Duke University in English literature and holds a masters in journalism from Columbia, where he studied critical writing with Judith Crist. He has been a theatre critic for Back Stage since 1999, writes reviews for BistroAwards.com, and is a member of The Players and the American Theatre Critics Association.