Madelaine Warren
January 5, 2019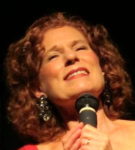 Madelaine Warren's voice has a lovely warm tone—one could even say burnished. And her musicality and phrasing, as one might expect from a former classical singer, are well thought out and refined. It is with these gifts that she presented Mad for Romance at Don't Tell Mama, directed by Barry Kleinbort. In large measure it was an enjoyable evening of music.
"Day In, Day Out" (Rube Bloom, Johnny Mercer) was beautifully delivered in a gentle "speaky" vocal mix. "Stardust" (Hoagy Carmichael, Mitchell Parish), sung with a bass solo (tenderly arched by Bob Renino), had a flowing legato line that served the piece well and never called attention to itself. Similarly, "So Many Stars" (Sérgio Mendez, Alan & Marilyn Bergman), magnificently played on the piano by music director Christopher Denny, ended with a stunning pianissimo, which greatly illustrated the lyric. And "Laugh Clown Laugh" (Ted Fiorito, Sam Lewis, Joe Young) was a standout; it contained some of Warren's most connected story-telling of the evening.
In almost all instances, Warren's use of voice was understated. In fact, one of her most marvelous qualities was her ability (and taste) not to over-sing. It is a rare soprano, indeed, who has both a sizable voice and the wisdom to know when not to use it.
Some other moments, however, did not fare as well. In a problematic pairing, "Lonely Town" (Bernstein, Comden & Green) and "Another Hundred People" (Sondheim) did not fit well together; not only did the musical motifs jar when juxtaposed, the lyrics seemed to contradict each other. And a surprising number of comic songs—"How Ya Gonna Keep 'Em Down on the Farm?" (Walter Donaldson, Sam Lewis, Joe Young), "The Physician" (Cole Porter), "Toothbrush Time" (William Bolcom, Arnold Weinstein), and "Vodka" (George Gershwin, Herbert Stothart, Otto Harbach, Oscar Hammerstein II)—missed their comic targets. The qualities that worked so well in the songs I discussed earlier in the review (her cultivated vocal poise and refinement) did not serve here. In comedy, one must let the voice go, not seem to care too much about it, trust it to be there, and have fun. Only then can the voice be free to express the many different (and unexpectedly funny) vocal colors these songs require. It is no easy feat, to be sure. Which is why the talents of sopranos like Kristin Chenoweth and Madeline Kahn are few and far between. These women are considered great comic actresses in spite of their voice, not because of it.
Warren's talents, it would seem, lie in the sublime, not the ridiculous. Her encore, a marvelous pairing of two Jerome Kern/Dorothy Fields songs ("Just Let Me Look at You" and "The Way You Look Tonight") illustrated this to perfection. The vocal use was once again understated and sonorous, and the arrangement was, indeed, sublime. Clearly mad for this expression of romance, the audience responded with a standing ovation.
Mad for Romance
Don't Tell Mama – October 22, 28, November 4, December 14
Note: An additional performance has been scheduled for February 1
---
About the Author
David Sabella enjoys a successful and varied career. As a performer, he's appeared on- and off Broadway—most notably in the 1996 revival of "Chicago"—and in cabaret; in 2018 he received the Outstanding Performer in a Lead Role award for his work in "The Phillie Trilogy" at the Fresh Fruit Festival. In classical music, he was a winner of the Luciano Pavarotti International Voice Competition and the New York Oratorio Society Competition, and he has performed leading roles throughout the US and abroad. As an educator, he served as President of the New York Singing Teachers Association (2008-2014) and has been published in the Association's journal, and he has served on the faculty of several prestigious universities. He's the author of the forthcoming "So You Want to Sing Cabaret" (Rowman & Littlefield, 2020).