Remembering Jay Rogers
November 1, 2022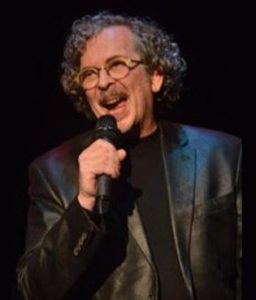 On October 28, 2022, we lost Jay Rogers, one of the most hilarious, talented, endearing clowns in New York cabaret and theatre, to cancer. It is a tragic reminder of the fragility of our lives, and that even a man whose art and being embodied a whole-hearted, joy-filled embrace of life and living it to the fullest, can be taken far too soon. Jay could (and often did) have an audience shrieking with laughter in one moment and then have them wiping a sad tear in the next.
He truly was a character in the best sense of the word, with his wild mop of red (and then various shades leading to distinguished, yet still wild, gray) hair, and his one-0f-a-kind voice which often sounded like a favorite cartoon character come to life. His self-mocking celebration of his physical attributes was apparent in the titles of his early solo cabaret shows, Broccoli Head and Yes This is My Real Voice. He went on to great acclaim in theatre as his comedic genius became more recognized. He was nominated for the 1996 Drama Desk Award for When Pigs Fly, and delighted audiences in Whoop-Dee-Do, Cleavage, and Kooky Tunes, among many others. He turned to directing with great success as well, working with the likes of Lypsinka, Richard Skipper, and Sue Matsuki. He received numerous well-deserved awards along the way including a Bistro Award in 1989 and in 1993.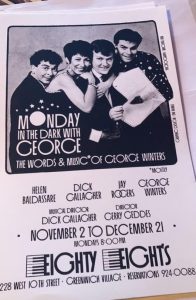 The 1993 Bistro Award was shared with the rest of the cast of Monday in the Dark with George, the much-loved revue of the songs of George Winters. In addition to Jay and George, that cast included Helen Baldassare and Dick Gallagher. I was lucky enough to direct this Mount Rushmore of cabaret talent and often marveled that the show ever actually got on its feet because so much rehearsal time was spent in side-splitting, joyous laughter. Although I had long been a fan of his shows and his unstoppable, entertaining turns as singing bartender/waiter at the legendary Eighty Eights on West 10th Street, we had never worked together. I loved collaborating with him that first time. Often, I would suggest something, and his immediate response would be, "Oh Gerry, I can't do that!" but then he would, brilliantly.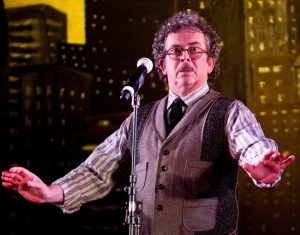 We last joined forces on a show called A Night at the Bistros which had former Bistro Award-winning vocalists performing songs by Bistro Award-winning songwriters. I wanted him to sing Murray Grand's "Guess Who I Saw Today" (the Nancy Wilson classic). His initial response was, of course, "Oh Gerry, I can't do that!," but I prevailed upon him, and he did it. From his first attempt in rehearsals, he moved me and had me smiling at the same time. When he did it in performance and I watched how he managed to be bitter, biting, funny, and heartbroken all at once, I wept, as did many in the audience. He was an unassuming yet unquestioned master of the cabaret medium. And for all the bravura in his bawdy, boundary-breaking, electrifying comedy, he was at heart a performer of great intelligence, and subtlety, and depth, and heart.
Off stage, he could delight and bring joy just by entering a room. He was the proverbial pleasure to be around—sharing a bit of naughty gossip, sharply dissecting a new show or movie or singer, supplying the perfect retort or one-liner to suit any occasion. He was, at the same time, a caring and empathetic friendly ear or shoulder if that's what was called for. He embodied the phrase "one-of-a-kind" and he will be missed by anyone who knew him. I turned to a bit of philosophical advice that he immortalize on stage and on recording, to get through the bad news when I heard it.
With sympathy and healing thoughts to his family, friends, and his husband, Aaron Morishita, I will leave you with two memories, showing Jay at his best, to remind you that at times like this, "laughing matters most of all." First, listen to Jay perform from Howard Crabtree's "When Pigs Fly."
And, watch Jay in a selection from Monday in the Dark with George:
Rest in peace, Jay.
###
---
About the Author
Gerry Geddes has conceived and directed a number of musical revues—including the Bistro- and MAC Award-winning "Monday in the Dark with George" and "Put On Your Saturday Suit-Words & Music by Jimmy Webb"—and directed many cabaret artists, including André De Shields, Helen Baldassare, Darius de Haas, and drag artist Julia Van Cartier. He directs "The David Drumgold Variety Show," currently in residence at Manhattan Movement & Arts Center, and has produced a number of recordings, including two Bistro-winning CDs. He's taught vocal performance at The New School, NYU, and London's Goldsmith's College and continues to conduct private workshops and master classes. As a writer and critic, he has covered New York's performing arts scene for over 40 years in both local and national publications; his lyrics have been sung by several cabaret and recording artists. Gerry is an artist in residence at Pangea, and a regular contributor to the podcast "Troubadours & Raconteurs." He just completed a memoir of his life in NYC called "Didn't I Ever Tell You This?"