Richard Weidlich & Susannah Mars
December 31, 2014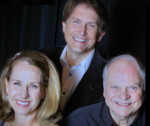 Susannah Mars and Richard Weidlich, longtime performing partners from Portland, Oregon, breezed into town for what probably was, judging from the enthusiasm of their fans in the Metropolitan Room audience, a long-overdue New York appearance for this pair of out-of-towners. Both performers are clearly seasoned and possess solid singing voices, hers more in the legit style, his more in the Robert Goulet/Vic Damone genre, with perhaps some operatic overtones. The pair demonstrated an engaging rapport, and a willingness to be eclectic in their song sources and singing styles. They were nicely backed by Bill Wells playing piano for whatever they decided to do. But the show Mars and Weidlich put together for this appearance was too often silly and beneath their talents, and certainly beneath their ages. They seemingly went astray trying too hard to present a different kind of holiday show, with too much quirky and forgotten or forgettable content.
After a perfunctory and somewhat amorphous title tune "Holiday Time" (Richard Gray)—whose lyric included the lines "You host the party/Better stock up on Bacardi"—they promisingly launched into a "Winter Set" of four songs from the mid-1930s and early 1940s: a beautifully harmonized duet on "Winter Wonderland" (Felix Bernard, Richard B. Smith); "Winter Weather" (Ted Shapiro); "I've Got My Love to Keep Me Warm" (Irving Berlin, from On the Avenue); and "Snowfall" (Claude Thornhill, Ruth Thornhill).
But then the silliness descended in earnest. A purported onstage gift of an ugly Christmas sweater from Weidlich led to Mars donning it and launching into a song called "Fluffy Sweater" (Scott Warrender). Weidlich countered with "The Twelve Days After Christmas" (Frederick Silver), detailing the cranky disposition of the enumerated gifts in "The Twelve Days of Christmas"—including strangling the two turtle doves and cooking and eating the three French hens. Twelve of those lines proved to be about nine too many. Other visual aids in the act included a puce feather boa, ostensibly a present from pianist Wells, which Mars wrapped around her neck to perform "The Latke Song" (Debbie Friedman), which is sung in the person of the title potato pancake. The two Cosmos she ordered from the bar and sipped on stage were harmless enough, and they lasted longer than the pointless scarf-knitting bit (claiming to be making a scarf to give as a present, and having no time to really knit it herself because of extensive performing commitments, Mars enlisted a member of the audience to stitch a few rows during the show—as members of her prior audiences allegedly had done).
Two better-known and more amusing jokey songs had absolutely nothing to do with either Hanukkah or Christmas. Mars excused the inclusion of "Sara Lee" (Kander & Ebb) by saying that people like to eat a lot during the holidays. And "The Cross-Country Tour" (Patrick Brady, Mark Waldrop), an amalgam of U.S. place song titles, such as "Carolina in the Morning" and "California, Here I Come," was explained away as the route of Santa's sleigh. The centerpiece of the show was a group of songs from early TV Christmas specials, introduced by "I Want a Television Christmas" (Alan Scott, Marilyn Scott) and including "Christmas Time Is Here" (Vince Guaraldi, Lee Mendelson, from A Charlie Brown Christmas), which found Mars in Shirley Temple mode. At least "You're a Mean One, Mr. Grinch" (Albert Hague, Theodor "Dr. Seuss" Geisel) gave Weidlich a chance to demonstrate the growly bottom basso of his range. But the song might have gone over better if there had been more than one actual child in the cabaret audience. Even two Jule Styne-Bob Merrill pre-Funny Girl collaborations from Mister Magoo's Christmas Carol, "Alone in the World" and "The Lord's Bright Blessing," couldn't save this segment.
Earlier, Mars had redeemed herself in part with a lovely rendition of the beautiful "Hanukkah Blessings" (Steven Page), and when the duo settled down at the end of their show–and the audience member's scarf-knitting was long forgotten (and uncollected)—we truly saw what might have been, thanks to the pair's renditions of two more Irving Berlin evergreens, "Count Your Blessings" and "White Christmas." She sang the former seated, sweetly and purely. He acquitted himself nicely in a long line of interpreters of the latter anthem (alas, without including the verse), finishing by leading a happily complicit audience in a partial sing-along, His and Mars's fitting and welcome encore was "Have Yourself a Merry Little Christmas" (Hugh Martin, Ralph Blane). While we may admire the wish to be different and adventurous regarding selection, sometimes the tried-and-true played straight works best after all, especially in December.
"Holiday Time"
Metropolitan Room – December 17
---
About the Author
Robert Windeler is the author of 18 books, including biographies of Mary Pickford, Julie Andrews, Shirley Temple, and Burt Lancaster. As a West Coast correspondent for The New York Times and Time magazine, he covered movies, television and music, and he was an arts and entertainment critic for National Public Radio. He has contributed to a variety of other publications, including TV Guide, Architectural Digest, The Sondheim Review, and People, for which he wrote 35 cover stories. He is a graduate of Duke University in English literature and holds a masters in journalism from Columbia, where he studied critical writing with Judith Crist. He has been a theatre critic for Back Stage since 1999, writes reviews for BistroAwards.com, and is a member of The Players and the American Theatre Critics Association.