Melissa Hamilton
August 27, 2015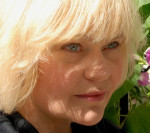 It's an increasingly rare occurrence to encounter a vocal jazz performance at which, after only a bit of the first number, I can just relax in the realization that I am in the presence of a master of the form, that I will gladly put myself in his or her hands and let them take me on their journey. Melissa Hamilton is such a singer.
I caught her recent appearance at Jazz at Kitano. From the very first lines of her opener, "Too Close For Comfort" (Jerry Bock, Larry Holofcener, George David Weiss)—performed in a uniquely aggressive style that suits it quite well—Hamilton displayed a command of the material, the stage, and the sold-out crowd. She segued into the laid-back blues of Rickie Lee Jones's "Easy Money," mining both its music and its humor. She is obviously not tied to tried-and-true jazz material; she eagerly embraces newer work not often showcased at a jazz club. Carmen McRae used to do this a lot, and McRae is one of the many echoes reverberating through the set: you can hear the influence of Ella Fitzgerald, Anita O'Day, and Hamilton's mentors, Sheila Jordan and Betty Carter, but they are just that—echoes. Hamilton has her own voice and her own style, and she builds on the legacy of these great singers.
She resurrected the delightful "Shaker Song" (Jay Beckenstein, David Lasley, Allee Willis), a hit for both Spyro Gyra and Manhattan Transfer sometime in the last century, and made it her own, putting the lyrics and story on equal footing with the infectious melody—and in the process filling the stage with a commodity all too rare on the current music scene: joy! She followed this with an effortlessly swung "East of the Sun (and West of the Moon" (Brooks Bowman) complete with scat chorus. When it comes to scat, you either buy it or you don't. I bought it. She wasn't trying to impress or look hip; she was using it as an expression of her musicality.
Her band offered impressive support throughout the evening. Pianist/music director Lee Tomboulian is a strong yet subtle and witty player, whose arrangements were constantly surprising and always spot on. As he played a gorgeous, folk-tinged intro, the singer asked the audience, "Doesn't that sound like a Joni Mitchell song?" And it did—but it turned into a beautifully realized "My Foolish Heart" (Victor Young, Ned Washington). Talk about breathing new life into a warhorse! Pianist and singer shared an exquisite moment with their deeply moving take on Matt Alber's "End of the World." Drummer Peter Runnells and bassist Kevin Hailey supplied great rhythmic support, whether the song required a subtle back beat or a fiery solo.
Like all great vocalists, Melissa Hamilton, made me hear songs I thought I knew well in a different way. Even in the most musically complex material and arrangements, she never lost the story. She combines the assured style of a master with the open-hearted enthusiasm of someone in her first embrace of jazz. She closed with an explosive rendition of Cole Porter's "Just One Of Those Things" followed by a warm and touching "But Beautiful" (Johnny Burke, James Van Heusen) and the audience reluctantly let her leave the stage. They, and I, would gladly have stayed for another hour or two at least.
Jazz at Kitano  –  August 20
---
About the Author
Gerry Geddes has conceived and directed a number of musical revues—including the Bistro- and MAC Award-winning "Monday in the Dark with George" and "Put On Your Saturday Suit-Words & Music by Jimmy Webb"—and directed many cabaret artists, including André De Shields, Helen Baldassare, Darius de Haas, and drag artist Julia Van Cartier. He directs "The David Drumgold Variety Show," currently in residence at Manhattan Movement & Arts Center, and has produced a number of recordings, including two Bistro-winning CDs. He's taught vocal performance at The New School, NYU, and London's Goldsmith's College and continues to conduct private workshops and master classes. As a writer and critic, he has covered New York's performing arts scene for over 40 years in both local and national publications; his lyrics have been sung by several cabaret and recording artists. Gerry is an artist in residence at Pangea, and a regular contributor to the podcast "Troubadours & Raconteurs." He just completed a memoir of his life in NYC called "Didn't I Ever Tell You This?"