Analisa Bell
July 30, 2017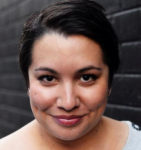 Australian-born performer Analisa Bell was originally set to perform Off the Rails—her Duplex show about the blessings (few) and banes (innumerable) of the New York City subway system—back in June. A seemingly unfortunate postponement moved the show to late July, but, in fact, that turned out to be a lucky break for the singer. Here's why. By midsummer, those of us New Yorkers who find ourselves stuck in the urban quagmire, and who depend on the Metropolitan Transportation Authority to get where we're going, can find ourselves nearing the breaking point. The subway system is problematic enough in more temperate months. But when the heat and humidity rise—turning the platforms into oven racks, and the garbage bins into stinkpots—the very idea of descending those subway steps can seem impossible to bear. So what better time for a pointed comic sendup of "the longest running show underground" (as Bell described the rail system in her opening song, Sam Pottle and Grace Hawthorne's "The Subway")?
Arriving onstage, Bell made a first impression as a robust, noisy clown. She squawked, groused, made silly faces, and sang (or spoke-sang) in funny voices. Even though she would later say that most of the people in the Duplex that night were personal friends, it took the crowd a while to warm up to her. By the end of the show, though, people were whooping and hollering. I suppose the shift could be attributed to the bartender's having mixed especially potent drinks that evening, but I think not. I know that I, at first, was not thoroughly onboard for the journey she'd prepared. But, by the end of the set, she had made a believer of me.
With her second number, Billy Strayhorn and Joya Sherrill's "Take the 'A 'Train" (with her own original "spoof lyrics"), Bell demonstrated that she was capable of doing more than bellowing and grimacing her way through a comedy song. An assured but sweet lilt came through in her vocals. And her original lyrics (about trains rerouted because of subway-line repairs and maintenance) demonstrated some sharp bursts of wit ("You must take the 'A' train / If you actually want the 'F' train."). Unfortunately, the two songs that followed, both of which she wrote with Tim Cunniffe, were back on the loud, messy side of things, relying too heavily on crass, profanity-riddled lyrics. The first, "Manspreaders," concerned oafish passengers exerting male privilege in subway-car seating, while the other, "PDA on the MTA," dealt with riders' "personal displays of affection" that can lapse into unfettered exhibitionism. But then, in a delightful turn, she surprised with a straightforward and buoyant rendition of the old Petula Clark favorite, Tony Hatch and Jackie Trent's "Don't Sleep in the Subway." Here she sounded absolutely terrific.
In her remaining stage time, she sang the songs of subterranean buskers, created the character of a sweet if dimwitted subway-tracks rat (complete with enormous ears), and, in the show's title song (which she co-wrote with Patrick Deeney), explored the difficulty of mastering the MTA-card "swipe." Deeney played a furious guitar on this number; elsewhere he took a turn at the banjo. Bell also had effective support from musical director Karen Dryer on piano and fiddler Benjamin Beames. Additionally, Deeney and Beames portrayed a pair of about-to-close subway-carriage doors in a short nonmusical routine. Nearly all of the evening was comic in tone, but in "Home," a song of her own creation, she took a serious look at the homeless population that inhabits the city's sprawling basement level.
She demonstrated a keen sense about how to shape a show, how to maneuver between contrasting moods, and how to connect with her audience on a personal level. Her innate likability and spirit of fun take her a long way. However, in this show, her performance was frequently considerably better than the material she performed; so, I was happy to learn that she has another show coming up on September 27—this time at the Metropolitan Room—in which she'll perform songs from her native Australia. Off the Rails whetted my appetite for Bell's talents, and I look forward to seeing how she does when traveling on a completely different track.
Off the Rails
The Duplex  –  July 27
---
About the Author
Mark Dundas Wood is an arts/entertainment journalist and dramaturg. He began writing reviews for BistroAwards.com in 2011. More recently he has contributed "Cabaret Setlist" articles about cabaret repertoire. Other reviews and articles have appeared in theaterscene.net and clydefitchreport.com, as well as in American Theatre and Back Stage. As a dramaturg, he has worked with New Professional Theatre and the New York Musical Theatre Festival. He is currently literary manager for Broad Horizons Theatre Company.