"Barbra Streisand: the Music, the Albums, the Singles"—a Conversation with Author Matt Howe
May 3, 2023
It was Yentl that turned Matt Howe into a Barbra Streisand aficionado.
He'd been in high school when A Star Is Born came out in 1976—too young to see an R-rated film. Before that, he was only dimly aware of the acting-singing star.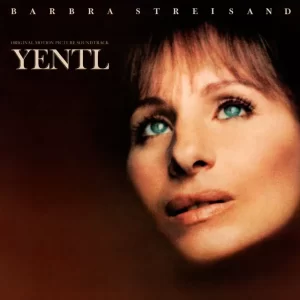 He heard the Yentl cast album before the film's release in 1983. When he finally saw the movie, that was it.
"It just blew me away," he told me in a recent phone interview. "I was hooked immediately."
Forty years following the Yentl release, Howe (who lived in DC for some time but currently calls Asheville, NC home) is one of the world's foremost experts on the career of the long-celebrated singer-actor-director-producer-songwriter-activist-philanthropist. In 2003, Howe began operating what would become a much-respected website, Barbra Archives. The site showcases every aspect of Streisand's multifaceted career: her recordings, films, live performances, and radio and television appearances. If you want to know which panelist guessed Streisand's identity when she was the mystery guest on What's My Line? in 1965 (Arlene Francis) or who her opening act was during her 1971-72 engagement at the Las Vegas Hilton (comedian Robert Klein, who also had a supporting role in The Owl and the Pussycat), then Matt's the guy you'll turn to. The website is so rich with Barbra lore that two of Streisand's current frequent collaborators—concert director Richard Jay-Alexander and Columbia Records A&R man Jay Landers (executive producer of 27 of her albums)—have consulted him when they need to make sure they've got all the facts and figures about her career exactly right.
On April 24 (Streisand's 81st birthday), Howe's new book on the Streisand recording career—Barbra Streisand: The Music, The Albums, The Singles (Fayetteville Mafia Press, 2023)—was released, approximately six months before the arrival of Streisand's long-awaited, 1,000-plus-page memoir, My Name Is Barbra (Viking, 2023).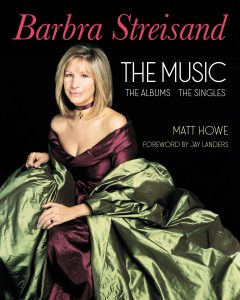 Howe's book—written during the long, lonely days of the COVID pandemic—is nearly 300 pages long. He takes deep-dive looks at each of Streisand's albums (studio, live, soundtrack albums, and cast recordings), all but a few of which were recorded for Columbia Records. (2023, by the way, also marks the 60th year of Streisand's affiliation with that label.) There are thorough discussions of the Streisand singles also, as well as special features sprinkled throughout the book, including profiles of some of the singer's most important collaborators (songwriters Marvin Hamlisch, Stephen Sondheim, Marilyn and Alan Bergman, longtime manager Martin Ehrlichman, even producer and onetime Barbra beau Jon Peters.) There are also special spotlighted mini essays on such signature songs as "The Way We Were" and "Papa, Can You Hear Me?"
Though it boasts some lovely illustrations, Howe wants to make it clear that this is not a lavish coffee-table sort of book. He designed the front and back covers himself, while his editor, Scott Ryan (also a Streisand admirer), designed the inside pages.
It was Ryan who convinced Howe not only to convey information but also to express his own opinion on the albums discussed. For each such selection, then, there's a "Matt On…" section in which he makes a critical assessment of the work in question.
In our hourlong phone chat, Howe and I discussed many facets of his book and of the Streisand recording career. The excerpts that follow highlight some of his key observations:
How the book differs from the Barbra Archives website
My book is not a copy-and-paste of the website. People have asked me that. I think it's a fair question.
I sort of did the research all over again, usually with the album [that's being researched] playing in the background. And because it was 2020 and 2021, I was able to find new interviews with a lot of the people who were involved in some of these albums—people like Maurice White of Earth, Wind and Fire. By the time I wrote this book, he had a memoir out, where he talks about working with Barbra [on the 1984 Emotion album]. A lot of that's not on my site. And then I had the fortune to interview a few of her collaborators anew for the book…. I was really challenged in writing the book to tell the stories of these albums better.
Writing "critically" about Streisand
I'm not just blindly in love with everything she does. I am a little critical. But I think I'm fair. I'm not mean. I'm not mean-spirited….
I'm not a fan of the album Back to Broadway [1993]. And I know that Jay Landers, who wrote the foreword [to the book], worked on that. And I know that David Foster [who produced several tracks] is an icon. But I just don't like his work on that album. I'm sorry!
Assisting Richard Jay-Alexander and Jay Landers
Richard Jay-Alexander has been contacting me for years—since he's been directing or co-directing Barbra's live concerts—usually with questions. If they want to write patter, if Barbra wants to say, "I performed this song for three American presidents," then she needs to know that that's accurate. So, I answer questions like that.
Jay Landers started contacting me too, mostly with questions about unreleased recordings. We started calling each other more often when the first Release Me album [a 2012 collection of previously unreleased tracks] came out. He would call me from Barbra's vaults, which was always a thrill…. One time, he wanted to find the original recording of the song "Didn't We" by Jimmy Webb. I said, 'Well, I know she recorded it for an [unfinished] album called The Singer. If you look for boxes labeled "The Singer," circa 1971, you're probably going to find it." And he did. And it's on the [Release Me] album!
So, I have a lot of weird information like that in my head. And even though Richard Jay and Jay Landers have worked with Barbra for years, they don't keep track of it as much as I do… I kind of point the way or give them clues that might help them. They're the ones that are in the archives, and they're the ones that are working with Barbra. I just sort of give them my little bits of information to move the Barbra train along.
Meeting Barbra Streisand
The first time I met her, I learned a lesson… Don't rely on your wit when you meet your idol. Plan out what you want to say. Or at least know what you want to say.
But she's beautiful in real life. I'm taller than she is, but I think everyone knows she's kind of a short-y.
She's always been so sweet. She knows who I am. She knows that I help out in my small way…. It's amazing that the lady I built the website about, whose movies and records I've listened to my entire life, knows who I am—and I get to help out in my small way in her enormously iconic career.
I remember one time I went to see her in concert, and I was sitting pretty close, and when I went backstage afterwards, she said, "I know you were paying attention to everything I said!" And I said, "No, Barbra. I was just enjoying you. I'm not recording you with my mind's eye when I see you perform. I just enjoy you." And she laughed…. It's the truth. I can be critical and "archival" and librarian-esque, but I also have a very human reaction to hearing her sing or seeing her live or watching a movie [of hers]. I really just enjoy her a lot.
How Streisand adapted musically as the music world changed—and as she changed
She's sung so many genres, most of them successfully. She's sung pop, standards, show tunes, classical music, rock and roll, disco, even country—and even one reggae song! ["Guava Jelly" from 1974's Butterfly album]. It's really remarkable…. I'm not a fan of her singing rock and roll. But she's really successful in just about every other genre.
I think it's curiosity that made her want to tackle those songs. Maybe a little bit of pressure from the record company. But I think she's always gone into these different genres with a pure heart and artistic spirit. She's worked with amazing people. She has producers and arrangers that made her succeed in these genres, where somebody else, like…Frank Sinatra singing the Beatles? He may have been singing the Beatles, but he was doing a Nelson Riddle [style], 1940s arrangement. It sounded wrong. But Barbra had people like Richard Perry [producer of 1970's Stoney End album], who were young and hungry and had their finger on the pulse and sound of the time.
When radio started going the way of the dodo in the 1990s and 2000s, it wasn't Barbra's problem alone. I think even people like Britney Spears—she had a new album out, and the radio was still playing her [very earliest hits]. You couldn't get new songs on the radio. Everything got divided into "Hits of the '70s," "Hits of the '80s." And even though Barbra released singles into the 2000s, she just couldn't get the airplay—and, again, she's not the only one. It's not a Barbra-only problem.
How Streisand's return to live performing in recent decades may have affected her later recording career
Maybe in the studio, she's more willing to "sing live"—whereas, in the '80s and '90s, she was more of a technical recording artist, doing overdubs and punch-ins, fixing a note here and fixing a note there, and singing this line over again. I think maybe, in these last few years—even though it's still a studio recording—she's more willing just to be live, with an orchestra or a band. And if they do a take that's mostly good, she's, like, "That's it. We're done. I'm going home."
I write about this in the book…. Her early albums were basically live performances. Unless somebody dropped an instrument or rattled the sheet music too loud, if it was good, they used it. And she sang live with an orchestra. It wasn't until the '70s that she began, I believe, using what she learned on camera and applying it to the recording studio…. She's acting into the microphone and doesn't have to belt it to the back row anymore. She can sing a "belt" in her head voice. She can whisper, she can sigh. And you hear all of this very subtle acting.
Streisand's roots in the cabaret world
Barbra took everything she learned performing in nightclubs and applied it to albums. The "sequencings" of her albums are very good. She knows how to order [the songs], she knows how to pick up the pace. After a few ballads, you need to throw in a comedy song or an up-tempo. And she knows how to end albums. She's doing it with, usually, twelve songs on an album. But if you listen to the one that just came out [Live at the Bon Soir (2022), an unearthed 1962 recording], I mean, listen to that nightclub act! That is amazing. Wouldn't you love to have seen her live [then]? [Listen to Streisand's take on "Napoleon" (Harold Arlen, Yip Harburg) from the Bon Soir album HERE.]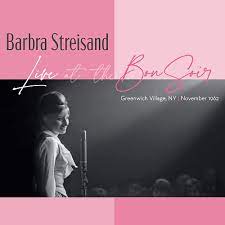 I've done cabaret, so I know. You get attracted to these really obscure, weird songs. Maybe it's a song somebody wrote for you, or one nobody else has performed. And you want to include it because it's…unique. And do—please do! But then, you've got to throw the audience a bone. You've got to give them a standard that everybody knows. You don't have to sing it in the way everybody knows. Hopefully, you have an amazing accompanist, an arranger who can find another way of doing, you know, "Make Someone Happy" or whatever—find a way to do a standard differently.
Jay told us in a couple of the YouTube videos we've done to promote the book that he always tries to get Barbra to record something popular. And she resists—because she wants to sing what she wants to sing. But I think it helps the albums out. It really does. I think that listeners want to hear something that grounds them in familiarity. It doesn't have to be every song. But they want something familiar. They're like, "Oh, Streisand singing 'Smoke Gets in Your Eyes'! Finally!"
I love the [cabaret] art form. And I don't want to simplify what Barbra Streisand does. But, basically, when you go see her in concert, she's doing what every cabaret artist does. She's putting together a show that has a bit of a structure, maybe a theme. She's just performing in arenas instead of little rooms. And I think what she does so well—because these are huge arenas in front of tens of thousands of people—is make it feel like you're seeing her at the Bon Soir, and she's talking to you and telling her little stories. And she's singing these very intimate songs… Wouldn't it be amazing to see Barbra perform at 54 Below or the Rainbow Room or something like that? We'd never be able to get tickets!
Naming five Streisand tracks that, together, convey the scope of her recording career
I have to caveat this by saying that that these are just based on the mood I'm in today….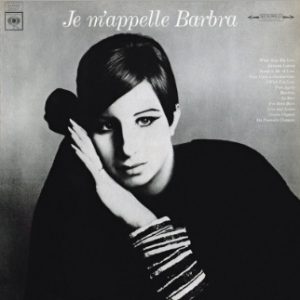 The first one that came to mind is "Once Upon a Summertime" from Je m'appelle Barbra [1966], which I think is just delicious. It's arranged by Michel Legrand, and she sings some French in there. I mean, it's just romantic and lovely.
The second one I chose is "Don't Rain on My Parade" – the [1968 Funny Girl] movie version. I mean, I don't think you could leave that off. If you wanted to choose five iconic Streisand songs, I think that's probably one of the top ones…. A great arrangement by Walter Scharf.
Then, I thought, I've gotta put something pop in there, because if you're talking about the breadth of her career, you can't skip the pop…. So I went to the Guilty album [1980], and I went to "Woman in Love," which was a number-one single for her and which has the sound of the '80s. It's a great vocal—she soars and sounds amazing on it. It was number one in the States, but bigger in Europe.
Number four? I have to go with "A Piece of Sky" from Yentl. It's one of the songs you have to play if someone says, "Tell me why you love Barbra Streisand so much." It's, again, a beautiful Michel Legrand arrangement, with all those strings. And then there's the last note she sings, which lasts forever—and which Jay Landers confirms is not looped; it's a live vocal.
The last one? I thought to myself, God, she's such a great actress on record, I've got to choose an "acting" song. And I went with "Send in the Clowns" by Sondheim. It's on several of her albums. You can hear her sing it live, you can hear her sing it in the studio. No matter which one you choose, you can always hear her acting, her subtlety.
Howe's plans for future books
Let's see how this one sells. I think I would probably do [another] book at a lower price point. I do have a topic that I'd like to write about—kind of a different spin on part of Barbra's career. I'm not gonna say it out loud, but I'm thinking about that…. Let's just see how this one goes.
---
About the Author
Mark Dundas Wood is an arts/entertainment journalist and dramaturg. He began writing reviews for BistroAwards.com in 2011. More recently he has contributed "Cabaret Setlist" articles about cabaret repertoire. Other reviews and articles have appeared in theaterscene.net and clydefitchreport.com, as well as in American Theatre and Back Stage. As a dramaturg, he has worked with New Professional Theatre and the New York Musical Theatre Festival.