Cacophony Daniels
July 24, 2018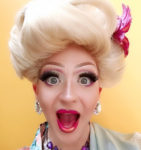 I have never before seen a tribute show quite like Wanna Bette?, drag artist Cacophony Daniels's homage to Bette Midler, currently at Don't Tell Mama. The evening celebrates Midler and her long professional career—52 years and counting—in fine style, and provides a thoroughly entertaining and stylish cabaret act.
There is no real connection between the two performers; the fact that a grandmother of Courter Simmons (Cacophony's real name) lived in Honolulu, where Bette was born, hardly counts. Simmons and Midler never met, much less worked together—though he did go to see her in Hello, Dolly!—and her direct influence on him seems to have been minimal. Even his fanboy (fangirl?) fascination with her seems a bit, pardon me, from a distance. Yet this is a show that will not disappoint hardcore Midler fans (nor will it enlighten them), and the rest of us are happy to be taken along for the ride.
The narrative of this tribute is proudly based on research, as Cacophony tells us from the get-go, and reminds us of often. And there's been no attempt at any vocal imitation of Midler, except for a brief spoken "Soph" sequence of bawdy jokes. Daniels, whose wide-ranging male and female registers are impressive, does sing the whole set in Midler's original keys—unlike Midler, herself, who had Carol Channing's "Dolly" keys transposed for her to sing in the current revival of the show. Cacophony's opening costume, a black-and-while "dalmatian" number with a bright red belt, is merely a nod to a role Midler played in 1988, not a slavish copy of something she wore. Even further afield is the mid-set fast costume change to an astonishing, form-fitting red sequin number that, along with the Daniels vocal prowess, can make one forget for a bit that this is a guy pretending to be a girl who is not pretending to be another girl. (During this brief entre-act, music director-pianist Clinton Sherwood does his own homage, singing and playing Barry Manilow and Adrienne Anderson's "Daybreak.")
The show's song set is unrolled roughly chronologically, from Midler's Broadway debut in Fiddler on the Roof, in 1966, right through her Bathhouse Betty years with Manilow as her accompanist, and her television and movie work, yet never straying far from her hefty body of recordings, pop hits, novelty numbers, and memorable ballad interpretations. A cleverly constructed Broadway medley by arranger Kyle Branzel comprising "Matchmaker, Matchmaker" (Harnick & Bock), "Hello, Dolly!" and "Before the Parade Passes By" (Jerry Herman), "Rose's Turn" (Jule Styne, Stephen Sondheim), and "The Acid Queen" (Pete Townshend) gets things going in fine style. It is clear early on that in addition to Sherwood and Branzel's contributions, Daniels has considerable first-team help from Stephanie Estep ("my one Harlette") on vocals, Sean Murphy on bass, Ashley Baier on drums, and Kurt Markum on trumpet, who shines in particular on—what else?—"Boogie Woogie Bugle Boy" (Don Raye, Hughie Prince).
Other Midler musts include solid, individually interpreted renditions of "Do You Want to Dance?" (Robert Freeman), "Friends" (Mark Klingman, William Linhart), and a luscious Branzel arrangement interweaving "From a Distance" (Julie Gold) and "Wind Beneath My Wings" (Larry Henley, Jeff Silbar). For us few remaining Betty Hutton fans there is one of her signature songs, "Stuff Like That There" (Livingston & Evans), which had been repurposed for Midler in the film For the Boys. Equal in excellence to, but different from, Midler's takes, Daniels delivers memorable ballads, including "The Glory of Love" (Billy Hill) and two Harold Arlen/Johnny Mercer songs, "Come Rain or Come Shine" and "One for My Baby (and One More for the Road)." The latter was the number Midler sang when she was Johnny Carson's final guest before he left The Tonight Show—and probably the song that millions of Americans best remember her for.
Wanna Bette?
Don't Tell Mama – June 22, 30, July 14, July 28
---
About the Author
Robert Windeler is the author of 18 books, including biographies of Mary Pickford, Julie Andrews, Shirley Temple, and Burt Lancaster. As a West Coast correspondent for The New York Times and Time magazine, he covered movies, television and music, and he was an arts and entertainment critic for National Public Radio. He has contributed to a variety of other publications, including TV Guide, Architectural Digest, The Sondheim Review, and People, for which he wrote 35 cover stories. He is a graduate of Duke University in English literature and holds a masters in journalism from Columbia, where he studied critical writing with Judith Crist. He has been a theatre critic for Back Stage since 1999, writes reviews for BistroAwards.com, and is a member of The Players and the American Theatre Critics Association.