"Canada Day" with Josh Stackhouse & Friends
July 17, 2023
Three days before the fireworks-filled festivities of the Fourth of July, there was a different kind of celebration held on West 26th Street at Chelsea Table + Stage. It turns out that July 1 is Canada Day, commemorating the date when our neighbor to the North consolidated three territories into a single nation in 1867. Songwriter Josh Stackhouse and a group of his New York based compatriots put on a good, old-fashioned variety show in which the only fireworks on display were of the musical comedy variety. The show was bursting with charm, goodwill, talent, humor, and surprises. Keeping to its Canadian roots, it was reminiscent of an elaborate SCTV skit with genial satire, inviting whimsy and outlandish situations complete with an animal puppet (hilariously voiced and maneuvered by Ben Durocher) holding court (and co-hosting) from a tree trunk, His name? Why, Justin Beaver, of course!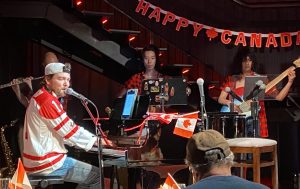 Stackhouse not only dazzled with ingratiating charm every minute of his hour on stage as host, guitarist, pianist, and occasional vocalist, but his songs were a delight, with a couple a good deal more than that. His comic opener, "Hi, I'm from Canada" set the tone perfectly as he listed his native land's attributes and added a few of its more unsavory contributions (like Ted Cruz and Hawaiian pizza) with inventive lyrics and a catchy melody. His friendly, uber-polite demeanor as he strummed on a guitar and channeled his inner Gordon Lightfoot or John Denver, was another satirical jab at the mild-mannered Canadian persona perpetuated in legend and in cliché. There was always a conspiratorial wink in his eye that let the audience know he was in on the joke even as it grew more and more meta. The overall looser-than-loose premise was that for a number of goofy reasons Canada was in danger of losing its anthem, "O Canada"; Stackhouse had been tasked to come up with a replacement.
His first alternative was "Vancouver, Here I Come," a Hamlisch/Shaman pastiche that sounded like it was from a production of Hairspray set north of the border instead of in Baltimore. Alicia Kee delivered it with winning energy and mock sincerity. Amy Rivard followed with the first showstopper of the night, "Crazy About You," as she milked every laugh from every "mispronunciation" of "out" in the slyly rhymed lyrics courtesy of Stackhouse. Imagine the title phrase being sung as "Crazy Aboot You" and then imagine a lengthy list of rhymes, growing in humor with each one; Rivard delivered each with a light hand that made them all the funnier. Eric Coles then took the stage as Woody the Lumberjack, bemoaning the walls that masculinity can erect around sensitivity, in "Manly Man's Lament" and had great fun shattering expectations. Cassie Nadeau brought the house down with a tough, salty torch song that grew into a blistering blues called "Bad Canadian." Stackhouse informed the audience that the song was a last-minute replacement for a romantic love song called "Snowshoe Your Way to My Heart." Among her revelations proving that she was indeed bad, Nadeau confessed in the lyrics that "When Schitt's Creek ended I was only kinda sad…."
A special guest appearance by "Justin Trudeau's fairy godmother" (portrayed in drag glory by Jordan Bell) sang another possible anthem replacement called "Canada is Pretty" but its chances of being chosen for the honor were considerably weakened by the completed phrase in the lyric, "Canada is pretty…. gay" followed by "If Canada's in the closet, she ain't hiding it very well." By the end of the national coming out song, Bell turned it into a full-on sing-along which the audience ate up. Eric Coles returned for "Marathon of Hope" and as "one serious moment in a musical comedy revue" numbers go it was actually quite moving. Based on an uplifting real-life event, the song allowed the singer to switch from his previous broad machismo to touching sensitivity with equal success.
The Drinkwater Brothers then jumped up from the audience to make the argument for the superiority of Americans with boisterous bombasity in "Proudly American." Their ultimate demand to hear some "American hit songs" led to what should have been a big, broad medley of U.S. hits of Canadian origin. While Joni Mitchell, Michael Buble, Sarah McLachlan, Nelly Furtado, and others were included, Stackhouse went for esoteric more than obvious, for quality rather than guffaws. The number would have benefited from a few "kitchen sink" moments like "Hallelujah" or "Snowbird" or other intercontinental warhorses. The songs and the performances were just not funny enough.
But that was the only drawback in what was otherwise a laugh-filled surprise of an evening. Canada Day with Josh Stackhouse & Friends was an unexpected treasure chest of good songs, stars on the rise, and a welcome introduction to a singer/songwriter with a promising future in cabaret and theatre.
###
Presented at Chelsea Table + Stage, 152 W. 26th St., July 1, 2023.

---
About the Author
Gerry Geddes has conceived and directed a number of musical revues—including the Bistro- and MAC Award-winning "Monday in the Dark with George" and "Put On Your Saturday Suit-Words & Music by Jimmy Webb"—and directed many cabaret artists, including André De Shields, Helen Baldassare, Darius de Haas, and drag artist Julia Van Cartier. He directs "The David Drumgold Variety Show," currently in residence at Manhattan Movement & Arts Center, and has produced a number of recordings, including two Bistro-winning CDs. He's taught vocal performance at The New School, NYU, and London's Goldsmith's College and continues to conduct private workshops and master classes. As a writer and critic, he has covered New York's performing arts scene for over 40 years in both local and national publications; his lyrics have been sung by several cabaret and recording artists. Gerry is an artist in residence at Pangea, and a regular contributor to the podcast "Troubadours & Raconteurs." He just completed a memoir of his life in NYC called "Didn't I Ever Tell You This?"