Cara Maltz
November 25, 2013
"My Mom is a Sex Therapist"
The Duplex – November 13, 16, 17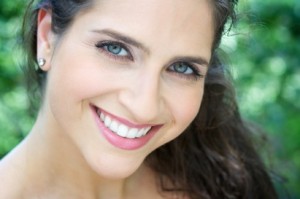 Triple-threat performer Cara Maltz returned to the Duplex stage with her autobiographical one-woman musical, "My Mom is a Sex Therapist," a show she debuted at the club over a year ago. It was written by Maltz and Stephan Varnier, with music and lyrics by Joshua H Cohen (with the exception of the title song, which was written by Keith Varney) and its subject matter is rife with possibilities. A voluptuous beauty, Maltz not only sings and dances with flair, but she is that rare looker who can contort her face to convey several moods, to maximal comic effect.
The premise of the show is that growing up with such a mother can have its benefits (Maltz's knowing openness about the ways of love and sexuality at an early age, for example) but it can also have its downsides. The show begins with Maltz as an eight-year-old lisping the words, "My mommy is a therapist/She fixes what's in your head/So you feel good about yourself/When you're naked in bed." From there, a scene follows in which the mother makes an appearance at Maltz's second grade class and boldly urges the children to love themselves. The accompanying anthem, "Love Yourself," is often hilarious in its imagery: "You have to part the curtains/To reveal your inner flame/You have to reach deep inside/Without a hint of shame."
Maltz takes us through her life with Mom, including a lesson with Barbie dolls, and, as a teenager, collaborating with her mother on skits about safe sex practices. Doing skits with such no-holds-barred subject matter awakened Maltz's love of performing, which leads to the song "I Can Be," a showstopper about the many roles she could play. The performance demonstrates her musical theatre chops, and she unexpectedly includes an applause-getting, sexy change of outfit.
Another favorite scene has Maltz, as a young woman dating in New York, imagining what her dates are thinking when she tells them her mother is a sex therapist. As the lighting changes to hot pink, Maltz crosses her legs and becomes the dominating seductress, delivering an X-rated list of skills and toys, expressed through lines such as, "I give hand jobs, foot jobs, blow jobs, you name it… I'll take you to the moon, the sun, and beyond Uranus."
Clearly, Cohen's witty lyrics and melodically varied songs are a big reason that this show succeeds. He obviously collaborated closely with Maltz, adding such colorful imagery to the compositions. Varney's title song (the closer) also gives specific, comedic details about the complicated life of being the daughter of a sex therapist. Garrit Guadan accompanies on piano.
Maltz and Varnier could stand to do a bit more tweaking on the book. Although the individual scenes are very good, the overall structure is too predictably chronological—some experimentation with flashback and moving across boundaries of time would be welcome.
It isn't all played for laughs; towards the end, Maltz confesses to her own behavioral addictions. This is a plus, as it shows a willingness to go for the conflict and drama in the relationship, but it comes on too suddenly and too late in the show. Thus, the resolution is too pat, as if she's hankering to get to the closing song. We should see more undercurrents of this drama throughout.
Finally, although confined to a small space, Varnier, as director, should attempt more creative staging. Other than the showstopper number, scenes go back and forth from center stage to a stage-left podium (mainly the mother's scenes) with little variation.
There is so much still to be uncovered (pardon the pun) with this intriguing story. Maltz is a stellar performer. With slight upgrades in the book and the staging, this is the kind of one-woman show that could find a large audience on a larger stage before long.
---
About the Author
Kevin Scott Hall performed in cabaret clubs for many years and recorded three CDs, including "New Light Dawning" in 1998, which received national airplay. He also worked at the legendary piano bar, Rose's Turn, and has taught cabaret workshops and directed shows since 1995. Kevin earned his MFA in Creative Writing at City College of New York. He is an adjunct professor in the Theatre and English departments at City College and Borough of Manhattan Community College. His novel, "Off the Charts!" was published in 2010, and his memoir, "A Quarter Inch from My Heart" (Wisdom Moon), in 2014. Kevin writes a monthly column and entertainment features for Edge Media Network, writes reviews for BistroAwards.com, and freelances for other publications.