CD Review: Eleri Ward's "Keep a Tender Distance"
October 6, 2022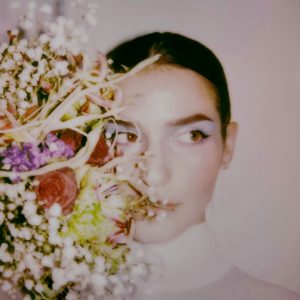 Sondheim tribute recordings and CDs have become a cottage industry in the music world. There have been many fine entries in the genre harkening back to Sir Richard Rodney Bennett, Dame Cleo Laine, Jackie & Roy, Herbie Hancock, and Betty Buckley to name a few, not to mention the myriad concert and studio tributes by multiple artists. Most have chosen to honor the iconic Broadway composer/lyricist using their individual talents to illuminate his songs, some recreating original theatrical moments and others reinterpreting either musically or dramatically. What sets singer Eleri Ward apart from just about all the others is that in her previous CD, A Perfect Little Death, and her newest release, Keep a Tender Distance, she uses Sondheim's songs to illuminate her own artistic expression and personal experience. She makes it seem that these are her songs, not merely covers. Using the idiom of folk music (which is about as far removed from the material's legit origins as one can get) and divorcing the lyric narratives from their legit beginnings, she creates worlds within the songs that probably no one before her has imagined, much less attempted. Add to that her range-y, expressive voice and her masterful guitar playing, her accomplishment is special indeed.
Her first Sondheim collection was self-produced in a closet in her apartment, during the enforced austerity of COVID and quarantine, after a few of the songs were released on YouTube to great acclaim and popularity. (You can read my review of that remarkable recording here.) Keep a Tender Distance was recorded back in a "real world" studio and co-produced with Allen Tate. The singular arrangements remain her own special province, as do the thrilling multiple, overdubbed vocals, embellished with beautifully realized strings arranged by Ellis Ludwig-Leone and played by Nathan Schram (violin and viola) and Andrew Yee (cello). It is in every way a richer, warmer, more thrilling experience than its predecessor—a feat I would have thought impossible before hearing it; Ward has outdone herself.
The gentle insistence of "Merrily We Roll Along" (from the show of the same name) is a perfect opener and immediately immerses the listener in her magical choir of voicings and the new, exciting addition of strings. It has an irrepressible joy that reminded me of Joni Mitchell's "Night in the City," but it is tempered with the wary questioning of life and time and love that suffuses the entire recording. Removing "Stay with Me" (from Into the Woods) from its parental origins makes it a more contempory plea with lines like, "Don't you know what's out there in the world?"; it gains unexpected resonance when that world is pandemic-ridden. I have never been as moved by the phrase, "Stay at home. I am home." In "Unworthy of Your Love," that plea grows into an obsessive declaration of love that bristles with understated power. The implied last names of Jodie and Charlie disappear in the swirl of voices making it a more ecumenical observation of blind devotion. "Joanna" (from Sweeney Todd) creates an even more involving and mature pledge of love, her incredibly expressive voice rising to the heavens in a combination of pain and romance.
The loss of that love is examined in "Agony" (from Into the Woods), refreshingly free from the cartoonish hubris of the besotted princes of the fairy tale. The build of the song is delicately seasoned with some trademark Sondheim wit and wordplay but it serves to enrich the experience. "I Remember" (from Evening Primrose) could have been written in response to the recent nightmarish years of separation, quarantine, and distancing, and the ghostly wordless chorus that Ward conjures makes an already classic song particularly haunting. The excitement of the world coming back to life is captured in "Another Hundred People" (from Company) but even in its celebratory abandon, she chooses to give an emotional emphasis to the phrase, "…and every day some go away," highlighting how fragile and fleeting it all can be. The abrupt, unresolved ending solidifies the angst as an unavoidable presence. The canny programming constantly enriches the material as the ideas of one song place the following number in a new setting. The "hundred people" offer multiple opportunities for love and romance. Those opportunities are investigated in "The Miller's Son" (from A Little Night Music) as she invests each one with equal possibility underlined with a slower than normal tempo. The storytelling takes precedence over the normally sped up patter of the lyrics. She gives as much weight to "…a person should celebrate everything passing by" as she does to "…and I shall marry the miller's son."
This relationship thread continues with the love/hate story of "I Know Things Now" (from Into the Woods). Once again, she chooses to emphasize a normally tossed away line and alters the narrative she spins—in this instance it's "…even flowers have their dangers" stretched out and up just enough to add a frisson to the lyrics. The multi-voiced wail trailing off into a wordless fade-out is a perfect end to a deeply moving "Not a Day Goes By" (from Merrily We Roll Along), muting a pain that will not go away. To save us from the desolation of that ending, she next offers the lullaby-like assurance of "Nothing's Gonna Harm You" (from Sweeney Todd) with a gentle assurance that is like a comforting hug, opening and closing with a repeated, "…not to worry, not to worry…"
Her thoughtful, delicately delivered "No One Is Alone" (from Into the Woods), punctuated with a fervent "I wish," has surprising strength underlying its melodic beauty as Ward captures both sides of the deceptively simple title. "Marry Me a Little" was cut from the original Company and replaced by "Being Alive" and, while in its initial incarnation it was meant to be a less than ideal view of relationships, Ward transforms it into an aware, intelligent, perfectly reasonable request of a lover, "…passionate as hell but always in control." Here, as throughout the recording, her acting and phrasing blend into a perfect whole and it is genuinely exciting to hear her claim, "Right? Okay then, I'm ready…I'm ready now" as a climax not only of this song, but the entire album up to that point. Her octave leap for her last "I'm ready" brings back an echo of the wariness once more. An almost immediate answer is given with "Stop worrying where you're going, move on…." the opening line from "Move On" (from Sunday in the Park with George), and as the song builds to acceptance and exaltation that has never seemed more personal, it becomes a perfect end to Keep a Tender Distance. To paraphrase its final exhortation, Eleri Ward has truly given us more to hear. Now I am going to stop writing and listen to it again, sure to find even more layers and surprises and delights. I suggest that you do the same.
***
A CD release of Keep a Tender Distance has not been scheduled but it is available for downloads and streaming at all the usual sources.
---
About the Author
Gerry Geddes has conceived and directed a number of musical revues—including the Bistro- and MAC Award-winning "Monday in the Dark with George" and "Put On Your Saturday Suit-Words & Music by Jimmy Webb"—and directed many cabaret artists, including André De Shields, Helen Baldassare, Darius de Haas, and drag artist Julia Van Cartier. He directs "The David Drumgold Variety Show," currently in residence at Manhattan Movement & Arts Center, and has produced a number of recordings, including two Bistro-winning CDs. He's taught vocal performance at The New School, NYU, and London's Goldsmith's College and continues to conduct private workshops and master classes. As a writer and critic, he has covered New York's performing arts scene for over 40 years in both local and national publications; his lyrics have been sung by several cabaret and recording artists. Gerry is an artist in residence at Pangea, and a regular contributor to the podcast "Troubadours & Raconteurs." He just completed a memoir of his life in NYC called "Didn't I Ever Tell You This?"