CD Review: Elizabeth Ward Land's "Still Within the Sound of My Voice—The Songs of Linda Ronstadt
August 2, 2022
It is a tricky proposition to make a studio recording of a cabaret show; there are so many elements to consider. Most of the people who hear the recording will not have seen the show and will have no frame of reference other than the audio. Tempos, keys, arrangements, and order might need to be changed; some songs that were successful on stage will not translate to the "audio-only" world of an album and could be removed.  Instrumentals can be brought to the fore or moved to the back. The meaning or personality of a song can be lost without the introductory patter that led into it on stage.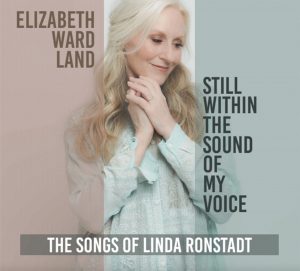 All of this brings me to Still Within the Sound of My Voice—The Songs of Linda Ronstadt, the new CD based on the Bistro Award-winning show by singer Elizabeth Ward Land. The show was an intriguing love letter to one of her favorite singers, with biographical bits about Ronstadt intertwined with moments and memories from Land's own life. There were fascinating parallels between the two women, and as the singer visited some of her favorite songs, her own singular talent informed the tribute in exciting ways. Unfortunately, none of that personal detail is available to the listener and more thought could have been put into the purely audio experience the CD offers. 
"Heatwave" (Lamont Dozier, Brian Holland, and Eddie Holland) is an exciting, fun opener that shows off and features right at the top some of the greatest assets the recording has to offer—pianist Andrew David Sotomayor's sparkling arrangements and the beautifully supportive vocals by Catherine Porter and Joel Waggoner (who also supplied the vocal arrangements and contributes some tasty violin as well).  Keeping the tempo bright and inviting, "Different Drum" (Mike Nesmith) captures the energy of the original but allows Land to add her own infectious delivery to the early Stone Poney's hit that introduced Linda Ronstadt to most of the world. 
In a live show, a medley can give the audience a taste of a few hits at once like a commercial for a greatest hits album, but on a recording, it can shortchange listeners in frustrating ways, especially when the vocals are as strong and expressive as the ones Land, Porter, and Waggoner offer here. Unfortunately, no one song is allowed to develop in any substantial way.  There are five (count them, five) songs in the Buddy Holly/top 40 style at which Ronstadt excelled. "When Will I Be Loved," "That'll Be the Day," "It's So Easy," "Just One Look," and "It's in His Kiss" each suffer from the truncation and end up sounding like one long, repetitive song without much lyric sense. One or two of them, done separately and in their entirety, would have better served both Land and this portion of Ronstadt's career. The other, more positive, side of medley inclusion is proven by the touching pairing of Anna McGarrigle's "Heart Like a Wheel" and JD Souther's "Faithless Love." The harmonies are spectacular, with Land's lead vocal and haunting vibrato piercing the heart. 
"You're No Good" (Clint Ballard Jr.) rocks out with power and electricity, coming close to, if not actually, besting the original and featuring star turns by Kevin Kuhn on guitar and Arei Sekiguchi on drums and percussion. "Frenesi" (Alberto Dominguez) offers an infectious trip south of the border, filled with the same joy that Ronstadt brought to her earlier excursion. One of the highlights of the project for me is Karla Bonoff's "Someone to Lay Down Beside Me," a romantic wail in the night sung beautifully.  I was struck by the exciting prospect of the singer investigating Bonoff's songbook in a future show/recording. Land's powerful vocals could bring long-deserved recognition to her great songs. Sotomayor's hauntingly minimal introduction to "Blue Bayou" (Roy Orbison, Joe Melson) is just right as Land makes one of Ronstadt's most recognizable and copied classics her own personal property. 
My least favorite Linda Ronstadt period is her Nelson Riddle-arranged Great American Songbook detour. The arrangement and delivery of "Falling in Love Again" (Friedrich Hollaender, Sammy Lerner) are an awkward blend of pop, jazz, and Broadway, including quotes from songs of City of Angels that have nothing to do with the subject of the tribute. True, Land did appear in the Broadway cast of the show, but the casual listener has no knowledge of that and it just comes across as a bizarre affectation.  Then comes another lengthy medley (this time of four big pop ballads) that fares no better than the earlier song grouping and does no justice to any of the admittedly massive hits in Ronstadt's career.  With the incredible vocals on hand, how great it would have been to hear "Somewhere Out There" (James Horner, Barry Mann, Cynthia Weil) and/or "Don't Know Much" (Mann, Weil, Tom Snow) done as full songs. 
Once again, a serious misstep is rescued by a great follow-up number. "Long Long Time" (Gary White), is a beautiful "duet" for voice and guitar between the singer and Kuhn. It's sensational. Jimmy Webb's "Still Within the Sound of My Voice" is one of the great later Ronstadt recordings and serves as a perfect "11 o'clock number" for the album.  It would have been better served if the backing vocals were delayed until the last portion of the arrangement coming in like a full string section; this would have allowed Land to carry the story in her own strong, pure voice until the climax. 
The singer's thoughtful, intelligent phrasing is perfect for "Desperado" (Don Henley, Glenn Frey) and it is a passionate, memorable closer to an album whose abundant treasures more than make up for the reservations I mentioned. Elizabeth Ward Land has done Linda Ronstadt, and herself, proud.  
###
---
About the Author
Gerry Geddes has conceived and directed a number of musical revues—including the Bistro- and MAC Award-winning "Monday in the Dark with George" and "Put On Your Saturday Suit-Words & Music by Jimmy Webb"—and directed many cabaret artists, including André De Shields, Helen Baldassare, Darius de Haas, and drag artist Julia Van Cartier. He directs "The David Drumgold Variety Show," currently in residence at Manhattan Movement & Arts Center, and has produced a number of recordings, including two Bistro-winning CDs. He's taught vocal performance at The New School, NYU, and London's Goldsmith's College and continues to conduct private workshops and master classes. As a writer and critic, he has covered New York's performing arts scene for over 40 years in both local and national publications; his lyrics have been sung by several cabaret and recording artists. Gerry is an artist in residence at Pangea, and a regular contributor to the podcast "Troubadours & Raconteurs." He just completed a memoir of his life in NYC called "Didn't I Ever Tell You This?"