CD Review: Gary Negbaur—"You've Got to Be Carefully Taught"
February 22, 2021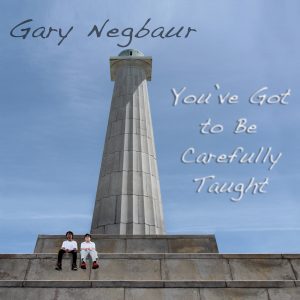 In 1949, Rodgers & Hammerstein's "You've Got to Be Carefully Taught" from South Pacific outraged many people with its positive take on interracial relationships. Seventy-two years later, it's painfully obvious that we're still not truly learning, so it's a timely title track for Gary Negbaur's 2021 Blujazz label album. Negbaur's rendition is catchy—he covers the song in 4/4, which has more drive than the original waltz—and I suspect it will be repeating on a pleasant loop in your mind after you hear it.
Negbaur presents as a New Orleans-influenced blues guy, with straight-ahead piano and an "I sing it like I feel it" approach to the vocals. The album is a mix of ten standards and originals with a clear stylistic through line; it has some real high points, and a few moments where I wasn't sold that the song choices were exactly right for him. 
"Chemistry" is Negbaur's first original tune on this album, and its lovely ragtime-ish piano opening unfolds into a story of remembering what it felt like to be lit up by an old flame. It intriguingly becomes a song about someone so caught in nostalgia that he's not feeling too fiery. 
"I Want to Be Happy" (Vincent Youmans, Irving Caesar) doesn't quite hit the mark with the vocals reaching for more of a rich crooner sound and not quite getting there. Although musically interesting, and true to Negbaur's blues roots, is the use of a few additional minor chords in a song about happiness, giving us some intriguing contrast. I very much liked his laid-back cover of "Help!" (John Lennon, Paul McCartney), where he sets aside the rock beat of the original, sends the boys in the band off for a smoke break, and accompanies himself on piano in a decidedly soulful and grown-up version of the song. It's as if he's saying, "Look, I messed up, but I'm way too experienced now to get worked up about it."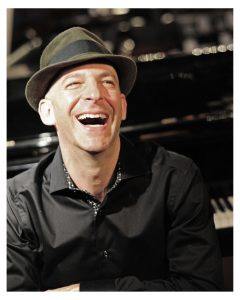 The other Beatles cover, "For No One," steps out with a Latin rhythm on the chorus and the instrumental, which, while inventive, is a moment where I thought the arrangement, untethered from the lyrics, drained the song of its power. The song is so incredibly sad. However, when the moment came in the lyric—And in her eyes you see nothing—Negbaur's band was gearing up to party, while I was ready to dig into a consoling pint of ice cream and call my mother.
Negbaur's other two originals were very enjoyable additions, creating a running theme of past tense and "almost" romances. In "I Keep Missing My Cue," he plays with back phrasing his vocals, showing us what it is to be just a little too late…in music or life. "Dressing for Yesterday's Weather" unfolds a list of all the things he remembers about his love, and it's some of my favorite singing on the album. However, closing with "You'll Be Back" (Lin-Manuel Miranda) is a little problematic, even though it's a nice rendition and probably a great encore for a live concert. But in the original context of Hamilton, it's about domination—the tap-your-foot aspect of it is meant to be ironic. The song, with its layers of possessive, colonial greed, just pops up out of nowhere in an album that's otherwise about tolerance and love.
The production achieves a warm, full, analogue-inspired sound—led by producer Roger Hines, recorded by Matthias Winter at Yellow Sound Lab, with additional recording and mixing by Lorenzo Wolff at Restoration Sound, and mastered by Bryan Martin at Sonosphere. Dom Richards on bass and Nat Seeley on drums round out Negbaur's rhythm section with attentive playing throughout.
---
About the Author
From Canada, Penelope Thomas came to NY to study dance with Merce Cunningham; then through a series of fortunate and unfortunate events, she wound up back in singing and acting. Credits include lead vocals with FauveMuseum on two albums and live at Symphony Space, singing back-up for Bistro Awards director Shellen Lubin at the Metropolitan Room, reading poet Ann Carson's work at the Whitney, and touring North America and Europe with Mikel Rouse's The End of Cinematics. In Toronto, she studied piano at the Royal Conservatory of Music and cello with the Claude Watson School for the Arts, and in New York she studied music theory with Mark Wade. She's taught in the New School's Sweat musical theatre intensive and taught dance in public schools and conservatories.