CD Review: Sarah Moule "Stormy Emotions"
June 7, 2021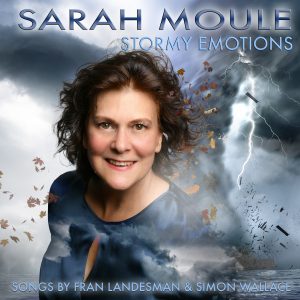 Sometimes, listening to a brand new CD can be like discovering the pot of gold at the end of the proverbial rainbow, and that is just how I felt listening to the latest release from British jazz vocalist Sarah Moule. Stormy Emotions consists of 12 songs by lyricist Fran Landesman and composer/pianist Simon Wallace, including 10 that have never-before been recorded. Wallace, who happens to be Moule's husband, also produced and provided the exquisite arrangements. 
Famously (and sometimes infamously), Landesman did not suffer fools or foolishness lightly. Her razor-sharp dissection of relationships, romantic and otherwise, is unsurpassed in popular music. Stormy Emotions is a beautiful tribute to the iconic wordsmith of "Spring Can Really Hang You Up the Most" and "Ballad of the Sad Young Men" (both with Tommy Wolf) and many others. The songs are lovingly presented with taste, intelligence, wit, joy, regret, and bittersweet resignation.
The album opens with a song written on the day Landesman died, "Nothing Is Mine Now." What seems at first a sad treatise on a failed relationship grows through the flowing lyrics into a passionate declaration, "Nothing is mine now…it's ours." No starry-eyed ingenue, the lyricist provided adult, unsparing snapshots of modern love and romance, as in "Are We Just Having Fun?" Moule perfectly captures the hesitant, yet somehow hopeful, search for meaning in a love affair: "Are we playing for keeps or just for tonight?" Mark Lockheart's soprano saxophone provides haunting counterpoint.
"Never That's When" is a swaggering, bluesy, and blunt inquisition of a lover who strays. It also nicely showcases Paul Robinson on drums and Mick Hutton on bass. There is artful poetry in "Close to Tears" hidden within the conversational tone of the words. An immediate favorite, I played it twice before moving on. The wisdom of this confession of the inability to make things turn out okay is haunting: "We choke and smoke and rock and run through all the years, but underneath we spend our time close to tears." This showstopper is followed by "A Magician's Confession," a classic Landesman heartbreaker that contains a phrase that might apply to the entire album: "This is a conjurer's confession. Every word I utter is true…" It is a timeless feat of prestidigitation by a remarkable magician…wait, make that three magicians.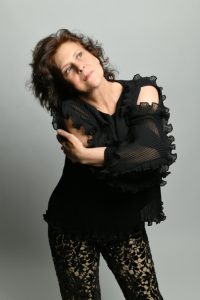 Starting with an echo of "Killer Joe" and firmly propulsive percussion by Rod Youngs, "Truly Unruly," presents the tale of a worldly-wise temptress seducing her next victim against the toe-tapping, smile-inducing rhythms of Wallace's infectious melody. "After the Fall" is a big pop ballad that I hope someone will quickly get into Shirley Bassey's hands—not that Moule doesn't make a fine showing of it already. "Time Is the Beast" is a painful expose of the inevitable hurt and loss that time brings as it is "…grinding our dreams to dust." But not all is so dire. The next song presents glimmers of hope hidden within a questioning exploration of love, and those glimmers are made all the more powerful because the song does not avoid the darkly negative side of romance: "…can the long arm of love reach your untouchable heart?" The closing number, and title song, was written on the day Landesman and Wallace met; it shows that this thrilling partnership burst full grown from the beginning.
Sarah Moule brilliantly uses her own accomplished and unique voice to honor the iconic voice of Fran Landesman, channeling her delight and despair as if we are all at a stunningly musical séance. If she provides the heart and mind of the lyricist, then Simon Wallace, in his compositions, his arrangements, and his playing, provides the soul. Much of British jazz can be sidelined by a rigidity and stuffiness of presentation compared with its American counterpart; it is almost like "Jazz as a second language." Happily, this recording belies that and is an instant classic. Over five releases, Sarah Moule has recorded 45 Fran Landesman songs. Stormy Emotions is a benchmark in an already exciting career.
---
About the Author
Gerry Geddes has conceived and directed a number of musical revues—including the Bistro- and MAC Award-winning "Monday in the Dark with George" and "Put On Your Saturday Suit-Words & Music by Jimmy Webb"—and directed many cabaret artists, including André De Shields, Helen Baldassare, Darius de Haas, and drag artist Julia Van Cartier. He directs "The David Drumgold Variety Show," currently in residence at Manhattan Movement & Arts Center, and has produced a number of recordings, including two Bistro-winning CDs. He's taught vocal performance at The New School, NYU, and London's Goldsmith's College and continues to conduct private workshops and master classes. As a writer and critic, he has covered New York's performing arts scene for over 40 years in both local and national publications; his lyrics have been sung by several cabaret and recording artists. Gerry is an artist in residence at Pangea, and a regular contributor to the podcast "Troubadours & Raconteurs." He just completed a memoir of his life in NYC called "Didn't I Ever Tell You This?"