Celia Berk
April 28, 2019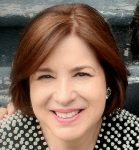 In the last few years, Celia Berk has established herself as a serious player on New York cabaret stages. She's been honored with multiple awards (including a 2015 Bistro Award). In Comes Love, her recent one-nighter at the Birdland Theater—a collaboration with accomplished jazz pianist Sean Gough, along with talented bassist Steve Doyle—she proved yet again what a poised and graceful performer she is.
Comes Love draws its title from the Lew Brown, Charlie Tobias, and Sam H. Stept song of the same name. Berk performed the number as her second selection of the evening, and Gough later played elaborate variations on it in a piano solo. But the selection that best matched the show's thematic framework was actually Ralph Blane and Hugh Martin's "Love," a number that reminds us that songwriters' favorite subject matter can be a many-faceted thing, ranging from a "joy forever" to a "force for failure." A few times during the evening, Berk likened love to a Rubik's Cube: a puzzle that seems impossible to solve. As Blane and Martin conclude, "Love is almost never ever the same." In this show, Berk held forth on several of its various permutations.
She established an intimate mood at the top of the show with a mashup of "Moonburn" (Hoagy Carmichael, Edward Heyman) and "The Late, Late Show" (Murray Berlin, Roy Alfred). The effect was that of a hushed and soothing romantic lullaby. She followed up with an array of songs—old and newer, contemplative and humorous, familiar and forgotten.
One early standout was a warm and wise take on Irving Berlin's "Now It Can Be Told," which argues that you can't really even consider love until you've experienced its bliss yourself. In a less serious vein came a lightly swinging version of "How Are Ya' Fixed for Love?" (James Van Heusen, Sammy Cahn)—one of the best selections of the evening, perhaps the very best.
An audience favorite was a humorous piece, Frank Loesser's "Can't Stop Talking About Him," on which Berk beautifully demonstrated how a singer can play with tempo and, especially, volume to give a song some unexpected yet appealing contours. Her rendition mentioned a "pinstriped whatd'yecallit" three times, and she managed to elicit laughs in each instance.
She also showed how to strike contrasts between adjacent songs. Turning to the French view of love, she performed a tender rendition of Édith Piaf and Louiguy's "La Vie en rose" (mostly in French). She followed it up with Francesca Blumenthal's very amusing "On the Streets of Paree," which skewers Parisians' propensity for public displays of affection. Sometimes it's a short drive from the sublime to the ridiculous.
Near the end of the program, she returned to the Rubik's Cube analogy in a mélange called the "Love Is a Puzzle" medley. It began with a version of Rodgers and Hart's "Falling in Love with Love" in which the customarily deep-voiced singer showed off some lovely notes from her upper range. She included fragments of seven additional songs, roping in everybody from the Beatles to Og, the leprechaun from Finian's Rainbow.
This was Berk's Birdland debut, and she made it a memorable one. It's interesting to see her—with Gough's help—edge toward a jazzier identity than previously (she even gave us some scat singing at a couple of points). I hope she'll have additional performances of the set, whether at Birdland or elsewhere. There's plenty of love here to go around.
Comes Love
Birdland Theater  –  April 23
---
About the Author
Mark Dundas Wood is an arts/entertainment journalist and dramaturg. He began writing reviews for BistroAwards.com in 2011. More recently he has contributed "Cabaret Setlist" articles about cabaret repertoire. Other reviews and articles have appeared in theaterscene.net and clydefitchreport.com, as well as in American Theatre and Back Stage. As a dramaturg, he has worked with New Professional Theatre and the New York Musical Theatre Festival. He is currently literary manager for Broad Horizons Theatre Company.