Club Review: Dorian Woodruff's "Studio Musician—The Music of Manilow"
November 15, 2021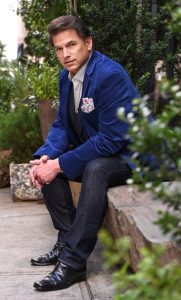 As the first notes of Chopin's "Prelude in C Minor" (which is the basis of Barry Manilow's "Could It Be Magic") slid easily into "It's A Miracle" (Manilow, Marty Panzer), it was already apparent that singer Dorian Woodruff holds a special affection for and appreciation of the legendary singer/songwriter; there would be no camp and no empty bombast in this heartfelt tribute (there were the obligatory key changes, but they were handled admirably). Woodruff's smooth, warm, inviting vocals and the understated celebration of his delivery were a perfect welcome to Studio Musician–The Music of Manilow which is currently enjoying a run at Pangea. His winning performance allowed forgiveness for the intrusion of unnecessary introductory patter interrupting the otherwise delightful opener. On "This One's for You" (Manilow, Panzer), his beautifully phrased, heartfelt interpretation deepened the already emotional tune as he captivated the audience with his singing and acting prowess.
After a brief history of the collaboration of Manilow with Johnny Mercer (posthumously on Mercer's part), he paired "Can't Teach My Old Heart New Tricks" and the immediate standard "When October Goes."  The songs were so good, and his singing so assured and sensitive, that I question the decision to put them in a medley which ended up diminishing the impact of each one. I would rather he had chosen to cut a song somewhere else and let these two newer songs live and breathe in their entirety. This was especially unfortunate on "October" in which, what should have been a melancholy journey to an emotional climax, became a rush to a "big" finish since the song had been halved. 
Another choice that might have been reconsidered was to put the "non-ballads" grouped together in the middle of the show.  The selections could not be faulted but the placement left the beginning and ending sections in need of some lightness. "Jump Shout Boogie" (Manilow, Bruce Sussman) saw both the singer and his music director, Gregory Toroian, delightfully letting go in grand fashion.  Then came an inevitable medley of Manilow's TV commercial successes which have been stuck in our collective heads for decades now.  Interestingly, even here, Woodruff eschewed mockery and camp, focusing instead on the musical mastery that made each one an earbug in the first place. Laughs still abounded but the audience was laughing with the singer's affection for them and our shared history of them, rather than at them. 
David Pomeranz and Buddy Kaye's great song, "The Old Songs," was better served in Woodruff's hands than it has been by either Pomeranz or Manilow. "Copacabana" (Manilow, Sussman, Jack Feldman) was stripped down, "de-disco'd" and "de-camped" into a tragic chanson about strangers in the night. It was riveting. In subsequent shows, I hope Woodruff goes even deeper and embraces the darkness and rawness of the tale rather than stopping with his already unexpected reimagining. "Weekend in New England" (Randy Edelman) was perfection, much the best version of this lovely ballad I have heard and a highlight of the evening.  Rupert Holmes's "Studio Musician" started as a moving, emotional appreciation of the unseen artists who enrich our music and our lives but was derailed when it turned into a particularly unnecessary medley, paired with "I Made It Through the Rain" (Gerard Kenny, Drey Sheppard, with additional lyrics by Manilow, Sussman, Feldman).  I can only ask why—especially since the encore of the show is that song again, done in its entirety in a wonderfully emotional and satisfying version. "Brooklyn Blues" (Manilow, Sussman, Feldman) revealed another color that is worthy of further investigation; its burnished yet blistering abandon was terrific.
The criticisms I have voiced are minor compared to all that was right with this impressively mounted and performed show. Lina Koutrakos directed with insight and sensitivity. Toroian's jazz sensibilities and immaculate playing helped place these pop songs in a sophisticated and uniquely personal space. And centerstage, Dorian Woodruff took his place as one of the most promising male vocalists appearing in New York cabaret. I would recommend catching one of Studio Musician's remaining performances.
***
Presented at Pangea, November 5 & 12, December 10 & 17.
---
About the Author
Gerry Geddes has conceived and directed a number of musical revues—including the Bistro- and MAC Award-winning "Monday in the Dark with George" and "Put On Your Saturday Suit-Words & Music by Jimmy Webb"—and directed many cabaret artists, including André De Shields, Helen Baldassare, Darius de Haas, and drag artist Julia Van Cartier. He directs "The David Drumgold Variety Show," currently in residence at Manhattan Movement & Arts Center, and has produced a number of recordings, including two Bistro-winning CDs. He's taught vocal performance at The New School, NYU, and London's Goldsmith's College and continues to conduct private workshops and master classes. As a writer and critic, he has covered New York's performing arts scene for over 40 years in both local and national publications; his lyrics have been sung by several cabaret and recording artists. Gerry is an artist in residence at Pangea, and a regular contributor to the podcast "Troubadours & Raconteurs." He just completed a memoir of his life in NYC called "Didn't I Ever Tell You This?"