Club Review: Madelaine Warren's "Invitation"
June 1, 2022
Madelaine Warren's most recent cabaret offering, Invitation, featured well-chosen, often cinematically-inspired repertory from 1933-1989. Warren brought conviction and emotional connection to this set, packed with romantic songs that took her on an arc from joy to disappointment and back again.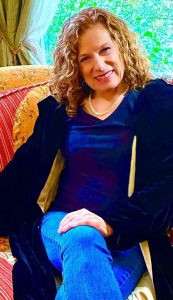 Her legit soprano sound did take some time to sound fully warmed up, but fortunately her full, supported voice emerged for the title number "Invitation" (Bronisłau Kaper, Paul Francis Webster). This mysterious, sweeping temptation song pops up as a jazz standard, but is almost more intriguing when it's closer to its original ballad form from the 1950 film, A Life of Her Own.
The evening was well-directed by co-arranger Barry Kleinbort with integrated transitions and thoughtful but economical patter that allowed Warren to glide through seventeen songs. Great playing by Tom Hubbard on bass and music director and co-arranger Christopher Denny on piano. Denny was a remarkably supportive listener on stage—one of those pianists who can follow a singer to purgatory and back (luckily, Warren was not that singer). 
Warren delivered "Down with Love" (Harold Arlen, E.Y. Harburg) and "Love is a Bore" (Sammy Cahn, Jimmy Van Heusen) as a cheerful medley of comic complaints. It was nice to cut the seriousness of the set with a moment where she confessed she might swear off love forever—especially delightful was the Harburg lyric "Take that moon, wrap it in cellophane." I like the fanciful notion that you could put that giant rock away in cold storage, like cheese. "All or Nothing at All" (Arthur Altman, Jack Lawrence) was particularly effective: Warren sang the verse, which we don't always get a chance to hear. The arrangement included bass and piano doubling arpeggios, and Warren came right in at top of each bar rather than back-phrasing. All these choices did a nice job of distinguishing it from the wonderful but ubiquitous Nelson Riddle arrangement for Frank Sinatra.
"Who's That Woman" (Stephen Sondheim) was a strong moment for Warren's vocal technique. Parts of the melody are complex and chromatic, and she deftly handled that challenge—really telling the story of a slowly deconstructing character, slightly sad, sour, and surprised. With funny, personal patter to set it up, Warren slipped into something more comfortable: "Warm All Over" (Frank Loesser) and "Lazy Afternoon" (Jerome Moross, John La Touche) were handled with a lovely, mellow touch.
"Love is Where You Find It" (Nacio Herb Brown, Earl K. Brent) had a Latin rhythm, as it did in the 1948 film, The Kissing Bandit (a commercially-unsuccessful MGM pan-Latin mashup where, speaking of Sinatra, Frank played the Mexican-American lead and a young Ricardo Montalbán was relegated to dancing in the chorus). Warren's soprano was ready for action here as she worked up to the top of her range and handled some Flamenco-esque vocalize with authority. The waltz "Chanson" (Steven Schwartz) showed a new, more whispered vocal quality from Warren, finishing the evening with a song about change. 
***
Presented at the Laurie Beechman Theatre on May 1 and 15.
---
About the Author
From Canada, Penelope Thomas came to NY to study dance with Merce Cunningham; then through a series of fortunate and unfortunate events, she wound up back in singing and acting. Credits include lead vocals with FauveMuseum on two albums and live at Symphony Space, singing back-up for Bistro Awards director Shellen Lubin at the Metropolitan Room, reading poet Ann Carson's work at the Whitney, and touring North America and Europe with Mikel Rouse's The End of Cinematics. In Toronto, she studied piano at the Royal Conservatory of Music and cello with the Claude Watson School for the Arts, and in New York she studied music theory with Mark Wade. She's taught in the New School's Sweat musical theatre intensive and taught dance in public schools and conservatories.