Club Review: Meri Ziev in "New Words"
March 22, 2022
Meri Ziev's show on a blustery and cold Saturday afternoon was a bit of sweetness and warmth that was badly needed on that day. New Words is a very ambitious show, a little uneven in terms of focus and material, but nonetheless, very enjoyable. It's impossible not to appreciate a beautiful, elegant woman with unfailing pipes.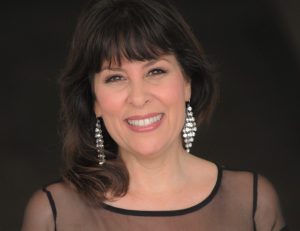 Meri is a relative newcomer to cabaret, but she's not an inexperienced performer. She has excellent taste in collaborators, having called on, among others, no less than Phil Hinton and Bobby Peaco to arrange her music, Paul Greenwood and Christopher Denny to play it on alternate dates, and Lina Koutrakos and Faith Prince to act as consultants. Denny accompanied her on the day I saw the show, and it's always a pleasure to hear him work with a singer.
Opening with "Right Hand Man" (Karey and Wayne Kirkpatrick; Bobby Peaco, arr., from Something Rotten), was a fun and charming choice. The contrast of the title, sung by a very feminine woman in stylish, basic black and sparkles, made her subtle performance quite funny. 
New Words is an autobiographical show with a timeline. Ziev is an excellent singer, smart and mature. I believe it's time to dive into a more challenging, complex theme and repertoire. I would love, for instance, to hear an entire show based on her affinity for words and language (she is a speech pathologist). I also believe a themed show would allow her to consistently connect emotionally to the material, and to avoid her reliance on her sweet, nurturing persona. Singing is acting, and we need to see more colors. I think the timeline/biography also forced a number of songs into the show that didn't stand up next to the stronger numbers. "One Note Samba" (Antônio Carlos Jobim; English lyrics, Jon Hendricks, Phil Hinton, arr.) and "Johnny One Note" (Lorenz Hart, Richard Rodgers, from Babes in Arms; Hinton, arr.) are two that seemed superfluous and dated. 
Halfway through the show, "Fade into You" (Matt Jenkins, Shane McAnally, Trevor Rosen; Peaco, arr.) convinced me of Meri's depth. It's haunting poetry and she slayed it.  She also showed us what lies beneath the surface on songs like "The Middle" (Jimmy Eat World; Adam J. Rineer, arr.), "Long Walk" (Brandy Clark; Becky Menzie, arr.) and "Brave" (Sara Bareilles, Jack Antonoff; Paul Greenwood, arr.). "New Words" (Maury Yeston from In the Beginning; Hinton, arr.) and Don McLean's "Vincent" ("Starry, Starry, Night"),  (Peaco, arr.), were also strong choices and performances.
It's exciting to see people entering the cabaret world who've led entire other lives before they step on a stage in New York City. Meri is a super talent, and I would love to see her again in a show that challenges her at every moment. 
***
Presented at Don't Tell Mama on October 23, 2021, March 12 & 13, 2022.
---
About the Author
Though now Betsyann Faiella is known in New York primarily as a publicist, she came to that profession from two previous careers that contributed to her love of promoting creative people: as a working singer and as a media producer. She made her cabaret debut at the legendary Reno Sweeney. She was the lead singer in a band with Lewis Friedman, the impresario of both Reno Sweeney and s.n.a.f.u. Later she performed in such other iconic venues as Birdland, Blue Note, the Jazz Bakery in Los Angeles, and Ronnie Scott's in London. She appeared in concert with jazz legends Hank Jones and Paul Smith and performed at arts centers and universities around the country.