Club Review: Susie Mosher's "The Lineup"
October 4, 2021
Susie Mosher is a hell of a good host. She wrangles a weekly Tuesday variety night with a rotating group of performers at Birdland Theater; when I was there on September 14, her crowd seemed to be a crossover between local Broadway and cabaret fans, tourists, and an enthusiastic office party. She was ready for all of us: warnings for the tourists, improv bits for the staff, polished self-deprecating humor, encouraging words for her guests and band (music director Brad Simmons on piano and banter, Clint De Ganon on drums, Steve Doyle sitting in for John Miller on bass), cheery hellos to her family in the audience, and a few dry spreadsheet jokes. Honestly, I'd see her no matter who her guests are. Mosher is real showbusiness and ready to roll with anything.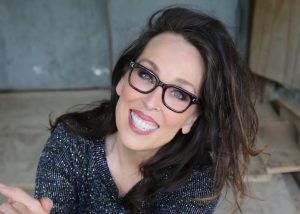 The Lineup that night featured some really interesting singers, some working at a more professional level than others, but enough of a range of styles that there'd be something for everyone. Ella Mae Dixon is only 18 and looked like a regular nice musical theatre kid who's about to sing something from Frozen 2, but instead she sliced up "Diamonds Are Forever" (John Barry, Don Black). Incredibly proficient technically, her voice had a cut-through timbre and she worked through the song with deft phrasing and an authoritative handle on the tempo; I hope there's a James Bond soundtrack with her name on it one day. Award-winning vocal harmony group Those Girls—Eve Eaton, Rachel Hanser, Karen Mack, and Wendy Russell—sounded great and especially well-rehearsed with "Chattanooga Choo-Choo" (Mack Gordon, Harry Warren). Miss Maybelle is a Tin Pan Alley trio with Lauren Sansaricq on lead vocals wearing washboard-and-more percussion, Charlie Judkins with a fast-fingered ragtime/stride piano, and Brian Nalepka slapping the upright bass and singing harmony vocals. They did a delightful version of Bud De Sylva's undersea foxtrot, "Minnie the Mermaid." Lianne Marie Dobbs was also a standout, with a sparse and powerful arrangement of "Something's Coming" (Bernstein, Sondheim) that she embodied and lived inside—it was such a committed and full-of heart performance, accompanied by Ron Abel. Songwriter Steve Schalchlin featured Bill Goffi and John Savage in a preview of a new country-inspired tune that was a catchy stomp and a good chance to hear Savage sing. Sarah Krauss's mashup of "Landslide" (Stevie Nicks) and "Try to Remember" (Harvey Schmidt, Tom Jones) was nostalgic, lovely, and sung with especially right-on pitch. Composer Brad Simmons' sorrowful blues "Grave Song" featured stellar guitarist Sean Harkness, and I'd love to have heard Harkness have the chance to go off-leash with a longer, death-defying solo.
Mosher guided us through the evening with patter, introductions, and a few improvised songs interspersed throughout—some of which took me a few minutes to realize were improv because she's very good at it—and then returned to close with a cover of "Killing Me Softly" (Charles Fox, Norman Gimbel with Lori Lieberman). The house band was bringing so much skill that everything they touched leaped off the stage: decent singers sounded even stronger, and Mosher's comic timing was underscored by how good their rhythm is. Tuesday is not the dreaded Monday, it's not hump day, it's not a downhill slope into the weekend. In short, I know you don't have anything better to do next Tuesday than to check out The Lineup.
***
Presented at Birdland Theater every Tuesday at 8:30 pm.
---
About the Author
From Canada, Penelope Thomas came to NY to study dance with Merce Cunningham; then through a series of fortunate and unfortunate events, she wound up back in singing and acting. Credits include lead vocals with FauveMuseum on two albums and live at Symphony Space, singing back-up for Bistro Awards director Shellen Lubin at the Metropolitan Room, reading poet Ann Carson's work at the Whitney, and touring North America and Europe with Mikel Rouse's The End of Cinematics. In Toronto, she studied piano at the Royal Conservatory of Music and cello with the Claude Watson School for the Arts, and in New York she studied music theory with Mark Wade. She's taught in the New School's Sweat musical theatre intensive and taught dance in public schools and conservatories.