Cynthia Crane
November 9, 2018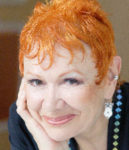 More than once in This Is a Changing World, My Dear, her recent show at Don't Tell Mama, Cynthia Crane referred to herself as a "walking obsolescence." But, in fact, she and her show seemed quite timely. It took a wry look at cultural developments—some viewed as positive, but many not—that have left people of a certain age wondering what the postmodern world is coming to. The show was mainly thoughtful and gently comedic in tone. With her bright smile, sparkling eyes, and wide-ranging voice, Crane was a delight throughout the hour.
She opened with the show's title song, by Noël Coward, and then segued into Cole Porter's "Anything Goes"—with some fiendishly clever updated lyrics by Joe Keegan (of Frasier fame) that touched on everything from same-sex marriage to the ubiquity of Kardashians. This song and Billy Joel's "Honesty" (heard later in the program) were among the more familiar numbers in a show that tended to showcase relatively obscure material.
Following some patter about how recorded music consumption has evolved over the decades—from 78 rpm recordings to "45s" and LPs, and on to the post-CD era—she sang Julie Gold's "Discontinued" (a so-so song, but one the singer made the most of). She then gave a nod to the "Me Too"/"Time's Up" movements, performing a pair of novelty songs from the 1940s that spouted antiquated views on the social roles of women: "You Can't Say No to a Soldier" (Mack Gordon, Harry Warren) and "How Will We Get Her Back in the Kitchen After We've Won the War?" (Billy Hayes, Zeb Carver, Jack Rollin). This was one of those aforementioned rare examples of Crane celebrating change for the better.
She told a familiar joke about walking into a room and forgetting why she'd gone there. This served as transition into "What Is My Name" (Marshall Barer, Anita Nye), a dramatic (and very non-jokey) song, sung from the point of view of a woman living with a humiliating personal change: the onset of dementia. Moving from defensiveness and bitterness to raw anger, she made the song the darkest musical turn of the evening, and one of the most striking.
Crane is largely known as a saloon chanteuse. She spoke of how that lowdown style of singing now seems out of vogue—along with the smoky bars that were its natural habitat. She noted that preeminent saloon singer Frank Sinatra has been dead for two decades. All of this was preamble to the performance of a classic example of the genre, "A Wet Night (& A Dry Martini)" (Jerry Gladstone, Lew Spence). I found it exciting—the most enjoyable number in the set.
Patter about how the concept of truth has been turned on its head in recent years led to the witty blame-Satan song, "What a Blessing (to Know There's a Devil)" (Frank Loesser). Some of the other material in the show's second half was not as strong, but Crane performed each selection with conviction.
The show's musical director and pianist, John Bowen, supported the singer skillfully, giving her ample space to breathe and play in each song. He also provided some quiet yet warm vocal harmonies on a few numbers.
This Is a Changing World, My Dear
Don't Tell Mama  ‑  September 22, 29, November 1
---
About the Author
Mark Dundas Wood is an arts/entertainment journalist and dramaturg. He began writing reviews for BistroAwards.com in 2011. More recently he has contributed "Cabaret Setlist" articles about cabaret repertoire. Other reviews and articles have appeared in theaterscene.net and clydefitchreport.com, as well as in American Theatre and Back Stage. As a dramaturg, he has worked with New Professional Theatre and the New York Musical Theatre Festival. He is currently literary manager for Broad Horizons Theatre Company.