David Sabella
November 15, 2016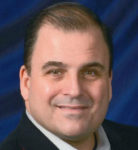 In his current show at the Metropolitan Room, his first in many years, David Sabella proves to have a powerful, wide-ranging voice (from standard legit up through counter-tenor to an astonishing boy soprano), and an evident enthusiasm for being back on stage. He benefits greatly from the strong and accommodating support of musical director Mark Hartman on piano, Marco Brehm on bass, and Mike Lunoe on drums.
Sabella sets forth at least three premises for the price of one. This is not entirely a good thing. More a trifurcation in search of a through line than triple threat, his hour-long show ostensibly honors the 20th anniversary of the Chicago revival, still running on Broadway, and includes a half-dozen songs from the show—plus one from the movie version. Additionally, he pays tribute to the Chicago songwriting team with a few other Kander & Ebb songs, including an effective opener (after a largely instrumental "Loopin' the Loop" and "All That Jazz"): "Yes" (from 70, Girls, 70), "A Quiet Thing" (Flora, the Red Menace), and "The Only One" (The Visit). In the third leg of this overly abundant stool, the autobiographical portions of the program, Sabella explains his early show-biz ambitions, his lengthy absence from the cabaret stage coaching other performers and doing additional work behind the scenes, and the joys—and some frustrations—of adoptive fatherhood.
Sabella starts out well and focused with a joyful retelling of being cast in the role of Mary Sunshine in the 1996 Chicago revival, leading to anecdotes about some of his co-stars in the production, notably Marcia Lewis (Mama Morton) and James Naughton (Billy Flynn). He follows this with creditable renditions of Lewis's big number in the show, "When You're Good to Mama," and one of Naughton's, "All I Care About." He then abandons Chicago until the end of his set list, when he offers up the always-welcome "Mr. Cellophane" and a nifty Hartman-arranged medley of "Razzle Dazzle" and "Nowadays."
In the meantime, instead, we get the tenuously connected "Nobody Loves a Fairy Over 40" (Arthur LeClerq), which Lewis frequently sang in her cabaret show and no one much has sung since, until now. The number isn't funny beyond the mildly amusing but badly dated title, and one wonders why she sang it in the first place—and why he chose to revive it in this context. Another, even less effective, outlier is "Those 'Come Hither' Eyes" (Jerome Kern, Schuyler Greene), which the cross-dressing star Julian Eltinge sang in the 1915 Broadway show Cousin Lucy. Sabella is developing a play with music about Eltinge, which accounts for the number's presence here, but the song isn't as interesting as Eltinge's story. "Life Is" (Kander & Ebb, from Zorba), with its lugubrious lyric "life is what you do while you're waiting to die," seems an odd choice to underpin Sabella's largely upbeat account of the adoption of his children, complete with adorable, smiling slides of the kids on the screen behind him.
On the up side, guest star Jana Robbins joins Sabella for "You Know Me," the deliciously dishing duet that was unfortunately cut from The Visit. Ebb's lyrics create a scathingly witty inversion of the two singers claiming never to gossip while in reality telling everything negative about the enemy. This number is my favorite part of Sabella's show, although by rights it shouldn't be, veering so far off the purported topic. (Robbins also touchingly solos on a Charles Aznavour song, "Tomorrow Is My Turn.")
"Loopin' the Loop"
Metropolitan Room  –  November 2, 9, 16, 23
---
About the Author
Robert Windeler is the author of 18 books, including biographies of Mary Pickford, Julie Andrews, Shirley Temple, and Burt Lancaster. As a West Coast correspondent for The New York Times and Time magazine, he covered movies, television and music, and he was an arts and entertainment critic for National Public Radio. He has contributed to a variety of other publications, including TV Guide, Architectural Digest, The Sondheim Review, and People, for which he wrote 35 cover stories. He is a graduate of Duke University in English literature and holds a masters in journalism from Columbia, where he studied critical writing with Judith Crist. He has been a theatre critic for Back Stage since 1999, writes reviews for BistroAwards.com, and is a member of The Players and the American Theatre Critics Association.