Frank Torren
May 7, 2014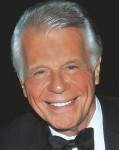 There are cabaret shows that challenge and even rattle an audience's sensibilities. And then there are shows that comfort and reassure. Frank Torren's "Moment to Moment" falls decidedly in the latter category. Call Torren's approach old-fashioned and you won't be wrong. But that deep, smooth, and warm voice of his is a tonic without a hint of anything bitter or sour. And who can't use that sometimes?
In the early part of the evening, Torren tells us that it was difficult to establish a theme to encompass the variety of emotions that he wanted to explore through song. The show, he adds, was loosely inspired by a quotation attributed to the late comic George Carlin: "Life is not measured by the number of breaths we take, but by the moments that take our breath away."
This theme is developed almost entirely through music. The song list is long, but the show moves briskly, largely because there's not a lot of patter: Torren's program is stitched together with short threads of narration. Sometimes there's a short explanation about why a particular song has been chosen or what it signifies for the singer. But sometimes the transition between songs is as simple as "I think we should pick up the tempo." It's not necessarily that Torren is a man of few words. It's just that he usually opts to sing rather than speak them.
The "breathtaking moments" motif is emphasized most explicitly through such songs as Torren's opener, a pairing of André and Dory Previn's "Mine for the Moment" and Cole Porter's "From This Moment On." Other "moment" songs include "Take the Moment" (Richard Rodgers, Stephen Sondheim) and, of course, the title song, "Moment to Moment" (Johnny Mercer, Henry Mancini). In one instance, Torren puts a surprising spin on a "breathtaking" number. He strips Cy Coleman and Carolyn Leigh's "It Amazes Me" of its romantic connotations and makes it about a son's appreciation for a father. The retrofitting works handily.
Torren is very much an actor who sings. His acting talent is especially evident in two strong ballads: Charles Aznavour's "The Sound of Your Name" and Frank Loesser and Victor Schertzinger's "Sand in My Shoes." The latter title is especially effective. Torren sets the song up by telling about his early memories of a visit to Cuba that were reawakened decades later on a Caribbean cruise ship. Torren phrases the song so that he seems to be weighing ecstasy against loss—trying fervently to find out how the two might balance. It's a memorable turn.
I was somewhat less taken by Torren's comic numbers, particularly "You Mustn't Feel Discouraged" (Jule Styne, Comden & Green), in which—at the performance I saw—he executed a silly deep knee bend at one point to show that the character is sinking low. It's not the funniest song to begin with, and Torren doesn't do it any huge favors. On the other hand, I liked his self-deprecation regarding his audacious decision to sing the sex-happy Tom Jones hit "Help Yourself" (Carlo Donida, Jack Fishman). (Undergarments did not fly onto the stage, though Torren gives the song his all.) This, and other benign comic hokum—including a drunk routine in which He and his fine pianist/music director Rick Unterberg perform a duet on the country-ish "Let's Do Something Cheap and Superficial" (Richard E. Levinson)—are only throwaway changes of pace between the sumptuous ballads that Torren sings so skillfully.
"Moment to Moment"
Don't Tell Mama  –  May 4, 7, 14
---
About the Author
Mark Dundas Wood is an arts/entertainment journalist and dramaturg. He began writing reviews for BistroAwards.com in 2011. More recently he has contributed "Cabaret Setlist" articles about cabaret repertoire. Other reviews and articles have appeared in theaterscene.net and clydefitchreport.com, as well as in American Theatre and Back Stage. As a dramaturg, he has worked with New Professional Theatre and the New York Musical Theatre Festival. He is currently literary manager for Broad Horizons Theatre Company.