Jack Bartholet
January 27, 2019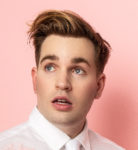 Too often in cabaret, a performer will play it safe when it comes to repertoire, clothes, spoken content, or performance. In his new show, Lady with a Song, singer Jack Bartholet does anything but play it safe as he claims both the stage and his right to be a lady on it for an hour. He takes chances and he pushes boundaries, and for the most part he succeeds—splendidly. He commits fully to whatever he chooses to do comedically, dramatically, or politically. Utilizing his supple and strong tenor, he invests humorous material with abandon and a knowing wink, and he anchors the more serious numbers with remarkably naked emotion and expert storytelling.
The sheer variety of the material would be noteworthy even if it weren't performed as well as it is here: there's not an expected song in the show. Up-to-date with pieces by Perfume Genius (West Coast singer-songwriter Mike Hadreas), the London-based cabaret duo Bourgeois & Maurice, and Rufus Wainwright, Bartholet also has a sense of musical history, with some time-tripping back to Pete Seeger, Marlene Dietrich, and Ethel Merman. His patter (apart from a few opening night jitters and glitches) is smart and inviting, with funny reminiscences of family and childhood, touching stories of his wedding and marriage, and pointed and angry social comment. (He christens the last "caba-rage.")
Perfume Genius's "Slip Away" starts things slowly and seems little more than filler to get him to the stage. (The songwriter is much better served later on with a wonderfully touching "Normal Song.") Things pick up immediately when Bartholet reaches the stage and jumps into the title song, an early Ethel Merman number by Roger Edens that is so winning that we're with him from that moment on. "William's Doll" (Sheldon Harnick, Mary Rodgers, from Free to Be You and Me) is a light-hearted introduction to a recurring theme: being oneself in the face of negativity from society, from friends, or from family. His joy at being himself and letting his talent fill the stage is clear throughout.
He finds unexpected emotional depth in Wainwright's "Dinner at Eight." "Picture of a Man" (Our Lady J) points to another side of his prodigious talent. His tenor takes on a steely edge as he fearlessly inhabits the gay Weimar classic "The Lavender Song" (Mischa Spoliansky, Kurt Schwabach, English lyric by Jeremy Lawrence), making the unspoken connections between 1920 Berlin and 2019 America blaze in his fiery performance. Perhaps even more daringly, in tribute to Marlene Dietrich he treats Seeger's "Where Have All the Flowers Gone?" not as a museum piece, but as a vital reminder of the price of war. Cheryl Wheeler's "If It Were Up to Me" is an electrifying climax to his "political" section. Unfortunately his closer, Lizzo's "Coconut Oil" (co-written with Eric Frederic and Aaron Jennings), although set up to be a wildly funny bit, falls flat in the same way as the opening number; he recovers in the same way, with (a reprise of) the delightful title song.
Music director Yasuhiko Fukuoka has arranged the music perfectly; his empathetic playing is ably augmented by Danny Ori on bass, Simon Fishburn on drums, and Matilde Bernabei on guitar. Bernabei also contributes haunting background vocals. Director Julian Fleisher's wit, style, smarts, and musical acumen are ever present. Lady with a Song deserves to be extended so that more people can discover Jack Bartholet and so that he can settle even more comfortably into what is already a remarkable show.
Lady with a Song
Pangea – January 17,19,25
---
About the Author
Gerry Geddes has conceived and directed a number of musical revues—including the Bistro- and MAC Award-winning "Monday in the Dark with George" and "Put On Your Saturday Suit-Words & Music by Jimmy Webb"—and directed many cabaret artists, including André De Shields, Helen Baldassare, Darius de Haas, and drag artist Julia Van Cartier. He directs "The David Drumgold Variety Show," currently in residence at Manhattan Movement & Arts Center, and has produced a number of recordings, including two Bistro-winning CDs. He's taught vocal performance at The New School, NYU, and London's Goldsmith's College and continues to conduct private workshops and master classes. As a writer and critic, he has covered New York's performing arts scene for over 40 years in both local and national publications; his lyrics have been sung by several cabaret and recording artists. Gerry is an artist in residence at Pangea, and a regular contributor to the podcast "Troubadours & Raconteurs." He just completed a memoir of his life in NYC called "Didn't I Ever Tell You This?"