Jane Monheit
April 16, 2014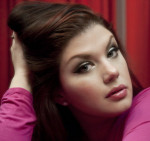 Jane Monheit is a voluptuous beauty in the tradition of Jane Russell and Jayne Mansfield. The other night at Birdland, she came on stage dressed like a Christmas present in red lace with a big red bow around her waist. Her red hennaed, shoulder-length hair sexily flipped to accent the beats in this upbeat evening of Big Band swing music. All of the musicians on stage were alumni of the Manhattan School of Music. This is the first time that the twice-Grammy-nominated Monheit has ever performed with them or with any big band, says her press. Her dream come true was a treasure for us too.
Her conductor, Justin DiCioccio, at one time the official White House drummer, is the Assistant Dean/Chair, Jazz Arts Program of Manhattan School of Music and a hell of a performer himself. All of the musicians on stage are or have been his students. He's been inducted into the Jazz Educator's Hall of Fame and dubbed the "musician's educator." He led the band while chanting, clapping, dancing, rocking and bobbing to the beat. His shock of white hair reminded me of a mad scientist or a musician's Einstein. He was a great show unto himself.
The set included "I Love Being Here With You" (Peggy Lee, Bill Schluger), with a great trumpet solo, and Fred Parris's "In the Still of the Night," which was first recorded by Parris's group, The Five Satins. DiCioccio conducted the latter number by tugging his ears while Monheit wailed as her body swirled in serpentines, and on "The Eagle and Me" (Harold Arlen, E.Y. Harburg) he led using his hands like canastas as Monheit and one of the five saxophonists did a wonderful turn trading solos.
"Between the Devil and the Deep Blue Sea" (Harold Arlen, Ted Koehler) gave us one of the evening's many virtuosic solo trumpet performances. Monheit's scatting on this song had a marvelous contemporary feel. After Hoagy Carmichael's "Stardust," DiCioccio gave the band a big thumbs-up. The number opened with Monheit accompanied only by pianist Michael Kanan, then the band joined in. During the song, Monheit spontaneously burst into laughter; her pixie eyes, turned-up nose, and broad red-lipped smile lit up the room. She is a master at great ease with herself and her band.
Monheit can work an eyebrow, and on Cole Porter's "Get Out Of Town," her voice cut, swerved, slid high to low, changed rhythm, and alternated between vibrato and straight tones. She's one of the best jazz improvisers on the music scene. She told us that "Everything I've Got" is such a great lyric that she was going to risk the vulnerability of singing the melody as written without improvising. What a treat. She is a wonderful actress and she can sell a song and tell a story without any vocal embellishments.
One of the highlights of the night was her "Over The Rainbow" (Arlen, Harburg), which began a cappella, then went back to the verse and came around and started again at the top of the song. My companion at the show burst into tears on the final lyric, "why can't I?," which was sublime. My personal favorite selection in the set was "Lady Be Good" (George and Ira Gershwin). The band tried some synchronized trumpet moves that, though slightly out of synch, were an exciting reminiscence of the Glenn Miller and Count Basie bands.
Monheit credited the majority of the evening's arrangements to U.S. Navy Band Chief Musician Scott Silbert, who presented them to her after a 2010 Commodores National Tour. Other charts were by her father-in-law, Ricky Montalbano, Sr. For this show, Monheit was a part of the band, and while I did miss her velvet vocals stepping forward singing solo with only her trio, what a spectacular band it is.
Birdland  –  April 8 – 12
---
About the Author
Tonya Pinkins is an award-winning actress, singer, writer, director, author and mother of four. She enjoys the arts in all their forms.