Jay Brannan
September 13, 2015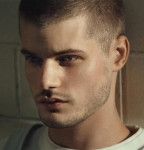 Jay Brannan walked out on stage at Joe's Pub in his recent performance as if he were entering his living room to greet some friends who had stopped by to hang out. In t-shirt and jeans, with red sneakers, carrying a guitar and smiling a sly, shy smile, he sat on the lone stool, center stage, and proceeded to mesmerize the adoring crowd for an hour. He has a completely winning combination of sweetness and sarcasm, of innocence and sexy abandon. Even if his songs were not first-rate, his demeanor and his hilarious patter would make the evening a worthwhile one; between songs he has the timing, delivery and wackiness of a stand-up comic in the vein of Steven Wright, but gay and romantic. When he sings, he displays a pleasing, resilient tenor with a beautiful falsetto that shows up when it needs to.
But the songs are first-rate. The set was a mix of old and new, the latter promoting his new CD, "Always, Then & Now." I use the term CD, but it is really a misnomer: his new release is available only in the digital domain, at whatever outlets one gets music from in 2015. I, for one, miss holding the package in my hand and having a booklet with lyrics, especially when the lyrics are as sharp, thoughtful, and witty as Brannan's. He has mastered a conversational form of writing in which the rhymes often surprise, or sneak up on you and register somewhere in the following line. There's a natural spontaneity in his words, and in his delivery of them, that can tickle your mind or catch your heart. He also liberally uses four-letter words—in totally appropriate places—and manages to make it all ingratiating. His guitar work seems so effortless and artless that it is easy to miss the style and complexity of his playing.
He opened with "A Death Waltz," containing what might be a credo: "I'd rather be honest than impressive" followed shortly by "I wish my songs didn't suck." This is set to a carnival-like "one-two-three" on his guitar. The infectious rhythms of "String-a-long Song" somehow heighten the soft bitterness of realizing his affection is not being reciprocated: "You could see the sin and the sadness, and taste the gin and madness on my lips and in my eyes… I can't help that I want to see you again, but it takes two to start a string-a-long song but only one to make it end."
Bad luck in love is a recurring theme in his material. In "Square One" he takes on some of the blame for that bad luck, singing "Falling for the foolish can be tough, but everything is possible when you hate yourself enough… I just met you yesterday and I'm already imagining the break-up…" One of his "hits" from years ago, "(I Want To Be A) Housewife," took on a whole new life in the age of marriage equality. What was once an almost satirical exploration of gender and relationship expectations became a simple and quite touching wish. When he lets down his guard and gives us a glimpse into the real pain and desperation that informs even some of his most comic songs, the results can be devastating, as in "Rob Me Blind," in which he begs, "Match your lips up to mine, steal a kiss, rob me blind."
Life in New York was another recurring theme, especially in his patter—as when he recounted the nightmare of Seamless (the restaurant app) shutting down for three hours; he said it was like living in Saw 8. He made a maybe-not-so-idle threat that he was moving away when describing his apartment life, with rats running in the walls and ceiling like cracked-out gazelles, and a neighbor loudly whistling "Pop Goes The Weasel" 24/7. He would hilariously bring back that whistled ditty in unexpected places throughout the rest of evening without remark.
But soon it was back to love affairs and break-ups. His "Half-Boyfriend" was a younger, modern take on "Fifty Percent," as he finds himself reluctantly falling for an already partnered man: "You're the pill I never wanted to take, an anti-misanthrope. Mine was the heart I never thought you would break. My one hope was that I'd survive you." He reprised his fun song "Soda Shoppe," which he wrote for, and sang in, the movie Shortbus. Another urban dilemma showed up in "Spanglish": trying to connect with someone who doesn't speak the same language; his lyric double-entendre "I'm studying your shoes but I want to know your tongue… we've got this language barrier, and internal stuff that's scarier" is indicative of his writing talent, at once funny and incisive but also perfectly capturing that moment of gentle desire.
As low-key as he might appear, Jay Brannan has a genuinely unique voice, both lyrically and musically, and he uses it to dissect sexual politics, affairs of the heart and modern life in a way that leaves an audience not only entertained, but richer for the experience.
Joe's Pub  –  August 30
---
About the Author
Gerry Geddes has conceived and directed a number of musical revues—including the Bistro- and MAC Award-winning "Monday in the Dark with George" and "Put On Your Saturday Suit-Words & Music by Jimmy Webb"—and directed many cabaret artists, including André De Shields, Helen Baldassare, Darius de Haas, and drag artist Julia Van Cartier. He directs "The David Drumgold Variety Show," currently in residence at Manhattan Movement & Arts Center, and has produced a number of recordings, including two Bistro-winning CDs. He's taught vocal performance at The New School, NYU, and London's Goldsmith's College and continues to conduct private workshops and master classes. As a writer and critic, he has covered New York's performing arts scene for over 40 years in both local and national publications; his lyrics have been sung by several cabaret and recording artists. Gerry is an artist in residence at Pangea, and a regular contributor to the podcast "Troubadours & Raconteurs." He just completed a memoir of his life in NYC called "Didn't I Ever Tell You This?"