Jen Fellman
January 7, 2020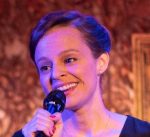 Jen Fellman has an extraordinary voice, with vaulting highs and creamy lows; if her recent show at Feinstein's/54 Below were judged solely on the gorgeous sounds that caressed our ears, it would have been an absolute smash. However, there is a lot more to a successful club act—even to a CD release show, as this was for her new recording, Forbidden Drive. (That title's connection to the song selections is a mystery to me.)
After an innocuous "They Didn't Believe Me" (Jerome Kern, Herbert Reynolds) that was more transcription than interpretation (interrupted by patter even before we could get accustomed to hearing her sing), Fellman introduced "Golden Earrings" (Victor Young, Jay Livingston & Ray Evans) as a Peggy Lee song that she had listened to with her family. I wish she had listened to how Lee sang the song (and told the story) rather than just to what she sang, because Lee's exquisite storytelling—she was a quintessential conversationalist—was lacking. This was followed by impersonal, presentational versions of "Can't Help Lovin' Dat Man" (Jerome Kern, Oscar Hammerstein II) and "Stardust" (Hoagy Carmichael, Mitchell Parish) with the former keeping its "early Ebonics" lyrics even though she sang it as herself and not in character. All four of these ended with needlessly held, rafter-raising big notes and a hand outstretched dramatically as if she were hurling her vocals at the sky.
While not having the same overwrought climax, "Love Look Away"—through an uninventive arrangement and the singer's declamatory style—built a wall between the audience and real intimacy. I often felt that she was trapped in a limbo between operetta and cabaret. Things brightened considerably with "I Get Along Without You Very Well" (Carmichael, Jane Brown Thompson) about a breakup with a girlfriend. Apparently, a previous show revealed Fellman's sexual coming out, but that was never really made clear and she seemed to rely on most of her audience's having seen it. I hadn't, so I was left a bit bewildered. But within the song, itself, she paid attention to the words as much as to the melody and it proved one the show's highlights.
A duet with guest Jacqueline Keeley on Sondheim's "Happiness" from Passion was nicely done but totally in character (with dialogue), when it might have been truly memorable if the two women had done it set in 2019. I would gladly see either of them in a theatrical production, but the number was so staged that it never really thrilled on a cabaret stage.
In the latter part of the show, inspired by her love of Paris (another holdover from the previous show), Fellman included a number of songs in French. Liberated from having to perform in English, she relaxed into the phrasing and revealed a vulnerability and individuality that was lacking in her native language. " Je ne pourrai jamais vivre sans toi" (the iconic song from Les Parapluies de Cherbourg; Michel Legrand, Jacques Demy) and "Mon amant de Saint-Jean" (Émile Carrara, Léon Agel) were sparkling jewels. I wish that delight and personality had not been lost in the English-language material. From her very first song, Jen Fellman wowed us with her sound. Now she needs to explore the smaller moments and what they offer.
Feinstein's/54 Below – September 21, October 19
---
About the Author
Gerry Geddes has conceived and directed a number of musical revues—including the Bistro- and MAC Award-winning "Monday in the Dark with George" and "Put On Your Saturday Suit-Words & Music by Jimmy Webb"—and directed many cabaret artists, including André De Shields, Helen Baldassare, Darius de Haas, and drag artist Julia Van Cartier. He directs "The David Drumgold Variety Show," currently in residence at Manhattan Movement & Arts Center, and has produced a number of recordings, including two Bistro-winning CDs. He's taught vocal performance at The New School, NYU, and London's Goldsmith's College and continues to conduct private workshops and master classes. As a writer and critic, he has covered New York's performing arts scene for over 40 years in both local and national publications; his lyrics have been sung by several cabaret and recording artists. Gerry is an artist in residence at Pangea, and a regular contributor to the podcast "Troubadours & Raconteurs." He just completed a memoir of his life in NYC called "Didn't I Ever Tell You This?"