Julie Budd
June 22, 2013
An Evening with Julie Budd"
Metropolitan Room – June 12, 13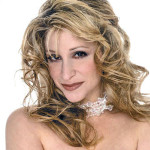 Talk about your elephant in the room.
I suppose it is possible to write about a Julie Budd performance without mentioning the name Barbra Streisand. But it's sort of like describing Colby cheese without using the word "cheddar." Why give yourself the aggravation?
The comparisons have, of course, followed Budd throughout her career—which began when she was just a kid. I remember watching her on Merv Griffin's and Mike Douglas's afternoon TV shows in the late 1960s and early 1970s, and being floored that although she and I were about the same age, she was out performing in nightclubs while I was concentrating on surviving geometry and acne. Now, decades later, there remains both a physical resemblance and a striking similarity of mannerism and musical phrasing between the two singers. But what truly surprised me with Budd's Metropolitan Room turn had to do with repertoire. Was it just coincidence that the first four numbers Budd sang in this show were all songs that Streisand recorded at some point in her career? This made me wonder: If Budd had really wanted to shed the comparisons with the other singer, would she have sung Barbra Joan's music in concerts with the late Marvin Hamlisch—famous for being a Streisand colleague? Would she have made her film debut in The Devil and Max Devlin, a feature that starred Elliott Gould—famous for being a Streisand ex-husband? Over the decades, that elephant in the room seems to have become Budd's lumbering yet amiable pet.
Of those first four numbers, the opener was "Home" (Charlie Smalls) from The Wiz: a big, belted affair that caused another customer at my table to murmur at its conclusion that Budd had just delivered her encore. This was followed by a second big, belted number, Stephen Sondheim's "Being Alive," which then gave way to the ultimate belter's anthem, the Gershwins' "I Got Rhythm," in an arrangement that called to mind at moments Ethel Merman's infamous disco album. (Throughout the show, Budd's musicians, led by her longtime manager Herb Bernstein, frequently served up Vegas-y gimmickry on the up-tempo numbers and syrupy goop with which to float the ballads.) Then came the singer's fourth belted title, Norma Desmond's thundering statement of self-assertion from the musical Sunset Boulevard, "With One Look" (Andrew Lloyd Webber, Don Black, Christopher Hampton, Amy Powers). Budd performed this title with particularly angry defiance.
She definitely showed stamina in pulling off such a series of brassy showpieces, although when she blasted in her upper register, her vibrato proved a bit overpowering, resulting in shrillness. Budd clearly knows how to build a song before killing with it; still, I was glad that she subsequently lapsed into some relatively restrained singing. When she tones things down and slows things down a little—and especially when she sings in her lower register—Budd's voice seems much more malleable—and listenable. Her version of Eric Clapton and Will Jennings's "Tears in Heaven" was tender and moving. And while her extended medley of four songs associated with Anthony Newley—"Who Can I Turn To?" (Newley and Leslie Bricusse), "What Kind of Fool Am I?" (Newley, Bricusse), "Once In a Lifetime" (Newley, Bricusse), and "If I Ruled the World" (Cyril Ornadel, Bricusse)—proved to be almost too much of a good thing, it was still, indeed, a good thing. You don't hear Newley's signature songs that much these days, and Budd's stirring performance of them reminded me how good they are. (The clunky grammar in the title "Who Can I Turn To?" will always bug me, but I suppose "To Whom Can I Turn?" is never going to scan.)
Budd alerted her listeners at the top of the show that she had no theme for the evening. That was fine, although the juxtaposition of certain songs was sometimes slightly jarring—for instance, her placement of the broadly comic "He Had Refinement" (Arthur Schwartz, Dorothy Fields) from A Tree Grows in Brooklyn next to the elegiac "Tears in Heaven." There's changing pace, and then there's stripping gears.
Between songs, Budd provided friendly, easygoing patter. She spoke of her working relationship over the decades with such headliners as Jimmy Durante, Liberace, and Frank Sinatra. When she described her days as opening act for Sinatra, it occurred to me that another recent performer at the Metropolitan Room, Pia Zadora, also spoke with fondness about opening for that star during his late-career engagements.
With both Zadora and Budd there is a strong sense of onstage professionalism, which seems to be rooted in a deeply engrained work ethic. But with both singers, too, there is a kind of slickness in the work sometimes. Is it a Las Vegas thing? A Sinatra-inspired thing? I'm not sure. I think Budd remains talented and often quite appealing. I think, though, that, like Zadora, she could benefit from scaling back, from returning to the rudiments of storytelling-through-song. If there were more numbers like "Tears in Heaven" in her show and a few less-bombastic Streisand hand-me-downs, maybe that elephant in the room would pack its trunk, spread its Dumbo ears, and fly away.
---
About the Author
Mark Dundas Wood is an arts/entertainment journalist and dramaturg. He began writing reviews for BistroAwards.com in 2011. More recently he has contributed "Cabaret Setlist" articles about cabaret repertoire. Other reviews and articles have appeared in theaterscene.net and clydefitchreport.com, as well as in American Theatre and Back Stage. As a dramaturg, he has worked with New Professional Theatre and the New York Musical Theatre Festival. He is currently literary manager for Broad Horizons Theatre Company.