Just Laugh
February 14, 2019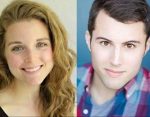 For some time now, Thomas Honeck and Lisa Moss of the Duplex have been regularly providing a showcase for new and little-known composers and lyricists in a series called In The Works. One pair of songwriters who have taken advantage of this terrific opportunity, Lauren Gundrum and Brandon Lambert, has decided to move on from the safe but limited (time-wise) environs of In The Works to stretch out and present a more substantial view of their work. The result was Just Laugh, an excerpt from a longer theatrical piece. To answer the obvious next question, it was a great decision and overall the show was a success, providing a healthy sampling of two talented artists on the rise.
Gundrum wrote the book (of which there was little on display in this incarnation) and Lambert wrote the music; together they contributed the consistently inventive, funny, and satisfying lyrics. The music was rich in melody and wit and quite refreshing in its classic pop/theatre style, thankfully avoiding many of the current melismatic clichés. The narrow scope of the concept "just laugh" afforded little opportunity for more serious, more dramatic material; I look forward to hearing a broader repertoire from these talented writers. Relationships, family, and romance were the order of the day, but they were presented in a delightfully off-kilter, surprising way, often involving a reversal of the expected tropes and situations. In fact, my one major reservation (at least in this abbreviated edition) is that after a while, although the specific situations changed with each number, the actual act of reversal became expected and easy to anticipate. The through-line needs to take a few detours into other forms and stories.
The writers and songs were well served by a talented cast of four who grabbed their time in the spotlight with enthusiasm. Katie Oxman got the evening off to a sparkling start with "Lullaby," which gave an inkling of what might have happened had Tom Lehrer written "Twinkle, Twinkle, Little Star." Julian Diaz-Granados and Casi Reigle wrung every laugh and then some out of "Proposal" in a love scene like none you have ever seen. JD Daw's energy and joy when recounting "Dad's Advice" proved a highlight of the night. Lambert was equally impressive as music director, with Gundrum perched on the bench next to him, turning pages. Their presence on stage was a nice touch.
The show came in at a scant 45 minutes, which left the audience not only hungry for more, but also feeling a bit cheated by the brevity. If and when the show returns, it should be filled out with a few more songs and subjects. But what was there was most enjoyable and filled with promise.
The Duplex  –  January 19
---
About the Author
Gerry Geddes has conceived and directed a number of musical revues—including the Bistro- and MAC Award-winning "Monday in the Dark with George" and "Put On Your Saturday Suit-Words & Music by Jimmy Webb"—and directed many cabaret artists, including André De Shields, Helen Baldassare, Darius de Haas, and drag artist Julia Van Cartier. He directs "The David Drumgold Variety Show," currently in residence at Manhattan Movement & Arts Center, and has produced a number of recordings, including two Bistro-winning CDs. He's taught vocal performance at The New School, NYU, and London's Goldsmith's College and continues to conduct private workshops and master classes. As a writer and critic, he has covered New York's performing arts scene for over 40 years in both local and national publications; his lyrics have been sung by several cabaret and recording artists. Gerry is an artist in residence at Pangea, and a regular contributor to the podcast "Troubadours & Raconteurs." He just completed a memoir of his life in NYC called "Didn't I Ever Tell You This?"