Kim Sutton
May 20, 2015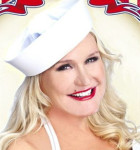 Bouncy and brassy, in "Anchors Away!," her current show at Don't Tell Mama, Kim Sutton pays a robust tribute to Fleet Week and the United States Navy, in which she served for six years in the mid-1980s. She starts out with a driving, semi-disco "Star Spangled Banner"—no audience standup necessary—which leads right into the anthem of her own branch of the armed services and the homophonic title song of her set, "Anchors Aweigh" (Charles A. Zimmerman, Alfred Hart Miles, Royal Lovell). But just in case the audience doesn't get the theme of the evening, Sutton follows that with the Village People's 1979 hit "In the Navy" (Jacques Morali, Henri Belolo, Victor Willis) Then, since no one has described the horrors of boot camp—musically at least—better than Irving Berlin in "Oh, How I Hate to Get Up in the Morning," she's had the sense not to seek an alternative number to describe her lifestyle adjustment in becoming a sailor.
The narrative spine of Sutton's show is the recounting of her enlistment in the Navy right out of her small-town Pennsylvania high school, where she was a cheerleader and Miss Congeniality (no surprise there), through to her discharge. She tells of her eager enlistment as an escape from her small town and an alternative to college, then the various exams she took and the various domestic bases to which she was assigned (never having gone to sea even once during her six-year tour of duty). One of the most telling of her anecdotes is about having to switch into the Hospital Corps from the Navy's nuclear power program she had applied for, and was disqualified from only because of her gender. (That program now does take women.) Another heart-tugger is her recollection of the 1980s AIDS crisis, and the Navy's indifference to dealing with it, which came on her watch, quite literally, since one of her responsibilities was giving HIV blood tests. She also had infected friends among her fellow sailors.
Unfortunately, Sutton's extended talking in this overlong show (which ran an hour and forty minutes on opening night) also includes some lesser anecdotes that lead to some lesser  songs, causing the middle of her set to sag, and even fall flat a time or two. Part of the problem is that Sutton's voice seems so much better suited to upbeat numbers rather than ballads, although she belies that notion somewhat with her stirring encore of Paul  Simon's "Bridge Over Troubled Water."
She may have been a sailor of the 1980s, but many of her musical preferences in the 16-song set come from the 1970s, and she does them credit: "Come Sail Away" (Dennis DeYoung), "Ease On Down the Road" (Charlie Smalls, from The Wiz), "This Is It" (Kenny Loggins, Michael McDonald), "Heartache Tonight" (Don Henley, Glenn Frey, Bob Seger, J.D. Souther), and "You Haven't Done Nothin'" (Stevie Wonder). Two evergreen upbeat numbers that she also delivers well are "Something's Gotta Give" (Johnny Mercer) and "Don't Rain on My Parade" (Jule Styne, Bob Merrill).
Relatively new to cabaret, Sutton has had a lot of help on this show from director Helen Baldessare and a first-rate trio: musical director and pianist Gregory Toroian, Saadi Zain on bass, and Ron Tierno beating those all-important drums. What she could use now is an editor.
"Anchors Away!"
Don't Tell Mama  –  May 17, 22
---
About the Author
Robert Windeler is the author of 18 books, including biographies of Mary Pickford, Julie Andrews, Shirley Temple, and Burt Lancaster. As a West Coast correspondent for The New York Times and Time magazine, he covered movies, television and music, and he was an arts and entertainment critic for National Public Radio. He has contributed to a variety of other publications, including TV Guide, Architectural Digest, The Sondheim Review, and People, for which he wrote 35 cover stories. He is a graduate of Duke University in English literature and holds a masters in journalism from Columbia, where he studied critical writing with Judith Crist. He has been a theatre critic for Back Stage since 1999, writes reviews for BistroAwards.com, and is a member of The Players and the American Theatre Critics Association.