Lillias White
July 24, 2014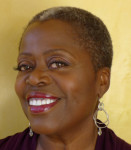 There is more than one way that cabaret can succeed. Some shows—Shana Farr's recent program of Noël Coward and Cole Porter songs, for example—are carefully manicured gardens. Everything has been planted with care and set to blossom on schedule, down to the last petal. This sort of show can make for a memorable, emotionally rich performance—something Farr's show decidedly was. Lillias White's recent "Birthday Show" at 54 Below was also an emotionally resonant cabaret experience, but it was miles away from Farr's kind of presentation. White's performance was a kind of garden, too, but a sprawling and tangled one, full of (to quote John Latouche) "daisies running riot." White was essentially throwing a party for herself, one that seemed to take on a life of its own.
But one ingredient of White's success was that she was fully in control of the entire room. She knew when to ramble around the stage and when to plant herself dead center. She understood the advantage of interacting at length with her very vociferous audience, but she knew also when to cut the laughs and banter off and move to the next song.
The controlled chaos that White employs onstage seems to extend to her singing technique. I know there is a deep disregard among some cabaret-goers for the extensive use of melisma. At 54 Below, White embellished some lines a great deal, and she sang others straight. With her, it seems not to be just a matter of "all things in moderation." In fact, sometimes the quotient of pop yodel in White's singing is quite high. But when she cuts loose with a seemingly improvised run of notes, it's justified by the emotion of the song. It's not just a display of vocal prowess.
At the second of her two Saturday sets, White took the stage in a striking, shoulder-baring dress that Ursula from Disney's The Little Mermaid would save for a very special occasion. Immediately, she was holding court. She began musically with a performance of a sassy up-tempo number called "Not Meant to Be in Love" (Douglas Lyon, Ethan Pakchar) about resisting and, finally, succumbing to sensual bliss. The number ended with a flourish, a big wail that swooped up the scale from basement to attic. Her follow-up selection was an ode to the perfect man called "A Husband Is" (Eileen Bluestone Sherman, Gail C. Bluestone). The lyrics were a bit effusive—mushy, even—but White owned them, turning what could have been treacly into something both sultry and tender.
From the way things were shaping up, White might have titled her show "The Sensuous Woman." The theme of bubbling sexuality reappeared throughout the evening, culminating in a heated version of "The Way He Makes Me Feel" (Michel Legrand, Marilyn & Alan Bergman) from the film Yentl. As sung by White, this was no breathless discovery of sexuality delivered by a cross-dressing yeshiva student, but rather a song sung by a practiced connoisseur of the erotic. Treating the theme with a more humorous touch was Oscar Brown, Jr.'s "Forbidden Fruit," performed with a bouncy country-ish arrangement that saw White flouncing campily as she told the biblical story of young humanity's unfortunate expulsion from Eden.
Along the way were songs that strayed a bit from the theme of sensuality. I especially liked White's powerful take on the gospel-ish blues number "Run Outta You" (from the band Vintage Trouble) and her joyful take on Ashford & Simpson's Motown classic "Remember Me."
White's backup singers and her band, led by her energetic pianist and musical director Timothy Graphenreed, added to the celebratory mood of the evening. One of the nicest surprises in the set was an arresting musical adaptation of Nikki Giovanni's poem "Ego Tripping'" concocted by Graphenreed and White. It celebrated being black, beautiful, fearless and female. White luxuriated in Giovanni's words; "I am so hip, even my errors are correct," Giovanni-through-White told us.
White is not an artist who works in miniature. Her gestures and facial expressions are as big as her voice is and her heart seems to be. The picture in my mind as I walked home after the show was of White's wide and welcoming smile reminding me that life can sometimes be a crazy summer bash of a cabaret. In the words of Ashford and Simpson, I'll remember her as a good thing.
"The Birthday Show"
54 Below  –  July 18, 19
---
About the Author
Mark Dundas Wood is an arts/entertainment journalist and dramaturg. He began writing reviews for BistroAwards.com in 2011. More recently he has contributed "Cabaret Setlist" articles about cabaret repertoire. Other reviews and articles have appeared in theaterscene.net and clydefitchreport.com, as well as in American Theatre and Back Stage. As a dramaturg, he has worked with New Professional Theatre and the New York Musical Theatre Festival. He is currently literary manager for Broad Horizons Theatre Company.