Lisa Viggiano
January 4, 2020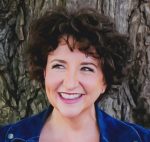 In her latest show, From Lady Day to The Boss (at Don't Tell Mama, smoothly directed by Tanya Moberly), Lisa Viggiano justly and joyously celebrated the nearly five-decade career at Columbia Records of John Henry Hammond—from his supervision of the last recordings of Bessie Smith to his signing and launching of Bruce Springsteen. In between those two events, Hammond was instrumental in furthering the careers of Benny Goodman, Count Basie, Billie Holiday, Aretha Franklin, Bob Dylan, Leonard Cohen, and George Benson, among others memorably represented in this show.
A Bistro Award winner, in part for her 2018 Springsteen show, Viggiano has been a front-rank singer and interpreter of American songs for two decades now. But this time she outdid herself, as did her estimable helpmates: music director Tracy Stark on piano, also having written the majority of the arrangements and further coming into her own as a singer; and Matt Scharfglass, playing standup bass with even greater variety and even more sensitive collaboration than ever, ranging from the glee of a banjo to the mellow and warm tones of a cello.
Stark's charts were worthy of the fullest audience attention. These included the raunchier-than-ever "Kitchen Man" (Andy Razaf, Alex Belledna—nom de plume of Edna Alexander), a Bessie Smith staple that here also gave free rein to Viggiano's inner wild child. At the other extreme, honoring Hammond's much later discovery of George Benson, Stark's mashup (and Viggiano's cool delivery) of "This Masquerade" (Leon Russell) and "On Broadway" (Cynthia Weill, Barry Mann, Leiber & Stoller) not only did justice to Benson, in Viggiano's voice it celebrated the melding of thoughtful rhythm-and-blues with mellow jazz. Scharfglass and Stark supplied the arrangement for "Good Morning Heartache" (Irene Higginbotham, Ervin Drake, Dan Fisher), a Billie Holiday signature song that Viggiano also made her own. Viggiano and Scharfglass jointly arranged Springsteen's "Born to Run," which neatly served to further her narrative of a childhood ambition in North Jersey to become a performer in New York. One of the only two songs on the bill to rely on an arrangement from an earlier recording, "This Could Be the Start of Something Big" (Steve Allen) celebrated her own early hop across the Hudson from Bayonne to Manhattan to become a performer.
Hammond, who had grown up wealthy and a Vanderbilt descendant, but learned his preferred music from the kitchen staff below stairs, maintained a political and socially conscious stance throughout his life, one that Viggiano clearly shares. He integrated black and white entertainment troops during World War II and promoted and sheltered Pete Seeger when he was accused of being a communist in the 1950s. Viggiano's deeply felt delivery of Stark's arrangements of "If I Had a Hammer" (Seeger, Lee Hays) and "The Times They Are-Changin'" (Dylan) reflected both Hammond and Viggiano's shared social concerns and these songs' current relevance. ("Come senators, congressmen, please heed the call" anyone?) Dylan was also given this seamless show's stirring finale, "Forever Young," arranged by Scharfglass. Hearing this song sung this way, made most of us in the audience feel, well, forever young.
In recent months, I've been privileged to see and review a spate of superlative shows by outstanding female vocalists. This show is the most recording-studio ready.
From Lady Day to The Boss
Don't Tell Mama – November 13, 15, 21
[Added: Beach Café – January 4; Don't Tell Mama – February 6]
---
About the Author
Robert Windeler is the author of 18 books, including biographies of Mary Pickford, Julie Andrews, Shirley Temple, and Burt Lancaster. As a West Coast correspondent for The New York Times and Time magazine, he covered movies, television and music, and he was an arts and entertainment critic for National Public Radio. He has contributed to a variety of other publications, including TV Guide, Architectural Digest, The Sondheim Review, and People, for which he wrote 35 cover stories. He is a graduate of Duke University in English literature and holds a masters in journalism from Columbia, where he studied critical writing with Judith Crist. He has been a theatre critic for Back Stage since 1999, writes reviews for BistroAwards.com, and is a member of The Players and the American Theatre Critics Association.