Lisa Viggiano
December 1, 2016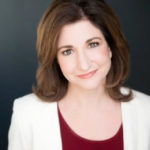 Lisa Viggiano's new show, "Night in the City," which recently played at both the Laurie Beechman Theatre and Don't Tell Mama, is a delight from start to finish. She has a warmly expressive voice that can get big when it needs to, but she doesn't force the issue; she lets each song determine the size and range she employs. This alone sets the show apart from a lot of what has going on in cabaret in 2016. She is also a born storyteller and never loses track of the narrative in her performance. This is bracing, old-school, stand-at-the-mic-stand-or-simply-hold-the-microphone-and-sing cabaret, free from meaningless embellishments and histrionics.
The show opens with the title song, mashed together with a bit of "Night Ride Home," both by Joni Mitchell. She has an immediately obvious affinity for folk-pop, but cannily follows with the overdone legit song "As If We Never Said Goodbye" (Andrew Lloyd Webber, Don Black, Christopher Hampton, from Sunset Boulevard) and proves there really is no such thing as "overdone" when it is handled with the economy of gesture, emotion, and decibel level that the singer displays here. After a version of John Mayer's "Who Says" that makes it seem a natural for the cabaret stage, she does Rodgers and Hart's "Mountain Greenery," brilliantly reworking the usually bouncy tune and making every line bristle with new life.
There are so many pleasures to be found here that I could pretty much list each song as a highlight, but let me just add a couple of others that stayed with me long after I left the cabaret. A deliriously romantic pairing of "Dance with Me" (John Hall) and "I Wanna Dance with Somebody (Who Loves Me)" (George Merrill, Shannon Rubicam) followed by the hushed heartbreak of Jimmy Webb's "If These Walls Could Speak" convey a longer, more involving story than any of the songs would provide alone. Sticking with the title and theme of the show, she even takes on Stevie Wonder's "Living for the City," and her success with it is both surprising and satisfying. Julie Gold's touching "Good Night New York" provides an emotionally resonant finish.
The arrangements and musicians for "Night in the City" are particularly noteworthy. Matt Scharfglass on bass and Kenji Tajima on percussion offer stellar musical support to music director/pianist Tim Di Pasqua, whose arrangements are practically a master class in how to put together thrilling music in a small cabaret space. In addition, there is a consistency in sound and playing that brings to mind a classic pop album of the '50s or '60s, when a unified musical vision made the project a cohesive statement rather than just disconnected sounds for each song. Di Pasqua is also a fine songwriter, and Viggiano chose a quartet of his more theatrical material to create a centerpiece gallery of engrossing characters and stories. One standout from this section is a song called "Three's a Charm," written for the It Gets Better project; it manages to be the only palatable sing-along I have experienced in a cabaret in years—and I mean YEARS.
There is such a sense of ease and assurance about this show: from the very opening notes, you realize that you can easily give oneself over to it for an hour and know that you will be better for the journey. Lisa Viggiano will be returning to Don't Tell Mama on January 27—see her if you can.
"Night in the City"
Laurie Beechman Theatre  –  November 2
Don't Tell Mama  –  November 11
---
About the Author
Gerry Geddes has conceived and directed a number of musical revues—including the Bistro- and MAC Award-winning "Monday in the Dark with George" and "Put On Your Saturday Suit-Words & Music by Jimmy Webb"—and directed many cabaret artists, including André De Shields, Helen Baldassare, Darius de Haas, and drag artist Julia Van Cartier. He directs "The David Drumgold Variety Show," currently in residence at Manhattan Movement & Arts Center, and has produced a number of recordings, including two Bistro-winning CDs. He's taught vocal performance at The New School, NYU, and London's Goldsmith's College and continues to conduct private workshops and master classes. As a writer and critic, he has covered New York's performing arts scene for over 40 years in both local and national publications; his lyrics have been sung by several cabaret and recording artists. Gerry is an artist in residence at Pangea, and a regular contributor to the podcast "Troubadours & Raconteurs." He just completed a memoir of his life in NYC called "Didn't I Ever Tell You This?"