Liz Callaway Sings Maltby & Shire
February 22, 2017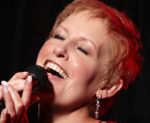 Liz Callaway is a wonder! The Story Goes On: Liz Callaway Sings Maltby & Shire, her loving and beautifully sung tribute at the Appel Room as part of Lincoln Center's American Songbook Series, showed the star of theatre and concert stage at the height of her powers. The clarity, the feeling, and the remarkable technique of that voice remains undiminished by time. She quietly mesmerized in story songs, and her clarion belt had none of the meaningless flourishes and legit screeching that seems to be the order of the day with so many theatre singers lately. Sadly, those screeching riffs can also be found in the output of the current crop of composers, but not so with these songs. Richard Maltby Jr. and David Shire write marvelous pop and Broadway material; it was a pleasure to hear their classics and discover their lesser-known works.
Dan Foster's seamless direction kept things flowing and helped to create a nice connective framework to showcase the material, smoothly incorporating guest appearances by Todd Graff and Rebecca Luker. The trio of music director/arranger David Loud on piano, Sarah Seiver on cello, and Bruce Doctor on percussion offered unique and memorable accompaniment, with Doctor's addition of vibes and xylophone making the music even more special.
Callaway has had a long and fruitful relationship with the writers—at age 19 she opened her very first cabaret show at the Duplex with "Just Across the River" (from How Do You Do, I Love You) and reprised it delightfully in this concert. Through marvelously written and mercifully brief stories, her history with them was nicely revealed. Much was made, and rightfully so, of Baby, one of the singer's earliest triumphs. Sparkling versions of "Like a Baby" and "I Chose Right" were followed by Graff coming to the stage to recreate a bit of Broadway magic in their duet from the original production, "What Could Be Better?" When Luker showed up a bit later, their rendition of "It's Never That Easy" (The River)/"I've Been Here Before" (Closer Than Ever) was a deeply emotional performance in which their pleasure at singing together for the first time was palpable.
I hadn't realized how much I missed so many of Maltby & Shire's well-known songs until Callaway reminded me with one great moment after another: an emotional, measured take on "Autumn" (Cyrano); a funny, frantic revisiting of "Crossword Puzzle" (Graham Crackers); an expert maneuvering of the emotional denials of "I Don't Remember Christmas" (Starting Here, Starting Now); an understated but moving investigation of Closer Than Ever's "Patterns." I could go on, but let me just say that there was not a misstep in song choice or performance.
There was a core of calm and warmth at the heart of this show that grew as the evening progressed, and revealed itself not only in the ballads, but everywhere. It underscored how emotionally and theatrically satisfying this concert was. Liz Callaway was never less than terrific. To paraphrase an old Judy Garland quote, I wish she had stayed all night and sung them all. For what it was intended to be and what it offered the attentive and thrilled audience, this show was as close to perfection as one could ask for.
The Story Goes On: Liz Callaway Sings Maltby & Shire
The Appel Room, Jazz at Lincoln Center – February 15
---
About the Author
Gerry Geddes has conceived and directed a number of musical revues—including the Bistro- and MAC Award-winning "Monday in the Dark with George" and "Put On Your Saturday Suit-Words & Music by Jimmy Webb"—and directed many cabaret artists, including André De Shields, Helen Baldassare, Darius de Haas, and drag artist Julia Van Cartier. He directs "The David Drumgold Variety Show," currently in residence at Manhattan Movement & Arts Center, and has produced a number of recordings, including two Bistro-winning CDs. He's taught vocal performance at The New School, NYU, and London's Goldsmith's College and continues to conduct private workshops and master classes. As a writer and critic, he has covered New York's performing arts scene for over 40 years in both local and national publications; his lyrics have been sung by several cabaret and recording artists. Gerry is an artist in residence at Pangea, and a regular contributor to the podcast "Troubadours & Raconteurs." He just completed a memoir of his life in NYC called "Didn't I Ever Tell You This?"