Luba Mason
September 17, 2014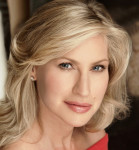 Luba Mason slinked onto the stage of the Metropolitan room in a cream floor-length gown accented with blue brocade flowers riding the curves of her lithe frame. Her hips swayed, her shoulders kept the beat, her voice soared from smoky bassoon to blaring soprano sax in a rendition of Van Morrison's "Moondance" that was for the ages. Her brilliant music director-arranger, Ecuadorian Felipe Fournier, executed a masterful vibe solo in this Latin arrangement of the song. She ended on a note that's heroin in your veins. It's addictive: you are in its thrall, ready for the next hit.
This classically trained singer, dancer, actress has charisma, stage presence, and talent in spades. She's a Broadway veteran, television actress, composer, producer…if there is anything she can't do well, it's not on display in this show; called "MIXTURA," it's a Slovakian-American-Latin stew of Mason's artistic gifts. (Each of the three scheduled shows at the Metropolitan Room this fall will contain a different genre-bending adaptation of the "MIXTURA" format.)
In addition to Fournier on vibes, her inimitable band consists of Dan Martinez on bass, Joel Mateo on Drums. Rafael Rosa on guitar, and guest artist Sara Caswell on violin. Mateo and Mason trade off scat-percussion solos on a big-band, stripper rendition of "Don't Shoot the Hooey to Me, Louie" (Robert B. and Richard M. Sherman); Rosa and Caswell kill on a dueling-fiddle arrangement of Lou Reed's "Pale Blue Eyes."
Mason took to the piano for one of the first songs she ever wrote, "A Summer Night." Of the three Mason-original songs in the show, my favorite was "Gorgeous Fool"; it is smart and funny, with the lyric "You asked if I could dance. I said yes. And you danced right over my shoes. That cost me two paychecks. You great big lovable fool." In case we doubted her Slovakian heritage, she sang a Slovak folk song, "Motherland" (Peter Bella)—but in an arrangement for vocal and vibes that had Latin rhythms and a traditional ending.
Jean-Pierre Perreaux's lighting and sound for the show were some of the best I've ever experienced; every moment was perfectly accented by the color and sound mix. And the finale, Mason's sultry a cappella rendition of Cole Porter's "Love for Sale," was devastating. Her acting was simple and clear, her voice silky and searing, and her eyes soulfully flirted then cut. And when she hit that note again…!
"MIXTURA"
Metropolitan Room  –  September 11, October 2, November 6
---
About the Author
Tonya Pinkins is an award-winning actress, singer, writer, director, author and mother of four. She enjoys the arts in all their forms.