Matt Doyle
May 14, 2017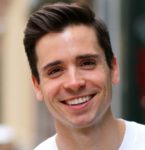 Actor/singer Matt Doyle recently celebrated his thirtieth birthday with a single-night engagement at The Green Room 42, a commodious, spanking-new showroom on the fourth floor of the Yotel on West 42nd Street. Known mostly for his theatrical appearances in such shows as Spring Awakening, War Horse, and The Book of Mormon, Doyle began a side career as a solo singer several years ago. In 2016 he released an album called Uncontrolled, consisting largely of songs he penned with Will Van Dyke (who served as his pianist and musical director at this gig) and others.
In this appearance, Doyle performed several of the original songs from Uncontrolled, along with covers of titles popularized by an array of star singers, including Lady Gaga, Adele, Sheryl Crow, and Sam Cooke. His original numbers tended to have a poppy-folky-country flavor. (He says that his affection for the country sound grew after a songwriting sojourn to Nashville.)
His vocals were warm, confident and clean—with only a hint of vibrato. He seemed perfectly comfortable executing various pop-singing embellishments—from bluesy wails to falsetto riffs to (blessedly) short bursts of melisma. His enunciation was clear—although on his opening number, Crow's "If It Makes You Happy" (in which he sang at a fairly high volume while moving about with the microphone), his words were largely muffled. But this was a problem that never recurred during the set.
He was dressed in jeans and t-shirt, and his stage manner was similarly informal. He was open and friendly with his audience, and he seemed to love what he was doing—sometimes eagerly bouncing on the balls of his feet. He would regularly flash a flirtatious smile that complemented his romantic-lead good looks. That smile, in fact, seemed difficult for him to repress. Even on numbers with downbeat content, it kept peeking through.
Many of the original Doyle/Van Dyke songs on the menu were about his love life, and featured expressive lyrics that tripped easily off the tongue. They included a falling-in-love song ("What You Stole") a road-trip-with-the-boyfriend song ("Don't Wait"), and a break-up song ("When I Let You Go"). Throughout the show, he told the true-life stories behind such titles. This patter helped him come across as likable and good-humored.
Besides Van Dyke, Doyle had good support from drummer Spencer Cohen and guitarist Alec Berlin. Berlin was particularly popular with the crowd, delivering some impressive solo spots over the course of the show.
One of the highlights of the evening was Doyle's sole excursion into the Great American Songbook: his take on "You Made Me Love You (I Didn't Want to Do It)" (James V. Monaco, Joe McCarthy), a song he'd performed on the soundtrack of the 2011 gay indie film Private Romeo, in which he also starred. He noted that the song's arrangement was intended to suggest Patsy Cline more than Judy Garland. And, indeed, it had a tangy twang that was highly appealing.
Everything Doyle did at The Green Room 42 seemed perfectly suited to a one-off performance (and birthday celebration) at a hip new club. I hope, though, to find him at some point performing a more polished show, in a more formal cabaret setting. I'd love to see and hear what he could do with the aid of a strong director: someone who could help him put to full use his obvious acting skills and dig deep into a thoughtfully chosen set of challenging songs of various stripes. Maybe he could even include some additional standards, to match the promise of that fetching "You Made Me Love You."
The Green Room 42 – May 8
---
About the Author
Mark Dundas Wood is an arts/entertainment journalist and dramaturg. He began writing reviews for BistroAwards.com in 2011. More recently he has contributed "Cabaret Setlist" articles about cabaret repertoire. Other reviews and articles have appeared in theaterscene.net and clydefitchreport.com, as well as in American Theatre and Back Stage. As a dramaturg, he has worked with New Professional Theatre and the New York Musical Theatre Festival. He is currently literary manager for Broad Horizons Theatre Company.