Micky Dolenz
March 26, 2017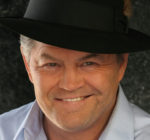 Those of us who are fans of both the Monkees songbook and Broadway show tunes are twice blessed by the current Micky Dolenz show at Feinstein's/54 Below (co-directed by Van Dean and Dolenz himself). Some fifty years on, Dolenz is still best known as the lead singer of The Monkees, a "Fab Four" group manufactured by American television as an answer to, and steal from, The Beatles. (The TV show ran from 1966-68.) Thanks in part to the work of some of the best songwriters of the period, the mostly musically untrained Monkees quartet sold 75 million records. Judging from the opening night audience here, who were seemingly not habitual cabaret attendees, this was the body of work they had come to see, and to take them back to happy grammar school memories. Yet, Dolenz has spent a good portion of the intervening five decades studying with vocal coaches and happily appearing in musicals on Broadway, on tour, and in London. Hence, the title of his show: A Little Bit Broadway, A Little Bit Rock 'n' Roll.
He approaches both sides of his song list with equal, infectious enthusiasm. Yet, clearly cognizant of which side of his bread captures the most butter, he starts off his set with the Monkees hit "D.W. Washburn" (Leiber & Stoller), which has the added advantage of itself having resurfaced on Broadway in the composers' Smokey Joe's Cafe. For good measure, his second song is his old group's "Last Train to Clarksville" (Tommy Boyce, Bobby Hart). But then a sharp left turn in the program brings Dolenz to offer "my favorite song from the shows I've done": "Don't Be the Bunny" (Mark Hollmann, Greg Kotis, from Urinetown). This is followed by an affecting "Mr. Cellophane" (Kander & Ebb, from Chicago).
Both of Dolenz's parents were actors and singers, and he pays tribute to them in different ways. In honor of his mother, he nicely demonstrates his inner crooner on "But Not for Me" (the Gershwins), at least in the bridge and first chorus. But on the second chorus, he is amusingly "doing my mother doing Billie Holiday." Dolenz most decidedly does not imitate his father—who was a stentorian, swashbuckling leading man in operettas—in his own, more subdued and subtle "Some Enchanted Evening" (Rodgers & Hammerstein). His family connection is completed by his sister, Coco Dolenz, who joins him for a duet on the old Everly Brothers hit, "Crying in the Rain" (Carole King, Howard Greenfield). The Dolenz siblings were taught such family-style close harmony singing by their parents, in early childhood, which they further demonstrate with a nifty a cappella "Bye Bye Blackbird" (Ray Henderson, Mort Dixon).
Jokingly leery of the restlessness of some hardcore Monkees fans, Dolenz returns to the rock portion of the program, just in time—"before they start to walk out." Carole King is the front-running composer in this set, also represented by "As We Go Along" (written with Toni Stern, from the Monkees film Head) and "Pleasant Valley Sunday" (with Gerry Goffin). The real Beatles get their due with "Oh! Darling" (Lennon & McCartney), and the show's closer is "Goin' Down" (Diana Hildebrand and all four Monkees: Davy Jones, Peter Tork, Michael Nesmith, and Dolenz). But hardcore believers need not worry; the show reaches its zenith with what are, arguably, The Monkees' two greatest hits: "I'm a Believer" (Neil Diamond) and "Daydream Believer" (John Stewart). The second chorus of the latter provides a robust audience singalong, ex-homecoming queens and all, and we wouldn't have it any other way.
The show's instrumental accompaniment is exemplary, with musical director Michael J. Moritz, Jr. on piano, Alex Draime and Khaled Tabbara on guitar, Larry Cook on bass, and Billy LaGuardia on drums.
A Little Bit Broadway, A Little Bit Rock 'n' Roll
Feinstein's/54 Below – March 24, 25, 29
---
About the Author
Robert Windeler is the author of 18 books, including biographies of Mary Pickford, Julie Andrews, Shirley Temple, and Burt Lancaster. As a West Coast correspondent for The New York Times and Time magazine, he covered movies, television and music, and he was an arts and entertainment critic for National Public Radio. He has contributed to a variety of other publications, including TV Guide, Architectural Digest, The Sondheim Review, and People, for which he wrote 35 cover stories. He is a graduate of Duke University in English literature and holds a masters in journalism from Columbia, where he studied critical writing with Judith Crist. He has been a theatre critic for Back Stage since 1999, writes reviews for BistroAwards.com, and is a member of The Players and the American Theatre Critics Association.