Monday Night Madness
April 7, 2016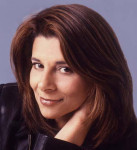 One of the most sorely missed treasures of New York cabaret life in the last century was Eighty-Eight's, an understated yet elegant room on 10th Street in the West Village. I saw a lot of shows there. I reviewed a lot of shows there. I directed a lot of shows there. It was one of my two musical homes-away-from-home. On occasional Mondays, musical comedienne Angela LaGreca would hold court with a zany variety show called "Monday Night Madness." With regulars Lenny Babbish on piano and Leslie Fogelsong on back-up vocals, LaGreca would present an eclectic, electric line-up of comics, singers and songwriters in a fast-paced, talent-packed extravaganza. When Eighty-Eight's left us, the show moved on to Don't Tell Mama and then to Caroline's Comedy Club, but it eventually stopped, as all things must.
Happily, it has been resurrected as a perfect antidote to the wearying, irritating, scary times in which we now live. LaGreca has found a new home in my other musical home-away-from-home, Brandy's Piano Bar, which, also happily, is still alive and kicking on E. 84th Street. The format is the same, the energy is the same, the good cheer is the same, even LaGreca's team is the same. It seems that not all good things have to come to an end. I recently caught the third installment, with a line-up that included actor-comic-singer-writer Rick Crom, singer Karen Saunders, and actor-comic-TV personality Mario Cantone. I am happy to report that the newest version of "Monday Night Madness" is as good as ever: hilarious, fast-paced and totally entertaining. And there is something special about the immediacy of the experience of seeing performers in the up-close intimacy of Brandy's. There's no stage, there's no separation at all from the audience. For better or for worse it's "in your face"—and in this instance it's definitely for the better.
LaGreca is a charming host and a fine comedian—in top form, whether she's rapping about bubble wrap or regaling us with stories of unusual topics for comedy bits, like car crashes and cancer, for starters, mining laughs from the "very aggressive deer" that ran into her vehicle and even more daringly, from her own health battles. On the musical numbers her voice might have been a bit hesitant here and there, but her timing and delivery won the day. Her laid-back and knowing presence as host is a big part of the evening's success. She dug out a laugh-filled older song by guest Rick Crom called "Denial" as the perfect intro to her first guest of the evening.
Crom, long one of the city's best purveyors of comedy and song (on his own or in his various revues, like the long-running NEWSical The Musical) was self-deprecating to a humorous fault. His world-weary life view and hard-won wisdom grounded even his wildest comic flights in reality. His stand-up would be great even if he didn't write some of the funniest songs you're likely to hear. The title tells you all need to know about his double-entendre-filled, astronomical opus, "There's a Face of a Man in Uranus." His epic "Sondheim's Oklahoma" stopped the show.
A tough act to follow, but if anyone could manage it, it was Mario Cantone. The immediacy of the room somehow softened and humanized the often side-splitting rants that have become his trademark. Reality television, Kathleen Turner, Donald Trump, or hapless audience members foolish (or weak-bladdered) enough to dare a trip to the toilet in the middle of his performance—all were felled by his sharp and savage skewering. He took advantage of the musical side of the show and wowed the audience with a one-man Judy-and-Liza duet.
Then the show's musical guest, Karen Saunders, took the stage with a beautifully thought-out medley of Bacharach & David's "A House Is Not a Home" paired with "Where Do You Start?" (Johnny Mandel, Marilyn & Alan Bergman). It was a special treat to hear an old favorite, "I'd Rather Leave While I'm in Love" (Peter Allen, Carole Bayer Sager) in a room where, when it was new, the song used to be somewhat of a standard. It was rarely done as well as Saunders's impassioned rendition.
The show continues at Brandy's every other Monday. With a ridiculously low cover of $5.00 (plus the ever-present 2-drink minimum), this is one of the best entertainment bargains in Manhattan.
Brandy's Piano Bar – Alternate Mondays
---
About the Author
Gerry Geddes has conceived and directed a number of musical revues—including the Bistro- and MAC Award-winning "Monday in the Dark with George" and "Put On Your Saturday Suit-Words & Music by Jimmy Webb"—and directed many cabaret artists, including André De Shields, Helen Baldassare, Darius de Haas, and drag artist Julia Van Cartier. He directs "The David Drumgold Variety Show," currently in residence at Manhattan Movement & Arts Center, and has produced a number of recordings, including two Bistro-winning CDs. He's taught vocal performance at The New School, NYU, and London's Goldsmith's College and continues to conduct private workshops and master classes. As a writer and critic, he has covered New York's performing arts scene for over 40 years in both local and national publications; his lyrics have been sung by several cabaret and recording artists. Gerry is an artist in residence at Pangea, and a regular contributor to the podcast "Troubadours & Raconteurs." He just completed a memoir of his life in NYC called "Didn't I Ever Tell You This?"