O Sole Trio
September 19, 2011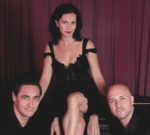 I didn't know quite what to expect from O Sole Trio. The three members of this group (musical director/accompanist David Shenton and vocalists Erin Shields and Giuseppe Spoletini) all have classical training, so I thought they might present an evening of Italian arias, which would have been just dandy with me. But, then, the group's name is clearly a play on the Neapolitan song "O sole mio," so perhaps I would be in for a Neapolitan evening—which also would have been fine with me, albeit perhaps not quite as dandy. On the other hand, both Shenton and Shields have released jazz CDs, and Spoletini's CD contains gospel and inspirational music, so… All bets were off.
As it turns out, their show is an eclectic mixture that ranges from opera to pop, with all selections having a decidedly Italian flavor. While there is a set program for the evening, the atmosphere is informal: three friends getting together to make both music and merry. It's rather like a party—a quite jolly one.
The party gets underway with a duet of "O sole mio" (Eduardo di Capua, Giovanni Capurro), with Shields displaying a rich, full-bodied soprano and Spoletini a robust baritone. (I didn't intend to sound as though I were describing delicious espressos.) No wonder this is arguably the most famous Neapolitan song ever written—it's so satisfying. (Now I sound like a cigarette commercial—remember those?—but honestly, these adjectives all come straight from my notes.) Shenton's piano accompaniment and the two vocals are glorious.
A few numbers are especially striking. Shields does a ravishing job on "O mio babbino caro" (Giacomo Puccini, Giovacchino Forzano), then Spoletini gives "Mama" (C.A. Bixio, B. Cherubini) the kind of pleasingly schmaltzy pop treatment we expect to hear, and then—here's the striking part—they sing the two songs together, Spoletini now adopting a more solemn tone on "Mama" and everything contributing to a beautiful whole. Probably more improbable is the duo's simultaneous singing, later in the show, of "Largo al factotum" (Gioachino Rossini, Cesare Sterbini) and "That's Amore" (Harry Warren, Jack Brooks), with Shields doing some scatting. These pairings should not work, but do they ever!—thanks to another pairing: the singing skills of Shields and Spoletini and Shenton's arrangements, which are at once canny and uncanny.
Another dazzler is an instrumental rendition of "Torna a Surriento," also a contender for most popular Neapolitan song (music by Ernesto De Curtis). Shenton plays it on violin and piano—not in turn, but at the same time! By itself, his violin work is impressive, but when the piano starts playing and the violin continues, our response grows to wonderment. And when Shenton then additionally plucks the violin, he makes walking on water, by comparison, seem a mere trifle.
These few pieces may be the most sensational of the evening, but all of Shenton's arrangements are splendid, as are all of the vocals. Spoletino delivers a bravura rendition of "Funiculi, Funicula" (Luigi Denza, Peppino Turco), Shields sings a simple and heartfelt "Al di la" (Carlo Donida, Mogol, Ervin Drake), and the trio performs a frisky medley of "Angelina" (Doris Fisher, Allan Roberts) and "Zooma, Zooma" (Louis Prima, Pablo Citorello). The two vocalists do a passionate "The Prayer" (David Foster, Carole Bayer Sager, Alberto Testa, Tony Renis) and a delightful "Mambo Italiano" (Bob Merrill) accompanied by a winning little dance. (They might consider dropping the waltz they do on their very sweet "Bella Notte" (Peggy Lee, Sonny Burke)—the intent is charming, but the limited space makes the execution awkward.)
The trio's encore piece is the Andrea Bocelli hit "Con te partirò"/"Time to Say Goodbye" (Francesco Sartori, Lucio Quarantotto, Frank Peterson). They couldn't have picked a more beautiful way to end the party. After their last bow, I wrote my final note: "Such a good time!"
Metropolitan Room  –  September 1, 12, 19, 26, October 3
---
About the Author
Roy Sander has been covering cabaret and theatre for over thirty years. He's written cabaret and theatre reviews, features, and commentary for seven print publications, most notably Back Stage, and for CitySearch on the Internet. He covered cabaret monthly on "New York Theatre Review" on PBS TV, and cabaret and theatre weekly on WLIM-FM radio. He was twice a guest instructor at the London School of Musical Theatre. A critic for BistroAwards.com, he is also the site's Reviews Editor; in addition, he is Chairman of the Advisory Board of MAC.