Picture Perfect: The Songs of Scott Evan Davis
March 23, 2013
The Duplex  –  March 9, 17, 24, April 8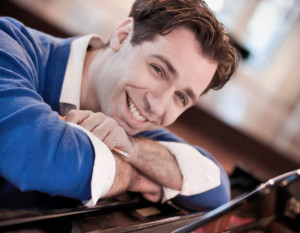 In the new revue "Picture Perfect" at The Duplex, a cast of five presents the songs of composer-lyricist Scott Evan Davis. Early in the proceedings, it is clear that Davis's music has been heavily influenced by Stephen Sondheim. Those atonal intervals and chord structures make for an interesting listening experience, even if you're not walking out of the club immediately humming the melodies. Also like Sondheim, most of his songs deal with flawed relationships and misconnections between people.
Where Davis hasn't yet reached the mark of the master is with the lyrics. The quality is uneven; there are few clever surprises with the rhymes and the words often lack poetry or wit. Here's an example from "If We Say Goodbye" (which recently won a Broadway World award for Song of the Year):
"Or should we say goodbye?
Is it time to close the door?
When all the things we were before lie trapped behind your eyes.
Buried deep inside.
And if we say goodbye,
Would all of this have been in vain?
The years of laughter, love, and pain.
Just to say goodbye.
Still I can't deny
How hard I'll cry,
If we say goodbye.
So much can change in just one day."
A good lyric should paint a picture that is specific and yet holds a universal truth. It's hard to be moved by such generic sentiment.
Another is "You Make Me Crazy," an obvious retread of Sondheim's "You Could Drive a Person Crazy," right down to the rapid-fire delivery in the bridge. But given a choice, why would the listener—or a singer—not opt for the more clever original? "There's Nothing I Can Say," performed as a duet by Vicky Modica and Erik Sisco, offers no clue to why the couple has reached the breaking point: "There's nothing I can say/It seems you get your way/Then again you always do, and I guess I always knew so no/There's nothing I can say." Exactly. And do we need one more anthem that uses the metaphor of flying to suggest going for one's dreams, as in "Ready to Fly"?
It takes a very competent cast to make such lines work and, fortunately, there is fine work by all here. Special mention must be made of Jamie Hartmann's treatment of "He's Perfect," a trophy wife's lament about her choice to stay with her wealthy, not-so-perfect husband—and this song has such smart lines as this: "If you sweep depression under the table/Keep obsession at bay/Then each concession makes you more unstable, unable to get away/So you stay because . . ." Now there's a wordsmith at work!
The real standout is Joshua Dixon, whose heart is palpably beating with aching honesty every moment he is on the stage. It so happens, he also gets the best songs: "More Than Sundays," which takes us on a journey from joy to despair through the week as he waits to see his married lover on Sundays; and "I Am," a defiant cry of the artist as a young man. Kim Grogg is the final pleasing addition to the cast.
Lennie Watts directs the cast in a straightforward way, simply moving them slowly around each other and taking their turns at the spotlight. Such uncomplicated staging leaves the focus on the songs, as it should be. The cast is joined onstage by the enchanting musical accompaniment of David Snyder on piano and Wayne Arndt on cello.
Showcasing one's songs is a good move for a young composer: it provides a chance to see how an audience reacts to the work. Davis offers much promise for the years ahead but, at this point, the songs are hit-or-miss. Such is the artist's journey.
---
About the Author
Kevin Scott Hall performed in cabaret clubs for many years and recorded three CDs, including "New Light Dawning" in 1998, which received national airplay. He also worked at the legendary piano bar, Rose's Turn, and has taught cabaret workshops and directed shows since 1995. Kevin earned his MFA in Creative Writing at City College of New York. He is an adjunct professor in the Theatre and English departments at City College and Borough of Manhattan Community College. His novel, "Off the Charts!" was published in 2010, and his memoir, "A Quarter Inch from My Heart" (Wisdom Moon), in 2014. Kevin writes a monthly column and entertainment features for Edge Media Network, writes reviews for BistroAwards.com, and freelances for other publications.