Remembering Rita Gardner— Actor, Singer, Teacher, and the Original "Girl" in "The Fantasticks"
October 12, 2022
Rita Gardner had so many friends who loved her, and I was lucky to be one of them.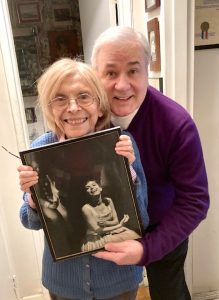 Rita's name is quickly associated as the actor who played 'The Girl' (Luisa) in the original Off-Broadway cast of the long-running The Fantasticks (Harvey Schmidt, Tom Jones) which opened at the Sullivan Street Playhouse in 1960.  Rita Gardner, indeed, was an extremely talented actor with an exquisite, expressive voice. The Rita I got to know was also a  wide-eyed, enthusiastic, optimistic, and down-to-earth  force of nature who had a tremendous passion for her art. Her energy and zeal for life were contagious.
Sadly, Rita passed away just about three weeks ago following a career that spanned over six decades playing Off Broadway, Broadway, regional theatre, TV, film, and cabaret venues. Jacques Brel Is Alive and Well and Living in Paris, A Family Affair, Pal Joey, Ben Franklin in Paris, and The Wedding Singer were among her Broadway and Off- Broadway shows.  See also performed in various episodes of Law & Order. She taught for many years at HB Studios where she had studied, and spent a summer teaching at the Yale Cabaret Conference.
Listen to a young Rita sing "They Were You" along with her co-star Kenneth Nelson  here.
Before actually meeting Rita, I had seen her at various industry events but had never really spoken to her. Then, one night when I went to the theatre, Rita was seated right next to me. I was so excited to have this "celebrity"  right next to me. So, after the show, as any good "seat neighbor" would do, I struck up a conversation. and met her husband, playwright Robert Sevra. From that evening on, we stayed in touch. On some afternoons we would meet at her neighborhood diner. Rita, wearing her fashionable newsboy cap, would order her usual buttered toasted English or corn muffin  and a coffee; me, oatmeal and coffee. We would yak for hours.
For a number of years, I produced the weekend conferences for the American Theatre Critics Association and would bring Rita as my guest to our Sardi's Celebrity Luncheon, She would always get a standing ovation when I introduced her, and so many of our regional members would come up to her afterwards wanting to say hello.
Rita and I also went together to the theatre and to cabaret shows;  Rita was itching to be back on a small stage and wanted to check out the sightlines and sound in the various rooms.  In 2002, Rita had performed her own show that she worked on with musical director Alex Rybeck, Try to Remember—A Look Back at Off Broadway, a compilation of songs and stories from the many shows that Rita had played in. They performed it at the Sullivan Street Playhouse where The Fantasticks was, at the time, still running. Showtime was 10 pm. The pair then performed the show around the country, and also recorded it as a CD.
Watch this clip of Rita from that show:
In 2011, Rita and Alex brought that show to the Metropolitan Room in New York. (I helped Rita gather press folks to come to the show which was an easy-peasy chore.) I loved the show and, especially Rita's knack for relating her theatre adventures.  She was, by far, a great storyteller with a terrific sense of humor and comic timing.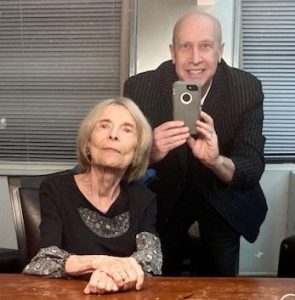 One story that I will always remember, because it was just so darn funny the way Rita told it it, was about her somewhat on-again, off-again gig  in Jacques Brel. When it opened in 1968 at the Village Gate, Eric Blau (who, together with Mort Shuman, provided the English translations), had intended his wife, Elly Stone, to be one of the featured performers. But because the show was so demanding, after a while Stone wanted a break. Enter Rita who replaced her. But, Stone would eventually get bored of not working and would want to come back. So, when that time rolled around, Eric would take Rita out for a Chinese dinner but wait for her to finish eating before he told her she was "fired." (Rita said he would open up her fortune cookie and pretended it read "You're fired!") Then  after a while, Stone would want to take another break, and enter Rita again. And the whole story repeated itself again. "Believe me, by the third or fourth time, I was eating very slowly. But it didn't matter how many times I was fired, because I knew I would always go back—I was at least assured a hot meal."
It was for this cabaret show at the Metropolitan Room that won Rita her 2012 Bistro Award. Rita was spectacular that night performing Brel's Carousel, and received a standing ovation from an audience that included Dee Dee Bridgewater, Melissa Manchester, Marvin Hamlisch, and columnist Liz Smith.
Watch Rita perform, just about a year ago, "Summer Is Over" from A Family Affair (John Kander, James Goldman). The performance was part of Jennifer Ashley Tepper and Kevin Michael Murphy's Bistro Award-winning series, If It Only Even Runs a Minute, with this particular evening focusing on the shows of Harold Prince (director of the show).  Accompanying Rita is, of course, Alex Rybeck.
Here's another video of Rita performing, also at 54 Below in another Tepper and Murphy show. Listen carefully to the lyrics as Rita— so beautifully and emotively—sings "Time Goes By" from Harvey Schmidt and Tom Jones's  Grover's Corners, the Broadway-bound show that, unfortunately, never made it there. The words seem to take on a special poignancy now:
Time goes by, time goes sliding by,
And then you and I cease to be
And this moment now is the only moment we own
Time goes by…Oh, Earth!…Time goes by
You're too wonderful for anyone to realize
Time goes by.
Rita, you were very special and will always be remembered. 
###
"The Summer Is Over" and "Time Goes By" videos courtesy of Famous in NY.
---
About the Author
Sherry Eaker has been the producer of the annual Bistro Awards since the awards' inception in 1985. She is the former editor of "Back Stage" and, during her 30-year run, produced panel discussions and workshop events on an ongoing basis, including the programming for Back Stage's annual Actorfest. She compiled and edited four editions of the "Back Stage Handbook for Performing Artists," and compiled and edited "The Cabaret Artists Handbook." Sherry is on the Board of the League of Professional Theatre Women, a member of the National Theatre Conference and the American Theatre Critics Association (and produced eight of ATCA's New York weekend conferences). She is an advisor to the boards of both the Manhattan Association of Cabarets and the Women in the Arts & Media Coalition.