Shakina Nayfack
April 20, 2014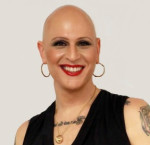 The legendary cabaret artist Marilyn Maye says of cabaret, "You don't have to be anything but who you are." Shakina Nayfack is the epitome of Maye's comment. In her evening at Sophie's at Broadway, she shares every inch of her six-and-a-half-foot, high-heeled, shaved head, tattooed, boy/girl, transgendered, feminist, Radical Faerie self with her audience.
I had the privilege of seeing the first incarnation of her "One Woman Show" at Joe's Pub last winter. This incarnation continues to invite and excite us with original material written by some of musical theatre's brightest up-and-coming composers and lyricists.
The song selections, predominantly original material, take us on an autobiographical journey from 1987, when the then Jared Alan Nayfack put on a yellow ruffled crinoline and a bowed dress at a Superbowl party in his home in Southern California. "Wear You" (Julianne Wick Davis) is a haunting melody and lyric of a little boy finding himself, to the chagrin of his family and friends. It is beautifully captured with the lyric "The first time I feel pretty is the first time I feel shame."
Shakina then delivers a hilarious medley of Broadway songs arranged by her music director, Jeremy Robin Lyons. The patter is about waiting anxiously for his vagina to open and then discovering in an anatomy book from the library that it was never gonna happen. This dozen-song medley opens with "Jacob and Sons" (Andrew Lloyd Webber, Tim Rice, from Joseph…Technicolor Dreamcoat) and ends with "Music of the Night" (Andrew Lloyd Webber, Charles Hart, from The Phantom of the Opera); along the way we get selections from such musicals as Godspell, Cabaret, Secret Garden, Rent, Gypsy, Les Miz, and Company.
In one of the few covers, "Midnight Radio" (Stephen Trask, from Hedwig and the Angry Inch), Shakina is joined on stage by Jenna Tasha Rubaii. The two wail and rock and sent the audience I was in into spontaneous applause.
Shakina delivers the stunning ballad "Fallen Angel" (Joel Waggoner, who was in the house the evening I attended) perched atop the baby grand piano in the fulfillment of her childhood dream. Shakina segues from a story about her Jewish grandparents teaching her the meaning of love to Radiohead's "Fake Plastic Trees," rendering one woman in her 50s bereft with tears. (Though the majority of Shakina's following consists of the young, hip 20s-30s crowd, old folk like me were moved as well.)
Having recently hosted Broadway Battles Bullying starring the phenomenal Laura Benanti, Shakina humorously recounts her personal experiences with bullying, which include being suspended from high school for "threatening the masculinity of her assailant," who had gay-bashed her into being institutionalized and placed in solitary confinement at a mental health facility, where she was kept under five-point restraint and pumped with psychotropic drugs. Music was forbidden, so Shakina frequently requested solitary so that she could lock herself up and sing musical theatre songs undetected.
She uses a multi-tempo, multi-key version of "Broadway Here I Come" (Joe Iconis, from Smash) to take us through her first trip to New York to assist award-winning director Michael Mayer on the Broadway-bound revival "On A Clear Day…" And she closes with a Joe Iconis original song, "Him Today, Gone Tomorrow," in which she ponders whether her talent will fade away when her new identity is physicalized. (How can you go wrong when you have friends like Joe Iconis to write original material for you?)
I could watch Shakina again and again. She is so brave and confident and powerful. This show contains a wealth of great stories and songs. She says something that sums the evening up for me: "bracing for impact and embracing it." The only thing she needs to watch is that sometimes her belting can get a little pitchy. However, she has a lusty belt with rock-and-roll squeals. I have rarely seen a performer whose use of found material so closely supports the theme of the evening and also reveals new meaning in the material.
Shakina has an MFA in experimental choreography, a PHD in Critical dance studies, and is a master of Bhutto dance. That is to say, the girl can dance. Her use of gesture is expressive and incandescent. She acts, sings, writes, dances and gives us a rousing and inspiring invitation into her tumultuous life and the great friendships that have produced incredible musical material to dramatize her ongoing journey.
"One Woman Show"
Sophie's at Broadway  –  April 15, 17, 22, 24, May 1, 2
---
About the Author
Tonya Pinkins is an award-winning actress, singer, writer, director, author and mother of four. She enjoys the arts in all their forms.