Steven Page
March 28, 2016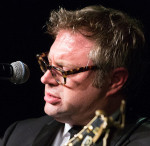 Early on in his Café Carlyle debut, singer-songwriter Steven Page admits with sly understatement that he "was in a band for a long time." That band was the Toronto-based Barenaked Ladies, which toured (and is still touring) the world and sold millions of albums, and Page was its co-founder and lead singer and songwriter. Since leaving the group, he has continued to write, record, and tour, hosted a travel and food TV show, and composed for theatre. With this celebration of his new album of original material, Heal Thyself Pt. 1: Instinct, he is approaching the rarefied atmosphere of seminal singer songwriters like Randy Newman, Jackson Browne, and Jimmy Webb.
Accompanying himself on piano and guitar, he is joined by Craig Northey on guitar and Kevin Fox on cello. The sound they create is spectacular: rich, warm, witty, driving when necessary, subtle when called for. The introduction to the song "Jane" (Page, Stephen Duffy) was so lovely I could have listened to it for a half-hour with no complaint. Northey and Fox also provide strong back-up vocals throughout.
Page's rough tenor often opens up with Joe Cocker-like abandon, but he can be soft and understated to great effect as well. He seems genuinely humbled and delighted to be in the legendary room, and at one point suggests that perhaps he should be doing "The Ladies Who Lunch" in honor of one of its most famous denizens, Elaine Stritch. He doesn't do it, but in the course of the evening he surprisingly (and delightfully) quotes other Broadway/cabaret fare, like "Being Alive," "Matchmaker, Matchmaker," and "It's the Hard-Knock Life," in the midst of his bracing pop/rock creations. In other times he would be doing this show at a place like the Bottom Line or the Village Gate, but he seems quite at home in a suit and tie, holding forth on the venerable Café Carlyle stage.
The set for this engagement is a nice mix of new material from Heal Thyself Pt. 1, augmented with songs from his Barenaked Ladies days and his earlier solo career. "Linda Ronstadt in the '70s" is a rumination on growing older, growing apart, and accepting change. He casts a light on the music business in "No Song Left to Save Me" (Page, Northey): "Boo hoo/ You've consumed the Fountain of Faded Youth/ You think that you've Found the Truth so/ You wrote your final note. Well, that only goes to show/ How little you really know now." "Hole in The Moonlight," another Page/Northey collaboration, is perhaps the most overtly poetic piece of the evening: "What can the matter be?/ What can I do?/ Hole in the moonlight/ Where all my dreams fell through." The singer takes himself to task for what's wrong with a relationship in "Manchild" (Page, Ed Robertson):"You're talking to a manchild now/ Speak slowly, speak slowly." When he revisits the hit "What a Good Boy" (Page, Robertson), the results are as crowd-pleasing as one could possible hope for.
Anyone interested in the promise and potential of pop music in 2016, or just a fan of good songs and good singing, would do well to visit the Café Carlyle.
"Steven Page – Heal Thyself: Past, Present and Future"
Café Carlyle  –  March 22 – April 2
---
About the Author
Gerry Geddes has conceived and directed a number of musical revues—including the Bistro- and MAC Award-winning "Monday in the Dark with George" and "Put On Your Saturday Suit-Words & Music by Jimmy Webb"—and directed many cabaret artists, including André De Shields, Helen Baldassare, Darius de Haas, and drag artist Julia Van Cartier. He directs "The David Drumgold Variety Show," currently in residence at Manhattan Movement & Arts Center, and has produced a number of recordings, including two Bistro-winning CDs. He's taught vocal performance at The New School, NYU, and London's Goldsmith's College and continues to conduct private workshops and master classes. As a writer and critic, he has covered New York's performing arts scene for over 40 years in both local and national publications; his lyrics have been sung by several cabaret and recording artists. Gerry is an artist in residence at Pangea, and a regular contributor to the podcast "Troubadours & Raconteurs." He just completed a memoir of his life in NYC called "Didn't I Ever Tell You This?"