Sue Matsuki
January 7, 2020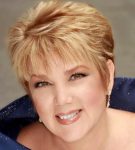 On September 16, 1986, Susan Trosell, as she was called then, performed her first cabaret show at Don't Tell Mama, having passed a nerve-wracking audition for Sidney Myer. Exactly 33 years later, with the same Sidney Myer in attendance, Sue Matsuki, as she had long since become, celebrated her pearl-plus-three-year anniversary with a thoughtful and rollicking show that pulled out all the stops—and then some.
With the supreme confidence of one who had pursued the intricacies and wide range of her art for a third of a century, Matsuki began her set with her back to the audience, giving her initial attention to her music director and pianist of some 25 years, Gregory Toroian. This was entirely appropriate since, together, they were not only reviving numbers they had collaborated on over the years but also, in many cases, revising their approach. Soon she shifted her focus to the already rapt, overflowing audience, ready to experience whatever wonders she (and Toroian) had wrought. From beginning to end, this most recent Matsuki outing at Don't Tell Mama, entitled How's That for Openers? and directed by Lina Koutrakos, did not disappoint, to say the least. Throughout, David Finck on bass and percussionist Ron Tierno did remarkable work.
The show's initial and title song, "How's that for Openers?" (Bob Florence, L. Fred Manley), quickly set the tone for a brisk but generous 16-number set of, well, opening songs from some of Matsuki's previous shows at Don't Tell Mama and other venues. She wrote lyrics for new introductory verses to five of those songs, including "Breakfast Blues" (Ronnie Levine) and "Country Man" (Dakota Staton). The latter song, in particular, displayed Matsuki's jazz, blues, and even country-soul chops." Her jazz grounding and instincts were evident in many of her songs, sometimes just in a line or two. As the evening progressed, I got the feeling she could handle almost any genre of music successfully. While some standards were performed in familiarly straightforward fashion—such as Steve Allen's "This Could Be the Start of Something Big" in a Steve Lawrence-and-Eydie Gormé-esque duet with Toroian—many more took welcome surprising and inventive turns.
For example, Matsuki's take on her opening number from that very first DTM gig, "Too Darn Hot" (Cole Porter), incorporated snippets from other familiar up-temperature songs, such as "Summer in the City" and "Heat Wave." For her version of "Everybody Sing" (Nacio Herb Brown, Arthur Freed), Matsuki incorporated an entire verse of "I Could Go On Singing" (Harold Arlen, E.Y. Harburg). On "Ac-Cent-Tchu-Ate the Positive" (Arlen, Johnny Mercer), Toroian played a mini-tribute to the eclectic piano stylings of the late "Dr. John". Matsuki was right there, too, with "Prince of Love" (Zoë Lewis), in a style I'd term New Orleans Bop.
While it's probably fair to say that Matsuki mostly does accentuate the positive, she was equally compelling on ballads. A slower-than-usual "Talk to the Animals" (Leslie Bricusse) was more pensive than we're accustomed to hearing: rather than gleefully celebrating the prospect of talking to the animals, her interpretation wondered whether one could/should do just that. Her deeply felt rendition of "Quiet Nights of Quiet Stars" (Antônio Carlos Jobim, English lyric by Gene Lees), also slowed down a bit, was introduced by a short telling of her Amazon Rain Forest honeymoon. All of her narrative moments were similarly brief and apt. Her finale, "How High the Moon" (Morgan Lewis, Nancy Hamilton), was rendered with pure Ella Fitzgeraldian finesse, range, and feeling, yet, as with all the songs in this set, remained Matsuki's own. More one could not ask.
How's That for Openers?
Don't Tell Mama – September 16, November 17
---
About the Author
Robert Windeler is the author of 18 books, including biographies of Mary Pickford, Julie Andrews, Shirley Temple, and Burt Lancaster. As a West Coast correspondent for The New York Times and Time magazine, he covered movies, television and music, and he was an arts and entertainment critic for National Public Radio. He has contributed to a variety of other publications, including TV Guide, Architectural Digest, The Sondheim Review, and People, for which he wrote 35 cover stories. He is a graduate of Duke University in English literature and holds a masters in journalism from Columbia, where he studied critical writing with Judith Crist. He has been a theatre critic for Back Stage since 1999, writes reviews for BistroAwards.com, and is a member of The Players and the American Theatre Critics Association.