Teresa Fischer
May 28, 2014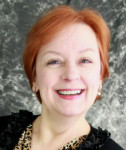 Teresa Fischer's latest offering, "Destinations and Detours," isn't what you might think: It's not so much a travelogue of songs about different destinations; rather, it seems to be Fischer's own time-travel back to a simpler time and place, growing up in Missouri amidst dime stores, Dairy Queens, and a favorite black Schwinn bicycle. "When you learn to ride a boy's bicycle, you learn very quickly," she notes in one of her many wry one-liners.
Fischer has a pleasing, folk-pop voice and, in fact, most of her material is in that vein, songs written by the likes of Nanci Griffith, Dolly Parton, Mary Chapin Carpenter, and Christine Lavin. Lavin's "Camping" is a humorous lament about a woman who is stuck with a man who loves to go camping, while she prefers modern creature comforts. Indeed, comedy is Fischer's preferred mode of expression, whether in patter or song. She's at her best when she goes toward edgier material, such as "Vanilla" (Shel Silverstein). Fischer prefaces the song by saying that she likes variety, but back where she's from, the only choice was…vanilla—whether in ice cream, live music, or lovemaking. It was an inspired song choice and Fischer's droll delivery put emphasis on the humdrum choices some often settle for.
In a more dramatic rendition, she turns up her vocals a notch for "Wheels" (Amanda McBroom), a song about how having freedom does not always lead to success in life, depending on our choices and what life deals us. While she approaches the song with earnestness, she didn't move me to the emotional level I would have expected from this song.
Overall, this is my main issue with Fischer's show. While there is a lot of rare, good material, the musical throughline has a sameness to it—too few dynamics or challenges for the singer. Perhaps without these musical peaks and valleys, it became too easy for Fischer to settle into a groove and not take enough emotional risks—unless a lyric, such as with "Vanilla," is so good that it bolsters the performance.
Another contributing factor is the show's use of the performance space. Sophie's has a wide stage with a black backdrop. Accompanied only by a piano, which is set to the far stage right, Fischer does little physically to fill the remaining expanse. In cabaret, stage movement can often be unnecessary; however, Fischer doesn't invest the material with enough emotion to command the space. What's more, while the sound is very good, there isn't much variety to the stage lighting; everything has a basic sunny wash to it. I don't know whether this stems from a limitation of the lighting system or was a choice made by either the technical director or Frank Calo, the show's director. On the other hand, the show's pacing is good and the patter polished.
The piano accompaniment is provided by musical director Paul Chamlin, who was responsible for about half of the arrangements; the others were by Andrew David Sotomayor.
All in all, "Destinations and Detours" has a few scenic detours, but the destinations reached are pleasant diversions rather than awe-inspiring spectacles. The talented Fischer should take a few more chances along the journey.
"Destinations and Detours"
Sophie's at Broadway  –  May 13, 18, June 3
---
About the Author
Kevin Scott Hall performed in cabaret clubs for many years and recorded three CDs, including "New Light Dawning" in 1998, which received national airplay. He also worked at the legendary piano bar, Rose's Turn, and has taught cabaret workshops and directed shows since 1995. Kevin earned his MFA in Creative Writing at City College of New York. He is an adjunct professor in the Theatre and English departments at City College and Borough of Manhattan Community College. His novel, "Off the Charts!" was published in 2010, and his memoir, "A Quarter Inch from My Heart" (Wisdom Moon), in 2014. Kevin writes a monthly column and entertainment features for Edge Media Network, writes reviews for BistroAwards.com, and freelances for other publications.