Tim Di Pasqua
June 13, 2023
Genuine sweetness is a rare and precious commodity, especially in 2023, and it was evident everywhere in songwriter Tim Di Pasqua's long overdue return to the cabaret stage at Don't Tell Mama— in the songs, in the playing, in the singing, in the spirit and energy that filled the stage. The sense of community, generosity, and warmth of the crowd combined with Di Pasqua's unassuming yet deeply affecting artistry, made the evening a magical reminder of the heart and soul of cabaret.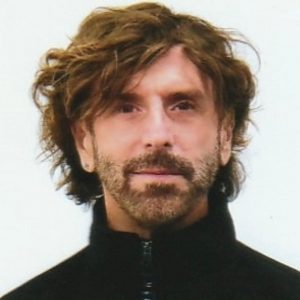 For his first show back, he chose to present an overview of his career as a singer and songwriter starting with a couple of songs from his very first album (which had an unfortunate release date a couple of weeks before 9/11), and including songs from his most recent release (which came out in February, 2020, just in time for lockdown). His opener, and the title song of that initial CD, was "Monster Under These Conditions" which spoke to the danger of putting him "too close to a stranger" or "too close to danger." Its smartly worded self-examination became either a warning in the form of a love song, or a love song in the form of a warning, depending on one's point of view. He followed this with the keenly observed, "Maybe You Didn't Hear Me," that perfectly captured the nerves, the fear, the uncertainty, and the rapture of a declaration of love.
Introducing "Tell Me That You Love Me" as a song of co-dependent self-loathing, he confessed that the song put him in the role of Nancy from Oliver but with a beard. It turned out to be a modern-day tortured torch song, if the '80s are still considered to be "modern-day."
"So Good" took the audience on a journey from how good it is to fall in love to how good it is to fall out again. His lyrics, again and again, revealed an awareness and acceptance of both sides of a romantic coin and accepting them both with a magnanimity, apparent in his charming smile and his dramatic scowl. "Tokyo," one of my favorite songs of the evening, movingly explored a jilted lover's refusal to accept the end of a relationship, preferring instead to hang on to an illusion. After recalling a high school friend who was "always pissed off at something" and wondering "what the hell happened to her?," Di Pasqua gave a pretty big clue in the title of the next song, "I Kissed Your Husband," which became funnier and funnier—as not the strongest of apologies devolved into just plain gloating. The show continued to be a treasure trove of off-kilter, breezily romantic, slightly askew, or slyly bittersweet love songs that, as often as not, managed to combine all those qualities into one. Further proof of this was offered with another romantic ditty, "You Drive Me Nuts."
Switching gears dramatically, and sharing with us that his brother had recently passed, he confronted the losses most of us have felt over the last few years, with a powerfully direct rumination called "Painful." Once that message had been delivered, he offered a pick-me-up with "I Would Be So Pleased"—his biggest "hit" although he never recorded it. He eagerly informed us that when he checked the playlists on Spotify (proud of the modernity of that revelation), this was the song that garnered the most streams due to a recording by Deedee Lynn Magno (a former Disney TV star, loved the world over, and the voice of "Pearl" in the animated series Steven Universe.) That it had been streamed in Finland seemed to impress him most of all, and he was a bit giddy letting us know. It was a lovely moment, as sung by its creator, and I don't need to hear any other version. The evening closed with "One Thing," a moving song that crystallized the sweetness, the passion, the intelligence, and the warmth of this remarkable songwriter who, with his words and music, had raised the spirits of everyone in the room all night.
His first encore was a stunning love song simply called "You." In introducing his second encore, he said that while most claim that the way to get through these nightmarish times is to look forward, he chose the opposite, singing "I'm Going Back." The smile on Tim Di Pasqua's face at the end of the hour was mirrored on each and every member of the audience. It was like spending an hour with an old friend who, by his mere presence, made the world seem like a better place.
###
Presented at Don't Tell Mama, 343 W. 46th St., NYC, on June 3.
---
About the Author
Gerry Geddes has conceived and directed a number of musical revues—including the Bistro- and MAC Award-winning "Monday in the Dark with George" and "Put On Your Saturday Suit-Words & Music by Jimmy Webb"—and directed many cabaret artists, including André De Shields, Helen Baldassare, Darius de Haas, and drag artist Julia Van Cartier. He directs "The David Drumgold Variety Show," currently in residence at Manhattan Movement & Arts Center, and has produced a number of recordings, including two Bistro-winning CDs. He's taught vocal performance at The New School, NYU, and London's Goldsmith's College and continues to conduct private workshops and master classes. As a writer and critic, he has covered New York's performing arts scene for over 40 years in both local and national publications; his lyrics have been sung by several cabaret and recording artists. Gerry is an artist in residence at Pangea, and a regular contributor to the podcast "Troubadours & Raconteurs." He just completed a memoir of his life in NYC called "Didn't I Ever Tell You This?"